Eight of our cruise specialists recently ventured on a 7-day AMAWaterways river cruise from Amsterdam in May to get firsthand knowledge of river cruises and pass along some words of advice to members looking to book a trip. With over 100 years of travel experience amongst the group of 8 cruise specialist, they've come up with some great pointers to consider when planning your next river trip. Take a look!
1. Centre of the City Port Stops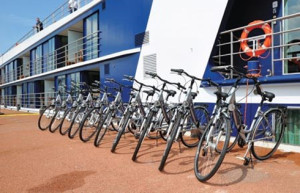 Many of the ports where ocean cruises dock are away from the center of town and can be upwards of a 30 minute motor coach drive in. River cruises arrive in the heart of the town/city. You can walk right off the ship and start exploring. Some river cruises have bicycles available, and are a great way of enjoying the scenic paths around the river or city.
2. Is Sea Sickness Common?
Motion sickness is not a concern when traveling on river cruises due to the steady smooth pace of the boat and calm waters. People comment they feel safer on a river than out on the sea.
3. Can I Get a Room With A View?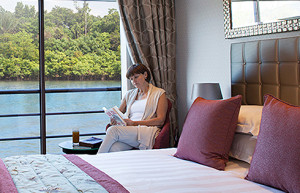 This ranges from the lead-in window stateroom to French Balcony (floor to ceiling sliding glass doors with a ledge and railing) and Full Balcony staterooms for your enjoyment. The rooms are spacious and range up to 323 sq ft.
4. Take the Ship Transfers
When you arrive at a new airport, you will be greeted by a representative holding a sign with your name. The ship's staff will assist you with your luggage and you are on your way within minutes. This reduces the anxiety of trying to figure out where you're going and what transfers to take. Upon arrival you feel safe and secure enroute to your vacation.
5. Do I Need to Have Exchanged Currency?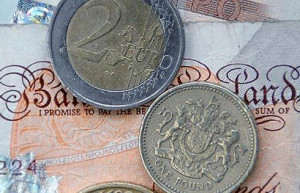 Currency is one thing that you should have on hand prior to travelling. ATM machines are not always easy to find and some of the smaller stores do not accept credit cards or charge additional fees to use them. So skip the line at the bank and visit our AMA Centers where we offer foreign currency to purchase currency ahead of time and also sell Mastercard Cash Passports.
6. What Kind of Shore Excursions are There?
Unlike ocean cruises, river cruises include excursions at each dock at no additional cost. These shore excursions typically are walking tours of the town/small city, visits to churches, historical points of interest, museums, and local markets. AmaWaterways optional limited edition excursions can be booked in advance or on board for an additional fee. These limited edition excursions range from attending an opera to a special wine tasting event.
7. How do I Choose the Best Flight?
AMA cruise specialists can find you the best airfare and routes. There may be an alternative departure or arrival airport that offers lower fares, or maybe a route with more connections but with more economical price. Be sure to check with one of our cruise specialist upon booking.
8. How Much Should I Bring for Onboard Gratuities?
The suggested amount is 12-15 Euros per person per day.
9. What is the Restaurant Dining Like?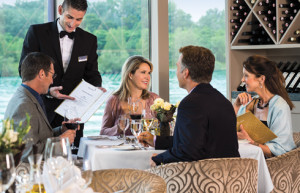 Breakfast and lunch are usually buffet style. Dinners are generally three-course meals with table service. The cuisine often ties in the local dishes of the region passengers are sailing through. Some river cruise companies include wine and beer during dinner at no additional charge.  AmaWaterways offers in addition to their main dining room an alternate 5 star dining restaurant called "The Chefs Table" where guests can watch the chef as he prepares an array of delicious dishes. No additional fee is charged. Be sure to make reservations when you arrive on board so you won't be disappointed.
10. Wi-Fi Access
Check with your agent to be sure your river cruiseliner has complimentary Wi-Fi access as Wi-Fi is typically known to be more accessible than on ocean cruise liners.
11. What Footwear Should I Bring?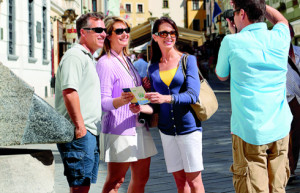 Many of the streets in Europe are cobble stone streets and therefore difficult to walk on, they can also be very slippery. Be sure to pick the right footwear for walking on slippery and unstable surfaces.
See All Cruise Deals