4 Reasons You Need Pet Travel Medical Insurance
Caleb Caswell
Feb 16, 2018
We don't have to tell any pet owner that when you travel with your furriest buddy, you're not just bringing along a pet, but a member of your family.
That's why when you book travel medical insurance in-person or online with AMA, we've made sure to include coverage for your pet under your own personal coverage. Here are four ways you may not have known you can keep your pet looked after in case of an emergency, and keep any surprise medical costs down.
1. Getting your pet home in the case of an emergency
While running on the beach with your pet, you hit a bad patch of sand and twist your ankle. It's not the worst injury, but you'll be required to have a short hospital stay, meaning you'll miss your departure date. Also, the hospital doesn't allow for animals. What do you do?
With AMA's Pet Return travel insurance policy, you can receive a reimbursement up to a maximum of $500 CAD for one-way transportation of your pets to your Canadian province. That means you can focus on healing up while your pet is at home with a friend or family member, also receiving the best of care.
2. Commercial kennel costs
Say the same situation occurred where you were hospitalized and unable to return home, but in this instance you signed your pet into a kennel. As an average, a large kennel might cost $30 per day, with additional care and services bringing the cost above $50 a day.
If you need to extend your stay and keep your animal in the kennel, AMA offers a reimbursement for up to $300 of commercial kennel costs if you are not able to return on your return date.
---
Learn more about other travel insurance options, and all the ways AMA will give you the peace of mind to truly enjoy your vacation.
---
3. Emergency pet care
If your pet required emergency medical intervention during a visit in the United States, a visit to the vet can be any range of costs because the American Veterinary Medical Association has no standard payment model for its vets. According to a survey conducted by the home-services review aggregate website Angie's List, nearly a third of pet emergencies in the states result in a bill between $250 and $500, with 16% paying over $1000.
Should something happen to your pet while you're at your destination, we provide a reimbursement of up to $300 CAD for any emergency vet services you may need.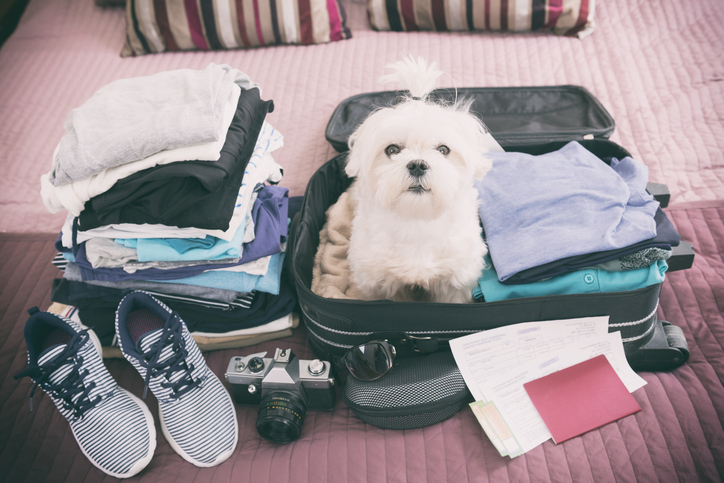 4. Trip cancellation due to pet illness
What happens if you haven't left on vacation though? You're packed, you can smell that salt-water hanging in the air, but just before you can put your luggage by the door, you know – like only you can – that the sheen of your pet's coat is a little off, and they're a little less happy to see you than usual. Something must be wrong.
If you've booked your vacation with an AMA travel agent and your pet becomes ill before you leave, you could have the option to recover 50% of your trip when cancelled more than 24 hours prior to departure. Ask your AMA travel agent for all the details on how pet coverage works under your cancellation insurance plan.