5 Ways to Feel the Aloha Spirit in Hawaii
David Little
March 9, 2017
Hawaii is AMA group travel specialist Dale Gillis's all-time favourite destination. Maui keeps calling travel agent Brad Novak back year after year.
So what is it about the Hawaiian Islands that continues to charm the most experienced travellers?
It's what locals call the Aloha Spirit. The definition of Aloha Spirit is much more than friendly greetings at the hotel and good vibes on the beach. Aloha Spirit represents the welcoming philosophy of native Hawaiians to treat everyone (including visitors) with deep care and respect.
FUN FACT: Aloha Spirit is so important to Hawaii that the definition was added to the Hawaii State Law [§5-7.5] as a guide for public officials.
If you're planning a trip to Hawaii, here's how you can best soak up and reflect the Aloha Spirit on your adventure.
1. Find Your Island
Hawaii is a U.S. state made up of 125 islands. But the six that get the most attention are Oahu, Maui, Big Island, Kauai, Molokai, and Lanai.
If this is your first time to Hawaii, you'll want to find out Which Hawaiian Island Are You. Turns out—surprise, surprise—that urban Oahu has a very different feel than laidback Kauai. So be sure to plan the stay according to your personality and interests.
2. Explore by Car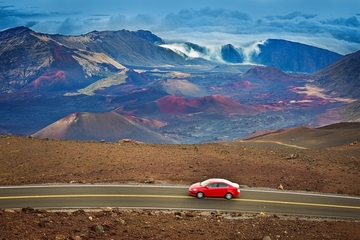 Whatever island (or islands) you decide to visit, the best way to navigate Hawaii is by car. Here's why:
You have the freedom to check out every new beach on your own schedule.
The traffic laws and behaviour are very similar to Alberta's.
The roads are well-developed, a breeze to navigate, and incredibly scenic.
You won't get lost—you're on an island!
Plus, AMA members receive discounted rates and get tons of FREE extras at Enterprise Rent-A-Car, National Car Rental or Alamo Rent A Car. Avoid scrambling at the airport and book your car rental before you leave.
3. Go with a Group (and Save Money)
Looking for a vacation destination for your multigenerational family, sports team, or friend reunion? Hawaii's a great fit. And can be pretty affordable when your group is on a budget.
Instead of the usual hotel accommodations, book a condo. Your group will share the space, share good times, and share the bill.
And on Maui there's a Costco right down the road from the airport. Pick up your drinks and groceries after you land. NOTE: Locals will award you bonus points for cooking with SPAM. Don't knock it till you've tried it!
4. Plan an Excursion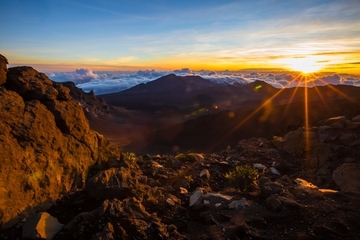 Where else can you…
5. Visit Anytime throughout the Year
There's only one season in Hawaii: warm. Unlike the -30°C to +30°C we get in Alberta, Hawaii is temperate year round. Not too hot. Not too cold. Just right.
So whether you're planning a visit during New Year's, Spring Break, or middle of summer, you can count on pleasant weather for your stay. And if it starts to rain, don't worry—it won't last long.
Bonus: Stop to Smell the Flowers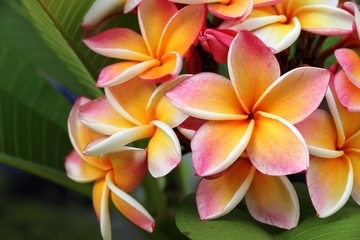 The first thing you'll notice when you step off the plane in Hawaii is how beautiful it smells. Thankfully, they're not spraying perfume in the air like at Hollister or Abercrombie & Fitch. Credit goes to the plumeria flower.
Plumeria were brought to Hawaii in 1860 by a German botanist, and they've since become one of Hawaii's iconic symbols. Pua melia (Hawaiian word for plumeria) are worn around your neck as a lei given out at the airport, as well as pinned in your hair to indicate relationship status. FYI: over the left ear means you're "taken" and over the right means you're "looking."
---
Ready to Plan Your Hawaiian Getaway?
With AMA Travel, if you happen to find a lower price on a vacation package online, we'll match it. We call it our Best Price Guarantee.