This past October Shelley Samycia went on her 97
th
cruise. Yes, that's right—ninety-seven. For someone to do anything 97 times, especially something as involved as cruising, there must be a pretty strong draw.To find out what keeps her coming back for more—and to learn more about her experience on this year's
AMA President's Cruise
—I decided to sit down and have a chat with Shelley, AMA Travel's cruise sales manager. "I just love being on the water," said Shelley, "whether it's the ocean or river." Of course, this was only a primer. Shelley went on to explain that cruising itineraries have some great advantages, such as visiting multiple destinations, only unpacking once, and having shore excursions included. Plus, you're on a
giant ship
! With tons of food! And drinks! Now it's starting to make sense.
Myanmar: Opening its doors wide to tourists
When you think of vacation spots in Asia, Myanmar probably doesn't register at the top of your list. That's because civil conflicts throughout the 20th century have just recently stabilized to the point where large-scale tourism (like river cruising) has become a lot more feasible.For travellers who appreciate seeing a country before Western influences push out many local flavours and practices, Myanmar presents a great opportunity."If it's on your bucket list, put it at the top," Shelley said.Shelley, along with her guests, were fascinated by the juxtaposition of traditional Burmese culture and modern technology while on this journey. For example, many noticed that even Buddhist monks carried mobile phones.And while the Burmese are still getting accustomed to seeing and serving more and more travellers every year, Shelley had nothing but praise for the hosts: "They're a beautiful people, always smiling, and the food and hotels were top notch."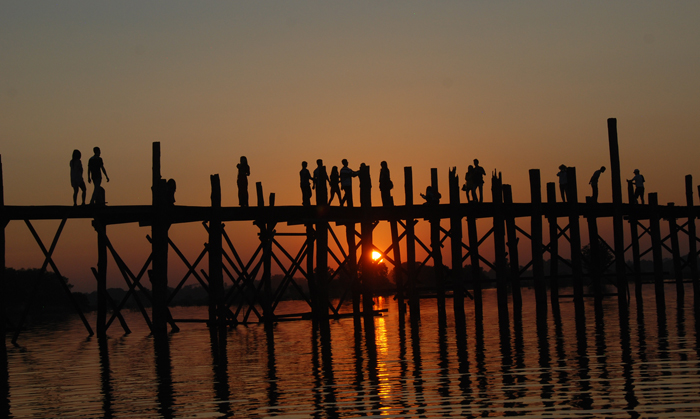 President's Cruise highlights
In Yangon, Myanmar's largest city, the group visited the giant supine Buddha housed inside Chauk Htat Gyi Pagoda.
A stop at Scott Market revealed tables full of local jewelry and clothing for sale.
Walking tours through Burmese villages showed homes with very traditional living spaces. Pigs and chickens wandered and grazed just outside the houses.
An early morning hot air balloon ride over 2000 gleaming, golden pagodas.
Guests climbed 777 steps to the top of Mount Popa—which included a breathtaking panoramic view of the countryside.
Listening to on-board lectures from local guides with AMA President Don Smitten, his wife Diane, and AMA Travel experts.
Everyone wanted to give back to the community that had been so welcoming, so guests made cash, learning supplies, and Halloween candy donations to a local school.
Taking part in a Burmese tradition of writing down a wish for national prosperity on a piece of paper, then setting them out with a candle en masse on Irrawady River.
Cruisers were fortunate to arrive at Inle Lake in time for the Phaung Daw Oo Pagoda festival. Everyone watched a procession of gilded boats carrying images of Buddha across the water.
Watching the sun set over U-Bein Bridge, the world's oldest and longest teak-wood bridge, while enjoying refreshments.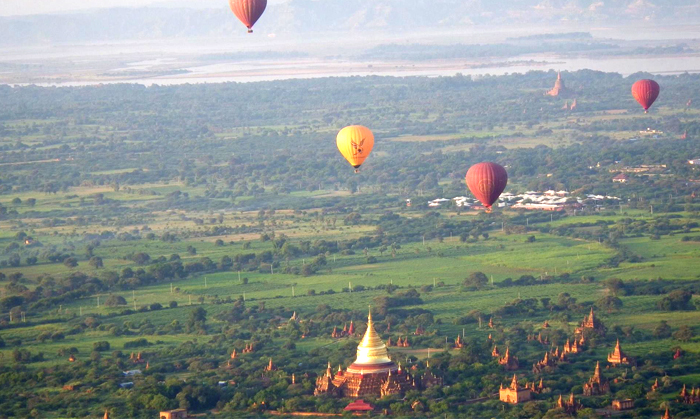 Shelley's tips for Myanmar river cruising
The weather will be hot and humid. Wear light, quick-dry clothing, a hat, and drink lots of water.
Expect to remove your shoes and socks often when visiting temples. Wear sandals or sneakers that are easy to take off and put back on.
Furthermore, many temples require visitors to dress modestly, such as covering knees and shoulders. Your cruise director will inform the group of any dress restrictions before departing for the day.
Some locals, including children, may try hard to get your attention in order to buy items. If you're not interested, a firm "no thank you" will suffice.
Carry small, crisp $US bills for everyday purchases outside the ship. Local currency is readily available through ATMs, too.
Ships like the AmaPura offer both Western and Asian dishes at every all-inclusive meal.