First-Timer's Guide to Bali: 11 Things You Need to Know
David Little
July 14, 2017
There are more than 17,000 islands in Indonesia. But there's one that stands out: Bali.
Long the vacation playground for Aussies, the rest of the world—thanks in part to Eat Pray Love—has woken up to everything Bali offers: Beautiful countryside. Great beaches. Delicious and affordable food. Ancient temples. And so many monkeys!
If you're looking for a tropical destination alternative to Mexico, Costa Rica, or Thailand, it's the total package… you better Bali-eve it.
Thinking of booking a trip? Here's 11 Bali recommendations from AMA travel experts.
1. There Are Tons of Awesome Beaches
If you're craving sun and sand, Bali's got a lot to choose from. In the south, Kuta Beach is in the heart of the action—beachside restaurants, bars, and plenty of shopping. Always wanted to learn how to surf? Kuta Beach has many top international surf schools, too. Sign up for a Beginner Surfing Lesson at Kuta Beach. You can also find gorgeous stretches of sand at nearby Seminyak, Tuban, and Legian beaches.
Bali's also has many "hidden" beaches—tucked away from view by steep stone staircases or cliffs. Examples of hidden beaches are Padang Padang and Balanagan.
And once you venture northwest, away from most tourist resorts, the sand at Bali's beaches shift from a golden yellow to an inky black.
2. English Is Widely Spoken
Worried about a language barrier? Don't be. Years of Australian backpackers, families, and expats spending time in Bali means that most locals understand and communicate in English.
Though as a good traveller, you'll want to brush up on some key Indonesian phrases, particularly when you're bargaining for souvenirs:
Yes – Ya (EEYAH)
No – Tidak (TEE-dah)
Good day – Selamat siang (S'LAH-maht SEE-ung)
My name is – Nama saya (NAH-mah sahy-yah)
Thank you – Terima kasih (Tuh-REE-mah KAH-see)
I'm sorry – Ma'af (mah-AHF)
Expensive – Mahal (mah-HAL)
Cheap - Murah (MOOR-ah)
Bathroom – Kamar mandi (KAH-mah mun-DEE)
Please – Silakan (see-LAH-kann)
Please (as a request) – Tolong (TOH-long)
Beer – Bir (Beer)
3. Bali Is an Amazing Value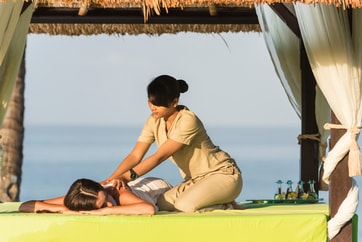 Want to stretch your vacation dollar? Bali makes it easy because accommodations, transportation, food, and activities are bargains compared to back home in Canada.
Here's a handy guide for calculating the exchange rate: $1 CDN = ~10,000 Indonesian rupiah (IDR)
And here are some approximate everyday costs in Bali:
Local-style meal – 15,000 IDR ($1.50 CDN)
Bottle of beer – 20,000 IDR ($2 CDN)
Scooter rental – 150,000 IDR ($15 CDN)
Private taxi – 200,000 IDR ($20 CDN)
Spa massage – 240,000 IDR ($24 CDN)
4. The Climate is Just Right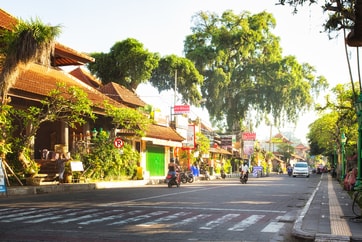 At only 890 km south of the equator, Bali's climate is about as tropical as you can get. That means long days, hot sunshine, and medium to high humidity.
May through July tends to have the best weather. However, you'll see the highest volume of tourists.
October through April is known as the rainy season. But you can still count on sunshine for most of the day. Plus, flight and hotel rates are cheaper.
5. Appreciate the Local Traditions
When you start to explore Bali, you'll notice countless temples and religious shrines across the country. Many Balinese Hindu people pray to the gods, give thanks, and make daily offerings at these shrines. Please be respectful of this tradition.
NOTE: Every year in March, the Balinese celebrate Nyepi, a "Day of Silence" coinciding with the lunar new year. For 24 hours, beaches and businesses are shut down and both locals and tourist are to stay indoors and reflect.
6. Sign up for These Activities
Whether it's adventure or relaxation, there's so much to see and do in Bali. Here's a few activities you can't miss:
7. Find the Perfect Hotel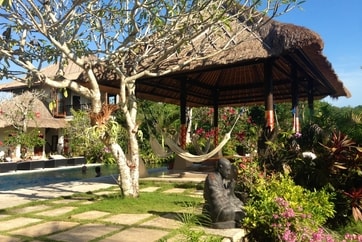 Looking for a place to stay? AMA Travel Bali specialist Vince Jackman recommends these hotels:
Kuta Paradiso – "This hotel is located on the main street in Kuta. Spacious, clean, staff are amazing, and the food here is very good and of wide variety."
Royal Singosari Kuta – "Right from the moment we arrived we were welcomed with a cold towel and a cool drink, check in was fast and efficient, and they brought our luggage up to our room fast. This hotel is centrally located just up from Kuta Market—an area filled with restaurants, shops, and spas."
8. Enjoy Fine Dining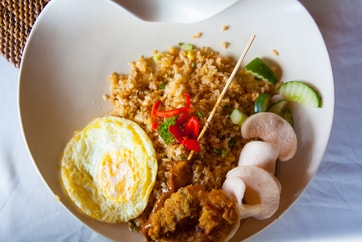 If you're exploring Kuta for the day, here's where Vince recommends you grab a bite to eat:
B Couple – "This had been a staple of our trips as the service and food here is great."
Bali Beach Shack – "Owned by a brother and sister from Australia. Don't miss the nightly drag show. Reservations are required as it sells out fast."
Ku De Ta – "Here you will find a wide range of food from all over the world. Everything is fresh and delicious."
9. Get Vaccinated
To avoid the risk of catching a bug while vacationing in Bali, make sure you talk to your doctor before you go. They'll advise you on what vaccinations you need to stay healthy on your trip.
Generally, most travellers will need to:
Stay up to date on your current vaccinations (mumps, measles, rubella, etc.)
Get vaccinated for Hepatitis A and B
TIP: AMA members save 15% on Medicentre travel consultations and vaccination fees.
10. Know How Long You're Staying
Good news—Canadian passport holders don't require a visa for visits to Indonesia under 30 days.
However, if you're planning a long-stay vacation of a month or longer, you'll need to pay a one-time $35 USD fee. The visa is valid for 30 days and can be extended once for another 30 days.
LEARN MORE: Why Long-Stay Vacations Shouldn't Stay a Travel Secret
Also, make sure to check that your passport is valid for six months from the date of entry. To save money on passport photos, visit an AMA centre.
11. Book a Vacation Package and Save Money
AMA's close ties with travel partners means we can give you a better value on your Bali vacation package.
Check out our featured Bali vacation packages departing in fall 2017 and winter 2018:
---
Need Help Planning Your Bali Getaway?
Our travel specialists have been there, lived it, and can build you the perfect Bali vacation based on your interests.
Reach out to an AMA travel agent by calling 1-844-771-1522 or by visiting your nearest AMA centre.