Been There, Loved That: AmaWaterways Mekong River Cruise
Caleb Caswell
Dec 27, 2017
Our travel agents receive routine training to make sure our members are getting the best advice possible. We frequently send our travel agents on FAM (familiarization) trips so they can let you know exactly what to expect on your trip. When they return, we collect all their stories into "Been There, Loved That," articles that we can share with you!
The Mekong: A River Between Two Worlds
Where: Mekong Delta
Length: 10 Days
Countries visited: Cambodia, Vietnam
Cities visited: Siem Reap, Phnom Penh, Ho Chi Minh
Pace: Nice n'slow (not recommended for the walking impaired)
If you're an experienced river cruiser and have seen all that Europe has to offer, or you're interested in a slow-and-easy tour of the cities and misty mountains of Eastern Asia, then a cruise down the gentle Mekong river is for you. And taking it with AmaWaterways will make it all the smoother.
Several of our travel agents took the trip, and they loved it! Here are some of their highlights:
Everywhere they went, the people were friendly and accommodating
Shops and open markets in cities such as Siem Reap offered clothing and goods at amazing prices
The ancient religious sites, such as the famous Angkor Wat, were beautiful and offered incredible vistas (even if they could be a little crowded)
The staff aboard the cruise were eager to please
What's more difficult to capture is how the cruise balanced physical excursions with spiritual connections. For example, a journey into town to eat at a little-known gem of a restaurant would be followed by a trip to a Buddhist temple where the guests were introduced to ancient customs. Pink lotus flowers – a Buddhist symbol of enlightenment for how it grows from the mud but reaches for the heavens – decorated the five-star Sofitel Angkor hotel.
Better than just a trip, it was meaningful.
The Cruise
AmaWaterways is known for several unique features: they keep their guest-to-staff ratio low so each passenger feels looked after, their French and exterior balcony means you get to enjoy the scenery from your room how you want to, and there is plenty of public space aboard so it never feels tight. Also, the decorating aboard the ship is above par, featuring marble bathrooms and luxurious interiors, depending on the ship.
The ship AmaDara holds 124 guests and is filled with artifacts made by local Cambodian and Vietnamese craftspeople, so you don't feel like you've left Asia when you return to the ship. The rooms are quite spacious, and the bathrooms even have a shower and bathtub. There are also several conveniences aboard, such as a spa, hair salon, fitness room, and a sun deck. Our travel agents did note that, while the onboard kitchen wasn't as flexible as those on a European cruise – being unable to substitute ingredients for certain recipes, for example – the staff were eager to help and could advise which dishes were safe for different food allergies.
The Destinations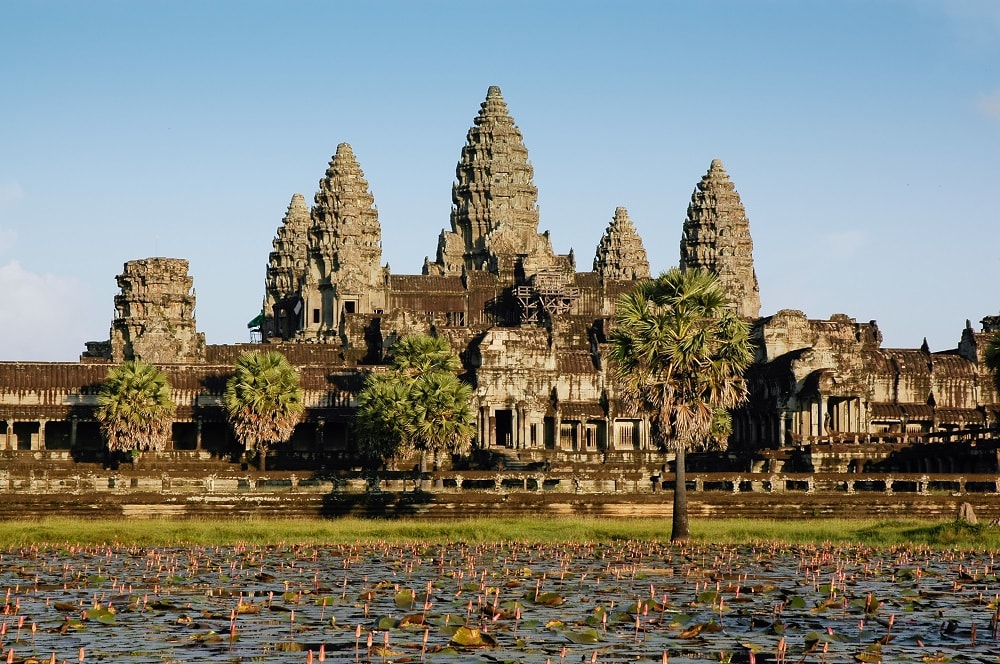 Mekong River: The Mekong River is an incredible artery that flows from the Tibetan Highlands down to the South China Sea. It's considered one of the most biodiverse rivers in the world, with dolphins, stingray, catfish and over 11,000 species of freshwater fish swimming in its waters. Nearly 40 million rural Asian workers make their living fishing its depths.
Angkor Wat: A Hindu temple built over 900 years ago, it's considered the largest religious site in the world. Banyan branches and roots wrap around the ancient stone hallways and underground tunnels, and the faces of gods whose carvings capture their ferocity. If you come early enough, you may even see hot air balloons giving tourists a birds-eye view of site's layout.
Sofitel Angkor: This five-star hotel is built to look like an ancient ruin from the outside, but within you'll find the lobby decorated with a different flower every week, an enormous heated pool with busboys who bicycle around the perimeter replacing the linens, and delectable food.
Siem Reap: Known for its markets, there is some serious shopping to be done in Siem Reap! Whether you're looking for hand-cut utensils or just a pair of cheap shoes, you can find it all and more in Siem Reaps markets. Come during the day and enjoy an open-air restaurant preparing fantastic local dishes such as roast duck, Cambodian beef or softshell crab, and stay until the evening to see the night market, where every booth is lit up in different colours.
Want to learn about more AmaWaterways destinations? Just visit our AmaWaterways destinations page.
Tips, Tricks, and What You Should Know
Items such as sunscreen and bug spray are hard to find and expensive when found, so it's best to pack your own
Before boarding your cruise, AmaWaterways will hold on to your passport for safe keeping. This is perfectly normal, but can come as a bit of a shock to those who aren't prepared
Given that few of the areas you'll be travelling are paved, expect to do a fair amount of walking over roots and over natural terrain. Wheelchairs will have an especially difficult time with this voyage
Depending on the season it can rain a lot. However, AmaWaterways keeps rain jackets and ponchos for its guests so they don't have to be cooped up when it starts coming down
There are many best practices when visiting religious sites, and half the fun of the visit is learning them, but a few tips are dress modestly (covering knees and shoulders), respect the monks, bring socks if you need to remove your shoes, and avoid touching the heads of strangers (more so children) as it's considered rude
If a cruise aboard AmaWaterway's AmaDara sounds like the vacation you've been looking for, just contact one of our travel agents who specialize in AmaWaterways or who have taken this very trip! You can book an appointment online or over the phone.
Want to know more about AmaWaterways? You can visit our page all about AmaWaterways, or download our free ebook that gives tips on how to have your best AmaWaterways vacation!