Been There, Loved That: Royal Caribbean's Anthem of the Seas
Caleb Caswell
February 9, 2018
Our travel agents receive routine training to make sure our members are getting the best advice possible. We frequently send our travel agents on FAM (familiarization) trips so they can let you know exactly what to expect on your trip. When they return, we collect all their stories into "Been There, Loved That," articles that we can share with you!
Royal Caribbean's Anthem of the Seas: Bahamas Edition
Where: Bahamas
Length: 8 Days
Countries visited: United States, Bahamas
Cities visited:
Newark,
Orlando
, Coco Cay, Nassau
Pace: As fast or slow as you prefer
Our agents' most recent FAM trip was a corporate training session – one filled with fantastic food, private islands, theme parks, and everything we all wish corporate training sessions could include.
We sent them aboard Royal Caribbean's Anthem of the Seas, a 5000-capacity vessel filled with an incredible number of things to see and do, made for passengers of all ages and interests. Along with all things aboard the ship, they got a taste of a tropical cruise, complete with a stop at Royal Caribbean's private island!
Here's a short summary of why our agents loved sailing on the Anthem of the Seas:
There are so many things to do for people of all ages that families across three generations will all have something to do
With so many activities (onboard surf simulating and skydiving, robot bartenders, rock climbing walls, bumper cars, Broadway theatre, a casino and more!) you don't have to leave the ship to have an amazing time!
There's more food onboard than you'll know what to do with: sushi, steakhouses, pubs, and even some with magical menus and incredible twists you simply can't find on land
The excursions are amazing: Orlando to visit Universal Studio's Florida theme park, Nassau in the Bahamas, and Royal Caribbean's private island, Coco Cay
When it came down to picking who they would recommend this trip for, they arrived at… everyone! For most sailings, there are anywhere from 500-1500 children onboard, and they have fun on the bumper cars, doing activities with the Adventure Ocean Kids' Club, and getting to go out to family-friendly ports. Parents or young couples get to enjoy a range of entertainment – from some light jazz at the piano bar to Broadway-quality performances – along with 18 restaurants to try. And Grandma and Grandpa can join in at the pool, take a lovely spa day, and play in the casino at night.
To get the best idea of what the trip was like, we have to describe the ship and the destinations.
The Cruise
Royal Caribbean is known for their ships that are as much a part of the destination as the destination itself! Anthem of the Seas is no slouch when it comes to hosting thrill-seeking activities, great places to eat, and inspiring live entertainment.
Activities – Our counsellors pointed out that Anthem of the Seas is a great ship for the more adventurous, regardless of your age. Their must-try's include the Ripcord by iFly simulated skydiving that you can do right on the deck, and the Flow Rider surf simulator (great for both adults and kids), each of which requires a reservation because they're so popular. From there you can enjoy the casino; go for circus lessons, bumper car rides, or get circus trapeze lessons at the Seaplex; or wait for the evening when the Seaplex is converted into an adult dance club.
Eating - And the dining! With so many venues to have a meal, it's difficult to know where you should even begin. Jamie Oliver's signature restaurant? High-end sushi? Our agents tried a broad selection, and they pointed out that guests simply HAD to get a cocktail made by the robotic bartender at the Bionic Bar, that they had a comfortable meal that felt like home at Michael's Genuine Pub, and that they were shocked and awed by the molecular gastronomy of Wonderland. Wonderland's decor is based on the Lewis Carrol novel Alice in Wonderland, and from the way the menu appears before you as you splash some water on a blank page, or the entrancing meals plated in ways you couldn't imagine, it will fill even adults with a child's sense of wonder.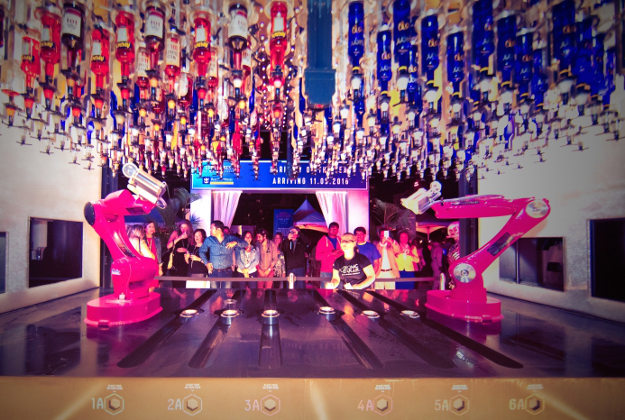 The Destinations
Orlando: Our agents chose to venture into Universal Studio's Florida theme park, getting a thrill from the rides before returning to Port Canaveral. They also highly recommend making a stop in the Wizarding World of Harry Potter to enjoy a butterbeer and watch as magic happens before your eyes.
Coco Cay: Royal Caribbean's private island is filled with shopping, a buffet lunch is provided, multiple bars, and live entertainment. You can also pre-book numerous activities, such as encounters with dolphins and sting rays, enjoying the inflatable waterpark, setting up shop in private beach cabanas, going kayaking, nature hiking, snorkeling off the reef, taking an exhilarating parasail ride… or relaxing in a hammock.
Nassau: The capital of the Bahamas, Nassau is a pirate's treasure trove (seriously, it was once under the rule of the infamous pirate Blackbeard) of beaches and history, and DOUBLOONS – or the closest thing we have to them, casino chips. Visit the Heritage Museum of the Bahamas, get an amazing tan, or take a tour (one that's highly recommended by our agents) of Atlantis, Paradise Island! This small resort is connected to Nassau by several bridges, and features great shopping, great food, and the largest waterpark in the Caribbean with an underwater shark walk, 18 waterslides and a lazy river ride.
Tips, Tricks, and What You Should Know
To get some of the best tips for enjoying a Royal Caribbean cruise, just download our free Royal Caribbean ebook! We include tips such as:

What ship will best suit your vacation style
Which activities you should definitely try out
How an entire family of multiple generations will enjoy a Royal Caribbean cruise
How to pick a stateroom
And more!
Want to know more about Royal Caribbean?
If you've liked what you've heard, contact one of our cruise specialists to learn how you can experience an amazing circus on the seas with Royal Caribbean, and download our free Royal Caribbean Cruise Guide to become a cruise master. To book, make an online appointment, call 1-866-989-6594, or visit an AMA centre.