Best North America Road Trips
Caleb Caswell
Oct 2, 2017
Just like a cruise, travelling is part of the vacation when it comes to road trips. However, you have none of the muss of booking flights, you don't have to wait in any lines: You just get in your car…
And go.
You decide the itinerary. You pick what you want to see (between landmarks, attractions, and everything inbetween). You choose how fast (or slow), how early (or late), how quick (or scenic) your travel gets to be. Every minute is an accomplishment, and every experience feels earned.
And where better to road trip than across North America! You can see everything from mountain peaks to desert valleys on our highways, along with little-known restaurants, quirky landmarks, music performances, and more! And they're great no matter your age.
Here are just a few tips from AMA to make your next road trip the first of many.
---
Preparation is key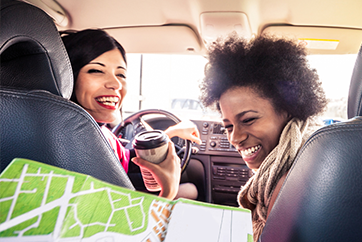 You've made sure your vehicle is safe, you've got your Emergency Roadside Kit (available at AMA Centres with discounts for members) for you and your car, but there are still a lot of things to think about. Here are a few questions to ask before you pull out of the garage:
What's the focus of your trip?

What do you enjoy doing? Seeing famous sports landmarks? Eating in every shape and shade of restaurant? Is there a band you've always wanted to see playing somewhere far away? Pick a particular theme and let it guide your route. However, don't forget that not having a focus – making decisions on the fly – can be a focus of its own.

What roles should everyone fill?

If you're road-tripping in a gaggle of friends, it's important that every member of the flock has a role: maybe someone is the navigator, another is the DJ, another is the driver, and these roles change to keep things interesting (and to make sure the driver gets some sleep). And if you have children, it's a great way to get the kids involved.

Where can you get a TripTik?

If you're unfamiliar, TripTiks include step-by-step instructions to get from point A to point B, along with any road closures or areas with heavy construction. While you can order them from some companies online, getting one done by a travel specialist at AMA is the way to go. Our AMA Travel specialists don't write them any sooner than two to three weeks before the trip so you get the most up-to-date map, but they can also include sites to check out based on your interests. Marilyn Rinas, an AMA travel specialist based in Red Deer who loves road tripping, has been tasked with finding some unique attractions, such as a freak show on Venice Beach. And don't forget that we provide maps and tour-books in our centres!

Have you extended your data plan?

Don't get caught having to pay a bunch of unexpected charges from your phone company! You can do this through one of three ways: you can contact your phone company and tell them you'll be abroad (they'll have several offers based on either a timeline or the amount of data you expect to use on a daily basis), you can keep your phone on wifi and make sure to only use it when you're receiving a wifi signal, or you can ditch your phone entirely. Getting a TripTik and going back to basics might be scary, but you'll be surprised at how empowered you feel getting around on your own.

Do you know what you're going to do if you lock yourself out of your vehicle?

This is especially important if you decide to leave your phone behind. Having a spare key in your wallet or somewhere on your car are a few options, but know that if you're an AMA member, you have the benefit of roadside assistance, across Canada and even if you're in the states.

Is your plan too strenuous to pull off?

As we mentioned earlier, one of the greatest benefits of the road trip is that the trip happens at your pace. But, be kind to yourself: allow for some breathing room, bad traffic, or interesting diversions – like if you can't resist the siren song of the World's Largest Ball of Twine.

Do you have travel medical insurance?

Whether you're just leaving the province or if you're traveling across the states, it's important to know you're healthcare is still covered. We offer a variety of Travel Medical Insurance, so that a broken bone doesn't also break your bank account.
Amazing Drives
Oregon Trail – Driving from New York to Oregon is a great way to see the soul of America. The trip was first made in 1842 with over 100 settlers gittin'-along-lil'-dogey together, and many of the historic landmarks and National Parks that have been preserved along the way.
States: Missouri, Iowa, Kansas, Nebraska, Colorado, Wyoming, Utah, Idaho, Oregon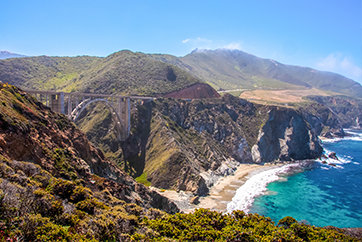 Pacific Coast – Beach life, dudes! Start in the rainforests of Vancouver, slip down into the states to drop into Seattle and Portland, then get your beach on in Northern California (or NorCal for short), visit the tech Mecca of San Francisco, and drive down a lazy coast to arrive in the lights, camera, and action of Los Angeles!
Cities: Vancouver, Seattle, Portland, San Francisco, Santa Cruz, Santa Barbara, Malibu, Los Angeles, San Diego
The Continental Divide – If you're one for camping and mountain trails, get your start in Jasper, and follow the mountains down into the states. National parks abound on this route, featuring wild wildlife, gentle fishing, more birds than you can possibly binocularize, and nights of stars, stars, stars.
Highlights: Jasper, Banff, Waterton Lakes National Park, Whitefish, Anaconda, Red Lodge, Jackson, Rock Springs, Steamboat Springs, Denver
Atlantic Coast – For those who love heritage sites and culture, the Eastern Coast of Canada and the States offer an incredible collection of peoples, food, art, music and vistas. Starting in the fishing hamlets of New Brunswick and Nova Scotia, travelling south you'll come upon the brilliant arboreal plumage of Maine and New Hampshire, then stumbling into the bustle of New York, after which you'll take in the hospitality of Northern and Southern Carolina until you arrive in the theme park capital of the world: Florida.
Highlights: Saint John, Boston, New York, Philadelphia, Washington, Petersburg, Florence, Savannah, Jacksonville, Daytona Beach, West Palm Beach, Fort Lauderdale, Miami, Orlando
Choices, choices, choices

Transportation – Your Car vs Rental vs RV
| | | |
| --- | --- | --- |
| Your Car | Rental | RV |
| You know it inside and out | We can get you a great deal on a rental | Stop driving and fall asleep. Immediately |
| You won't incur any extra expenses (such as rental insurance) | You can drop it off at a sister company and fly home | You're towing a personal bathroom and kitchen with you everywhere |
| You can pick up travel bumper stickers as you go! | You aren't straining the car that you own | Pets can travel comfortably |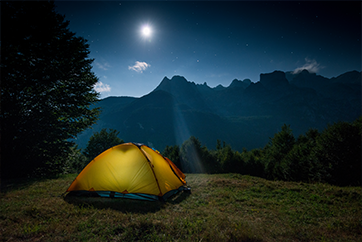 Sleeping – hotel vs tent vs car (*Best price guarantee for hotels)
| | | |
| --- | --- | --- |
| Hotel | Camping | Car |
| You can wake up and go with no tear down or clean up | You sleep under the stars | It's cheap! |
| We have our Best Price Guarantee, meaning you'll get the best cost | Is there anything better than ending the night with a campfire? | It's cheap! |
| Take a break from your journey and have a shower | Extend that on-the-road atmosphere | It's cheap! |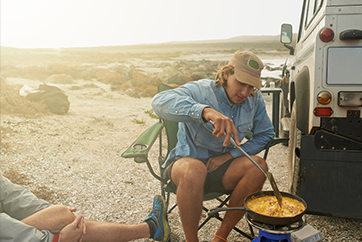 Eating – Fast Food vs Sit Down vs Car Cooking
| | | |
| --- | --- | --- |
| Sit Down | Drive Thru | Car Cooking |
| Stretch your legs | They say road trip french fries taste best | By far the least expensive |
| No mess or garbage in your car | You can test McDonald's consistency across state lines | There are numerous ways to cook safe and even great culinary meals using today's technology |
| Enjoy several options | Take advantage of the vacation spirit and eat fast food all you want | Watch your friend's faces as you tell them how to cook a cold lasagna on your manifold |
Tips on how to save gas (and save on gas)
Use your AC, because having your windows down creates drag on the car, making your engine work harder
Plan your route so that you're not filling up on holidays or long weekends
Where possible, avoid coming to a complete stop, as this takes the most amount of gas
Become friends with cruise control, as constant acceleration and deceleration eat fuel
Stay between 100 to 105 kmph, as this speed gets you the best gas mileage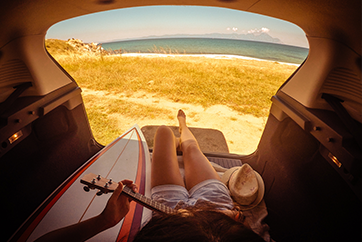 Best Road Listening
"The Wild, the Innocent & the E Street Shuffle" by Bruce Springsteen – Early in his career, Springsteen drove back and forth from New York to California trying to make it big. Listening while taking long trips across the central states may help you understand the mind of a musical genius.
"The Best Disney Album in the World… Ever" – "The Wheels on the Bus" and "Old MacDonald" are tired sing-alongs. If you want a car full of people singing their hearts out, this compilation is three CDs hold 75 songs that pull from Disney movies – the classics, as well as the new.
"Changes in Latitudes, Changes in Attitudes" by Jimmy Buffet – A little country, a little rock and roll, and a little Caribbean, there can be no better way to transition from watching the clock at the office to driving on island time than Jimmy Buffet.
"Emotion" by Carley Rae Jepsen – If you're a lover of 80s tunes but want something that sounds current, there is no better album.
"Lady Soul" by Aretha Franklin – Sure, some people like Beyonce, but you can't do better than the original Queen of Soul. "Lady Soul" is great listening front-to-back, and includes some of Aretha's greatest hits, including "Chain of Fools," and "You Make Me Feel Like A Natural Woman."
Podcasts – As we could talk about a number of amazing podcasts, a few we highly recommend are the "You Must Remember This," a podcast that examines the seedy underbelly and murders of Hollywood, "Here's the Thing," where actor Alec Baldwin interviews other celebrities, and "Making Oprah," a look at how the Oprah Winfrey show was produced.