Dog Lovers Love the Rockies
Canmore is heaven for dogs: Wide open spaces, sunny fields, fresh mountain air, capable vets, and dog services all make for one happy pooch.
And if you've already purchased your Parks Canada Discovery Pass (with your AMA member discount, of course), you have all the more reason to go. But which paths are great for dog walking and which should be avoided? Which hotels will pamper your pet as much as you? And what can you do to save money while there? We've included all the information you'll need to have a great vacation with your furriest family member.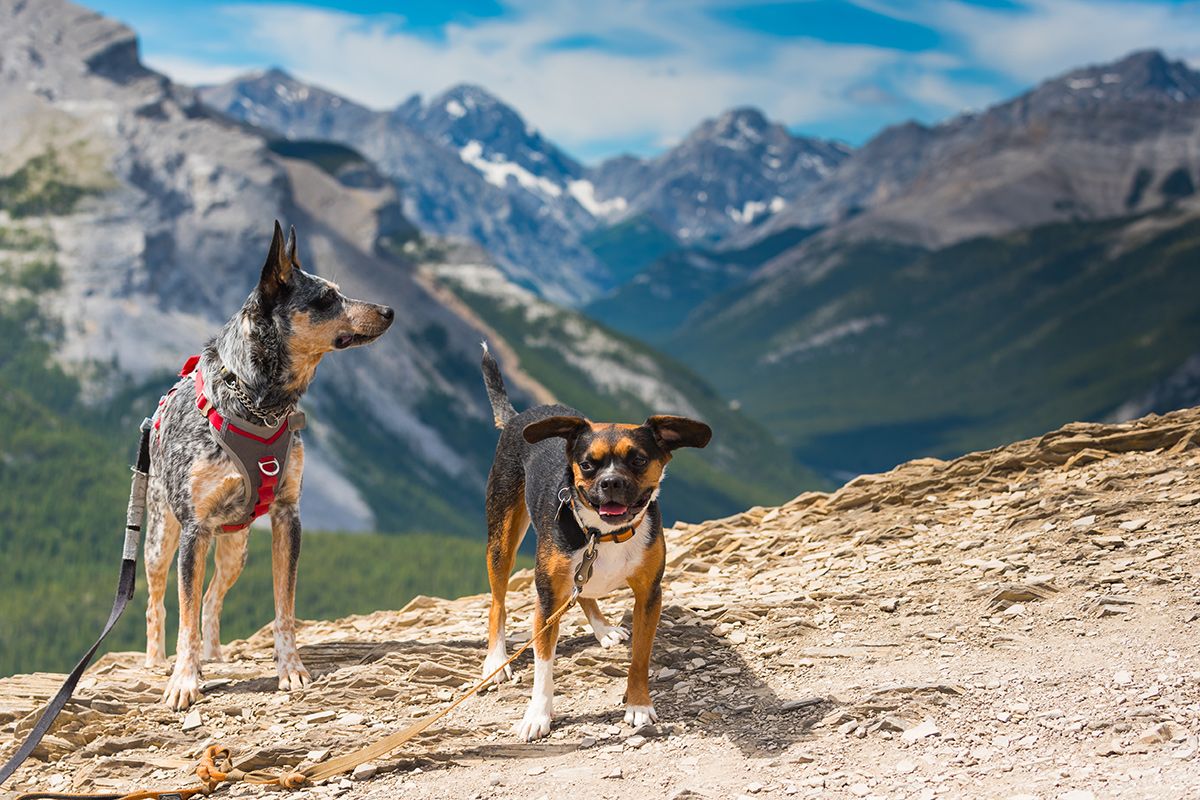 Dog walking trails
Where can you take your dog when your hiking in Canmore, or in Banff National Park?
The short answer is almost everywhere you can hike. But it's important to distinguish the difference between on- and off-leash areas for the safety of the park, your pet, and yourself. If you are taking your dog onto the trails, they must be kept on 10-foot leash at all times. There are several reasons for this:
Dogs can carry foreign diseases into the park, damaging the local environment
They may cause anxiety in other park guests who are enjoying the park
Dogs can disturb the wildlife, and may be harmed if they come up against a larger animal. At worst, they may even lead a predator back to public campgrounds
And while dogs are welcome on these trails as long as they are leashed and cleaned-up after, some trails may become closed to dogs due to bear migration (some trails outside of Banff feature large clusters of raspberry bushes, making them a bear favourite). Before heading out with your pet, always check the trail conditions and where you can best hike safely.
Save! Across Western Canada this summer
Looking to take a Quick Trip? AMA Travel has negotiated amazing rates at hotels across Alberta, B.C., and into the States. Just check out our Quick Trips page to see where you can save on your next vacation.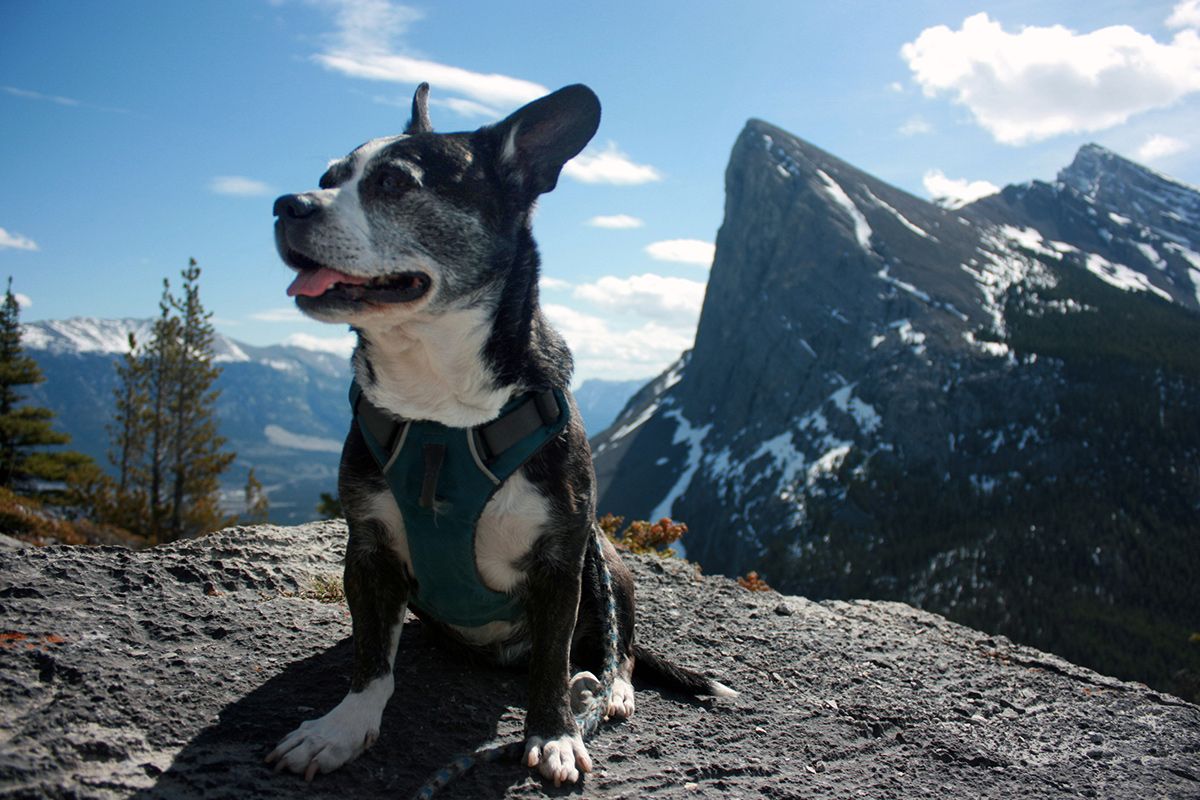 Dog Parks
If your dog likes to run around unleashed, dog parks are a perfect place to let your pooch go free! Each of the major Rocky Mountain cities has ample spaces made for dogs, but Canmore ups the ante to have three, with even more currently proposed to be built.
Quarry Lake Park Off-Leash Dog Area – After walking a good portion of Quarry Lake's five kilometers of hiking trails, you can let your dog off leash in their doggy park. Quarry Lake also features great trails for cycling, a lake to take a dip, habitat patches (including salamander ponds) and lots to see.
Cougar Creek / Bow Valley Trail Dog park – Not much more than a two-hour hike which crosses the river several times throughout, this trail is easy to walk and leads to the Bow Valley Trail dog park where can dogs can play with the mountains as their backdrop.
Elk Run Dog Park – Located within city bounds, Elk Run dog park is a great spot for your dog to let off some steam while staying close to local amenities.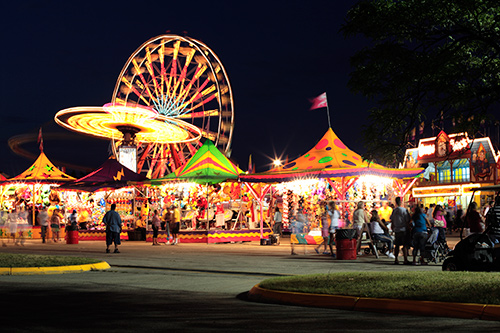 Looking for an exciting festival to enjoy this summer?
Visit our Quick Trips Festival page to search through every major festival across Western Canada, Utah, and Oregon.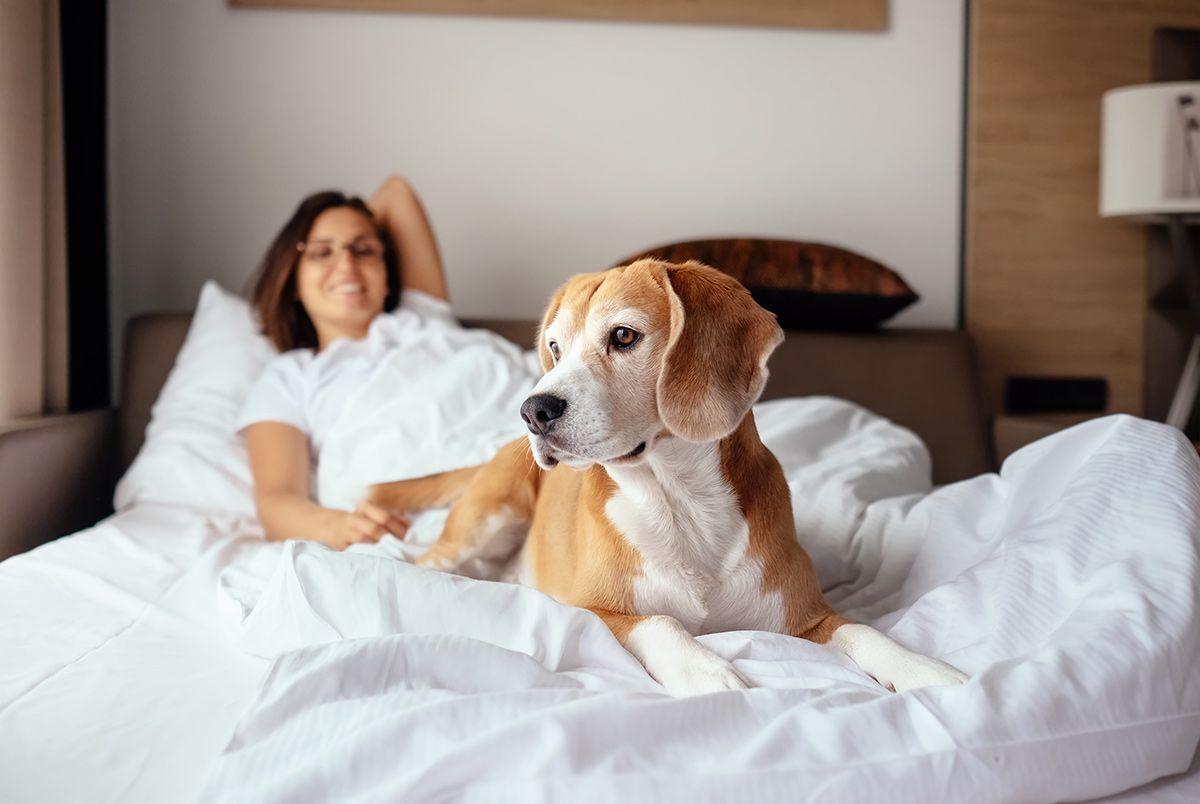 Dog Friendly hotels
There are numerous pet-friendly hotels across the Rockies, but which will spoil your pet as much as you?
Clique properties in Canmore go beyond being just pet-friendly. For example, at Clique's Copperstone Resort, guests with dogs receive a special puppy package, including a doggie bag and freshly baked cookie from the local Mut Hut Emporium.
For the people guests, Copperstone Resort offers:
beautiful condo spaces for guest privacy
shared outdoor pool and fireplace spaces
free Wifi and heated underground parking
a games and DVD library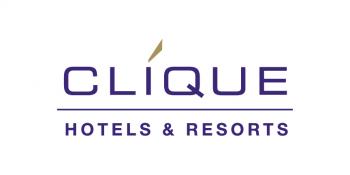 Save! Clique Mystery Offer
And right now, AMA members save when they stay at Clique properties in Canmore. You can get up to 10% off exclusive rates at Copperstone Resort, and as much as 50% off other Clique properties with their summer Clique Mystery Offer, all backed by our Best Price Guarantee.
AMA BEST PRICE
GUARANTEE
On
Can I bring my dog to Canmore restaurants?
Many dog lovers come to the Rockies wondering if they'll be able to bring their pets with them into eating establishments, and the answer is sadly no. This includes most enclosed patio spaces as well.
This is due to strict health and safety guidelines set by the provinces of B.C. and Alberta. However, open-air patios (common to smaller, privately owned eateries) should have no problem with serving you, so long as your pet stays outside at the table.
Great Vet clinics and shops
While Canmore is filled with great veterinary options should something happen, such as Canmore Veterinary Hospital or the Bow River Veterinary Centre (and you should never cross provincial or international lines without pet travel insurance), if you really want to treat your dog, you should take them to the Mut Hut.
The Mut Hut Pet Emporium offers a fantastic "spaw" service with certified pet stylists, makes freshly-baked dog treats, can give you tips on how to deal with your dogs dry skin, and features tons of great products to keep your mutt healthy and happy.
Find a great Quick Trip this summer
Want to make a Quick Trip this summer but don't know where to go? Visit our Quick Trips hotel page to see what hotels you can save at across Western Canada and the U.S., or find an amazing festival to plan your trip around.