For the past nine years, AMA Travel has supported CKUA Radio Network by donating a special vacation prize at every Spring and Fall Fundraiser.
The non-profit, community radio station (94.9 FM in Edmonton, 93.7 FM in Calgary, and streaming online) asks listeners twice a year to reach into their piggy banks to keep the station's lights on, coffee brewing, and tunes playing. Plus, every generous listener who donates gets their name placed in a trip draw.
According to Samantha Goettel, AMA Travel marketing manager, "We love supporting CKUA because it's a long-established, local Alberta company, like AMA. It's important to us that CKUA listeners stay inspired with eclectic music and amazing travel experiences."
DID YOU KNOW?
Created in 1927 (a year after AMA), CKUA was Canada's first public broadcaster. The call sign stands for
C
anada
K
U
niversity of
A
lberta.
So what's this year's vacation giveaway? Drumroll, please . . .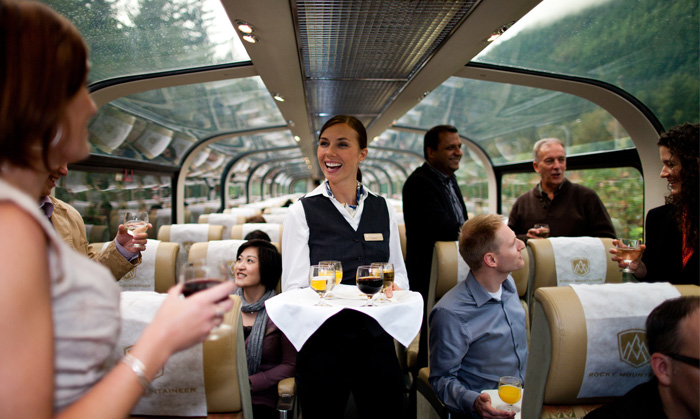 The Prize: Rocky Mountaineer Rail Vacation for Two
This luxury train journey—valued at $7,000—follows the eastbound route of the legendary Canadian Pacific Railway track that united Canada over 125 years ago.
Samantha says she and the Travel team selected this vacation because "it's an extraordinary trip that all Canadians should experience in their own backyard."
Day 1: Vancouver Arrival
Arrive in Vancouver and spend time exploring this scenic city independently. Guests stay overnight in Vancouver.
Day 2: Vancouver to Kamloops
Travel onboard the Rocky Mountaineer towards Kamloops, the heart of British Columbia's Interior. You'll see dramatic changes in scenery, from the lush green fields of the Fraser Valley, through forests and winding river canyons surrounded by the peaks of the Coast and Cascade Mountains, to the desert-like environment of the BC Interior. Highlights include the rushing waters of Hell's Gate in the Fraser Canyon and the steep slopes and rock sheds along the Thompson River. The day concludes as the Rocky Mountaineer travels along the shores of Kamloops Lake into Kamloops.
Day 3: Kamloops to Banff
Continue eastwards to the mighty Canadian Rockies. You'll see a spectacular array of scenery as you travel across ranchlands, along rocky lakeshores, over high mountain passes and through the remarkable tunnels that form part of the rich rail history of the Canadian Rockies. The day's highlights include Craigellachie, where the last spike of the Canadian Pacific Railway was driven, the climb over Rogers Pass, Kicking Horse Canyon, the Spiral Tunnels and, of course, the glaciers and snow-capped peaks of the Canadian Rockies. Your rail journey ends this evening in the resort town of Banff.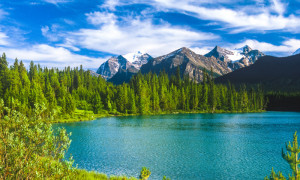 Day 4: Banff Departure
The Rocky Mountaineer vacation ends upon departure from your Banff hotel.
Package Includes:
2 day Rocky Mountaineer GoldLeaf Service
2 breakfasts, 2 lunches
3 nights hotel accommodation
Vancouver Lookout
Rail station transfers in Vancouver, Kamloops, and Banff
Luggage handling and National Park Pass
CKUA's 2015 Fall Fundraiser trip winners, Ray and Debbie M., had this to say about their vacation:
Please accept our sincere appreciation for making our fabulous vacation to Cuba possible. We were joined by friends from both Victoria and Calgary and all had a wonderful time! The hospitality and accommodations at the Iberostar Varadero Resort were second to none, and our day trip to Havana gave us insights into the Cuban culture and history that has expanded our knowledge and understanding.To win the grand prize was over the top, and your partnership in providing this trip was seamless and clearly professional. Debbie and I will not soon forget this experience.
How to Donate to CKUA
The Spring 2016 Fundraiser runs from April 14 to 24.
You can donate by: