Banff hiking trails for easy, intermediate, and advanced hikers
There's no better way to experience Banff than with a hike in the middle of nature. But which trails give you short scenic views, and which will have you cresting a mountain 1000 meters up?
That's why we've picked our favourite trails for every ability level, so that whether you want something scenic, something a bit longer, or a real thigh burner, you'll have the hike you're looking for. Or if you want to bring your furry friend with you, check out our Canmore for Dog Lovers article to learn the best spots for you and your pooch.

Save! Stay at Fairmont Properties
Skip the tent and stay in the heart of the Rocky Mountains with all the comforts & more of home. AMA members get exclusive pricing at Fairmont Properties including the Fairmont Banff Springs & Fairmont Chateau Lake Louise. Members get 20% off plus a $50 dining credit with every stay.
To see more great hotel deals, check out our regularly updated Quick Trips Hotel page for exclusive offers across Western Canada and into the States.
Easy hiking trails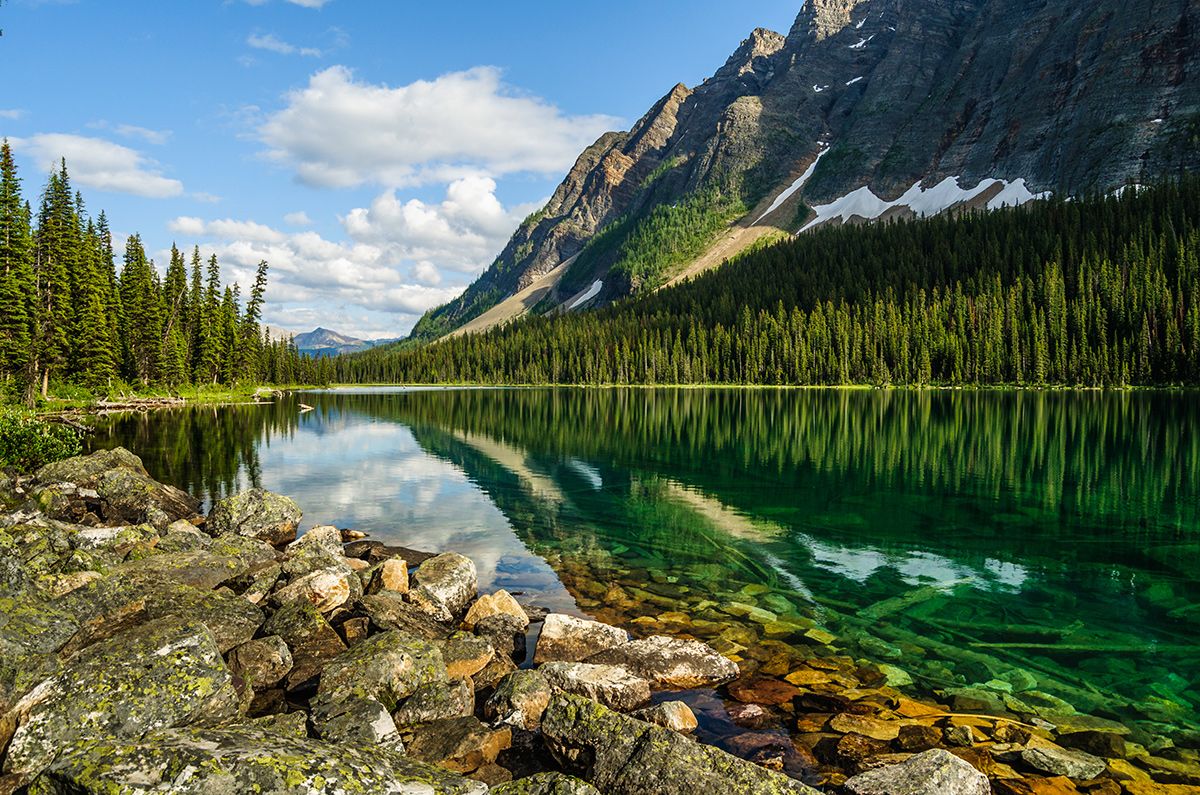 Boom Lake, Banff
Boom Lake
The low elevation and flat terrain make this a great hike for everyone, from children to the elderly. Around 10 km in length (so a three-to-four hour trip), you travel on a wide trail through thick forest to arrive at an emerald lake surrounded by trees and mountains. Breathtaking.
Silverton Falls
A wonderful romantic hike, for only 40 minutes of walking on easy trail you're rewarded with the beautiful Silverton Falls, a natural waterfall that makes for a great backdrop from May until September.
Johnston Canyon Lower falls
After an hour-long walk you'll find a catwalk leading into a canyon, and on the other side of a low tunnel you'll find the Lower Falls, filling the air with the sounds of crashing water while the surrounding rocks and trees are coated in dew.
Sunshine Meadows
A short drive west of Banff to Sunshine village, a fun gondola ride up to the ski base, and you'll be at the mouth of a trail that leads into British Columbia. Roughly an hour into the hike, you'll emerge at an amazing view of Rock Isle Lake, one of the most photographed spots in all the Rockies.
---
Intermediate hiking trails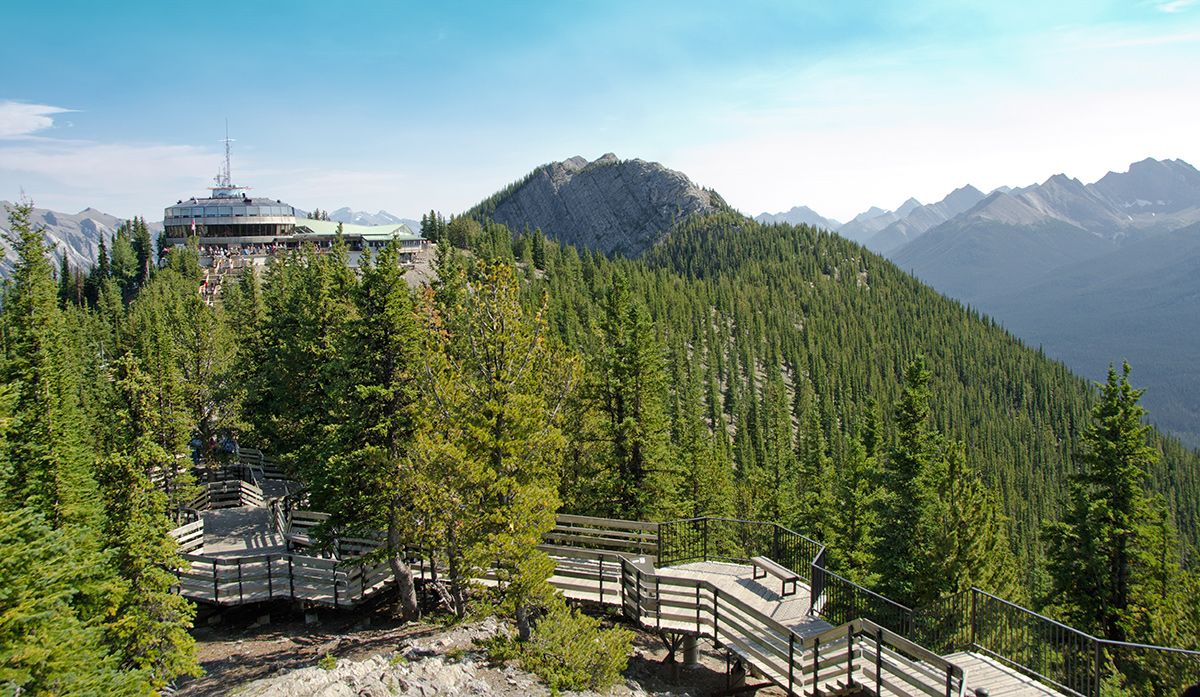 Sulphur Mountain, Banff
Tunnel Mountain Summit
This two-hour long hike can be accessed from downtown Banff, and has beautiful views of the town from higher elevations, as well as the magnificent Bow Valley. This is one of the oldest trails (it's been around since the beginning of the park) so know that you're walking on a bit of history!
Cascade Amphitheatre
The hike through the cascade amphitheatre is a bit of a climb and a longer jaunt (nearly six hours of walking) but seeing entire mountains shaded by drifting clouds and a valley filled with summer wildflowers is more than worth the effort.
Ink Pots
A half-day hike beyond Johnston Canyon, this forested trail culminates in a meadow filled with Banff's "Ink Pots," small hot spring pools filled with warm water that will stay melted even in the winter.
Sulphur Mountain
Historical remnants dot the landscape of this trail – one can find a weather observatory built back in 1903 and the remains of the Sulphur Mountain Cosmic Ray Station along its paths, along with incredible views of Sulphur Mountain. Expect a four-hour hike with a steady elevation throughout.
---
Advanced hiking trails
Lake Minnewanka, Banff
Cory Pass Loop
A six-hour hike at an elevation of almost 1000 meters with mixed terrain, this hike is a challenge. While challenging, you'll be rewarded with wild flowers, views of the Vermillion Lakes, the rock formations of the appropriately named Gargoyle Valley, and the knowledge that you championed the summit.
Aylmer Lookout
A great trail for both hikers and bikers, however, it is important to know that Aylmer pass is known as a prime grizzly bear habitat (bear spray is in fact mandated for those taking to the trail). Walking along Lake Minnewanka is an experience that can't be replaced, and that's only a small portion of the views available for the eight-hour excursion.
---
Looking for more fun in the Rockies?
Check out the many exclusive hotel offers we have this summer page on all the ways you can have a fun Quick Trip to Banff, and learn all the ways AMA Travel can help you save this summer.
AMA BEST PRICE
GUARANTEE
On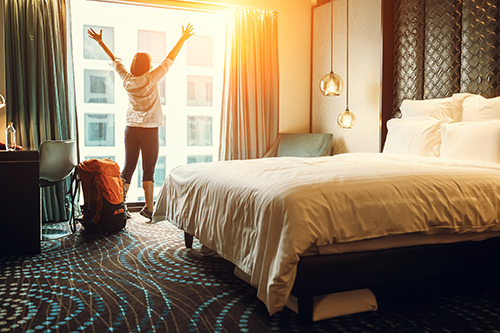 More Quick trips Hotel Deals
Find a great place to stay for a great price!