How to Pick the Cruise for You
Caleb Caswell
Jan 8, 2018
If you're not one of our travel agents who have been on over 100 cruises, choosing the right cruise for your interests can be a bit intimidating. Ocean or river? Basic or luxury? East or West Caribbean? Drink package or no drink package?
We've created this handy guide so you'll know exactly what you're looking forward to when you embark towards your vacation destination.
---
Ocean
Great if you love: sun destinations, island hopping, exploring coastline cities, huge selections of activities and restaurants, Broadway-level performances, activities for the kids.
Popular Ocean cruise destinations: Caribbean/Panama, Mexico, Alaska, the Mediterranean
Our Preferred Cruise Lines: Celebrity Cruise Lines, Holland America Line, Disney Cruise Line, Oceania Cruises, Royal Caribbean International, Princess Cruises, Norwegian Cruise Lines, Carnival Cruise Lines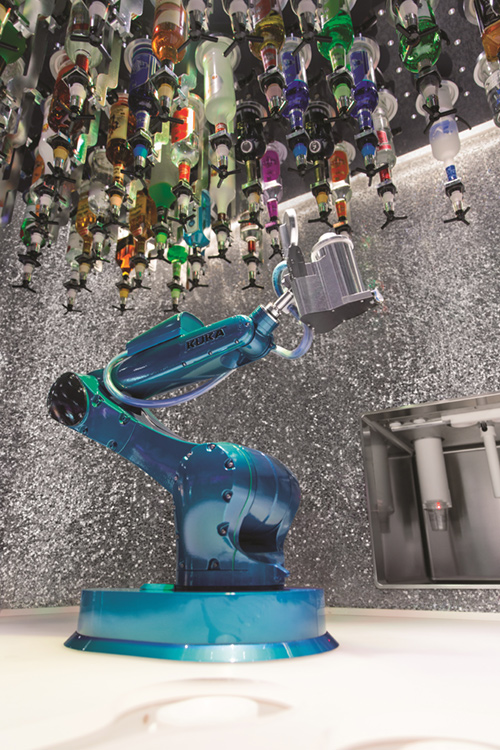 There are numerous unique experiences you can have on an Ocean Cruise
See numerous islands and explore coastlines of numerous countries in one vacation in a short time frame
Go on Trans-Atlantic voyages across entire oceans!
Have fun at an upscale amusement park, complete with zip-line and mini golf, on the water with the whole family
Dancing in a jazz-themed clubs? Drinking cocktails at a casino? Wine-making courses? Cooking classes? Water slides? Broadway theatre? Fireworks?
The question is: what can't you do on an ocean cruise?
Large and in charge, Ocean cruises have a broad spectrum of audiences – from a family-friendly county fair atmosphere to a more mature, sophisticated, James-Bond style, and everything in-between. They also have some of the most cutting-edge technology (robot bartenders!) available to cruisers. You and anywhere between 1000 to 6000 other passengers will be having a ball of a time sampling all the activities and restaurants (more than one cruise line features world-class chefs preparing incredible menus for numerous onboard restaurants). And then of course there are the destinations: beautiful, sun kissed beaches where the only issue is how fast the ice in your glass melts, incredible Alaskan glaciers, and expertly tailored cultural experiences.
River
Great if you love: History, culture, personal service, exploring beyond the shore
Popular River cruise destinations: Germany, Hungary, the Netherlands, France, Portugal, Vietnam/Cambodia
Our Preferred Cruise Lines: AmaWaterways, Uniworld Boutique River Cruises, Viking River Cruises, Avalon Waterways
River Cruising offers a number of unique activities:
Slow-pace sailing with calm waters
Being immersed in local history by specialists that come aboard and walking-tour guides
Docking in the heart of world-renowned cities!
Sample wine, beer, fruit, cheese, and meats your chefs collect from towns just miles away from the banks of the river
Rivers are surrounded by history. They have fed some of the greatest kingdoms the world has ever seen, empires that have risen and fallen on their banks. On a river cruise, you'll see castles, thriving hamlets, vineyards, and float along to some of the world's most exciting cities, including Ho Chi Minh City, Paris, Budapest, Vienna, Cologne, Amsterdam, Basel, and more. With a small group of fellow travellers, you'll have every opportunity to explore the history of your destinations, and your cruise hosts can get to know your tastes and interests. If you enjoy travel in a sophisticated atmosphere, trying what is simply the best of your surroundings, a river cruise is for you.
Luxury and Small Ship Cruises
Our Preferred Cruise Lines: Oceania Cruises, Regent Seven Seas Cruises, Seabourn Cruise Line, Azamara Club Cruises, Cunard Line, Windstar Cruises, Viking Cruises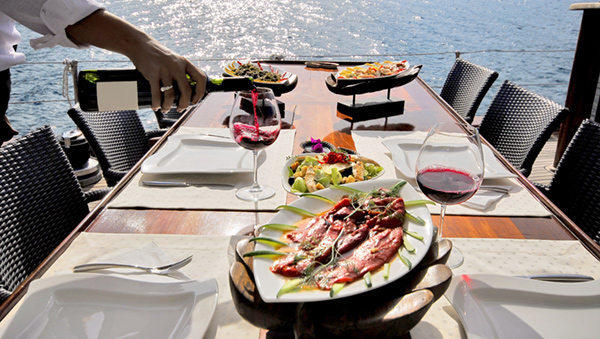 What's so great about a luxury small ship cruise?
Impeccable style down to every detail
Signature touches like white-gloved afternoon tea service, suites with butler service, and more
Mingling with fellow travelers on private terraces and lounges
What you're getting with a luxury cruise is exclusivity and elegant atmosphere. Imagine stepping aboard, having your bags taken away, and being offered a glass of champagne. Now that's a welcome.
A smaller ship size means you're more than just a face in the crowd, and no one is trying to sell you extra services. The choices in restaurants range in styles from around the world. Your ship can dock where most ships are just too big to fit, meaning you get into the action at every port with less muss and fuss. And the itineraries! With focuses on culture, history, adventure, and cuisine, you'll discover your ship will often stay late or even overnight in port, meaning there's no rush to get back to the ship, and you can have a deeper, more meaningful experience during your shore excursions. With luxury cruises, your experience is just that: YOUR experience.
---
All this to say, THERE ARE SO MANY CHOICES. While we can point you in the right direction, there's still a whole world of different cruise lines, each offering their own unique experiences. For example, if you want to go on an ocean cruise but want a quieter (or kid free) experience, we recommend Oceania Cruises. If you want to take a river cruise that's geared toward a younger crowd, U by Uniworld is designed for a millennial audience.
There's lots to learn. To find out more, just contact one of our cruise specialists to help you find the perfect cruise line, destination, and deal for your next vacation.