Food at Disneyland's Pixar Pier
So, the rides at Disneyland's Pixar Pier (formerly Paradise Pier) are a huge hit for kids and adults alike, but the surprise stand-out of the park was definitely the food. Here are a few of our favourites from when we visited the park!
Adorable Snowman Frosted Treats
Pixar Point-Out: The Adorable Snowman is from Monsters Inc. He's the Yeti that was banished to the human world because he wanted to be nice!
Cool off with the Frosty Parfait, a perfect mix of blue raspberry slush and lemon soft serve, or try the Snow-Capped Lemon, lemon ice-cream dipped in white chocolate. Of course, if you want to keep things simple, they have classic flavours like vanilla and chocolate as well!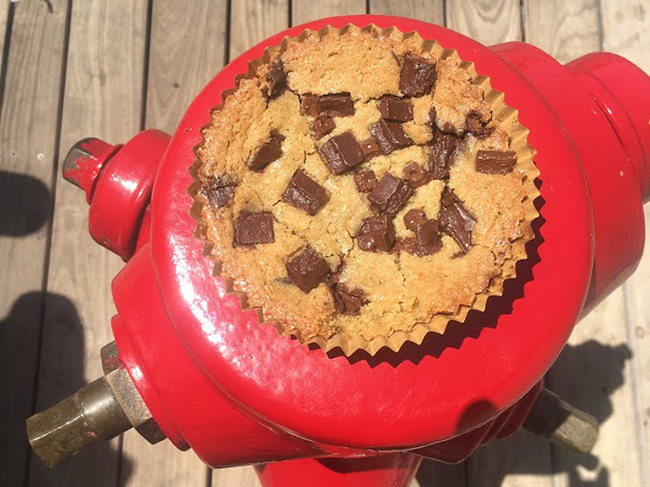 Jack-Jack Cookie Num Nums
Pixar Point-Out: Jack-Jack was in the original Incredibles, but plays a bigger role in the new Incredibles 2.
Located right next to the Incredicoaster, these treats are for toddlers, children, teens, adults… I mean who doesn't like cookies and milk! Try the stand's namesake for a humongous and warm chocolate chip cookie. The Incredicookie is filled with blackberry jam (and is gluten free), the Jack-Jack shortbread is light and fluffy, and you have every colour of milk to choose from, including strawberry, chocolate, soy and vanilla almond.
Poultry Palace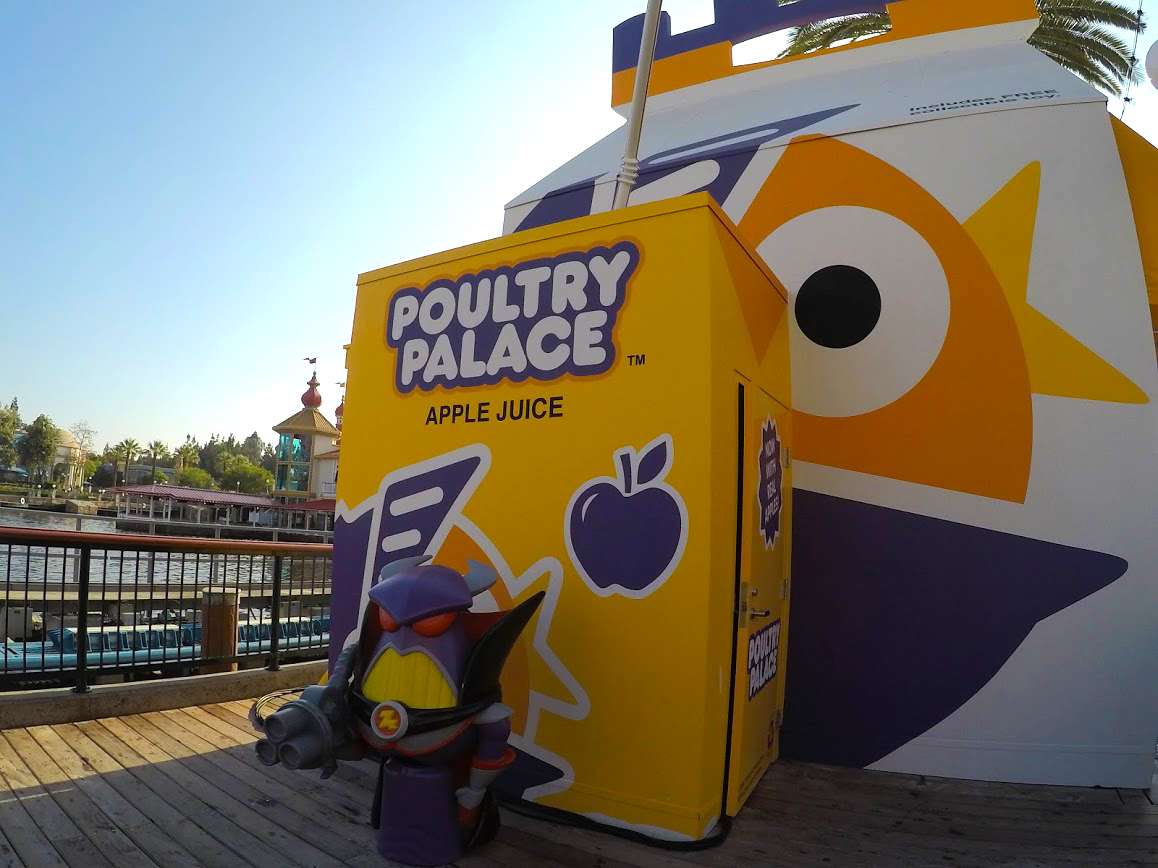 Pixar Point-Out: This is a reference most fans might not remember – just before The Muppets 2011 movie, there was a quick Toy Story short that took place in a fried-chicken restaurant, where Buzz has to escape a fate as a forgotten kids meal toy!
It's hard to miss the shack, as it's shaped like a large to-go box (complete with a little toy Zurg on the side of the building). That's good news if you love chicken. Try the chicken drumstick box with coleslaw, the honkingly huge Jumbo Smoked Turkey Leg, and corn on the cob that can be dressed in butter or chili-lime flavouring.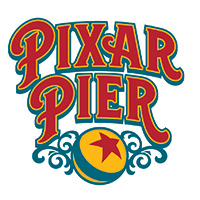 Learn even more about Disney Theme parks
If you want to be a Disneyland and Walt Disney World master – know where to eat, how to pack a survival backpack for a day of rides, hidden activities around the parks and more – download our free ebook, filled with park knowledge collected from our Disney expert travel agents.
Señor Buzz Churros
Pixar Point-Out: This one is a call-out to Toy Story 3 when Buzz Lightyear is reset to his Spanish version. A stretch? Maybe, but we'll take any excuse for churros.
To make things easy, there are only two flavours to choose from: the Caliente Churro that has a nice cinnamon spice, or the Super Galaxy Churro which is dressed in blue sugar dusting.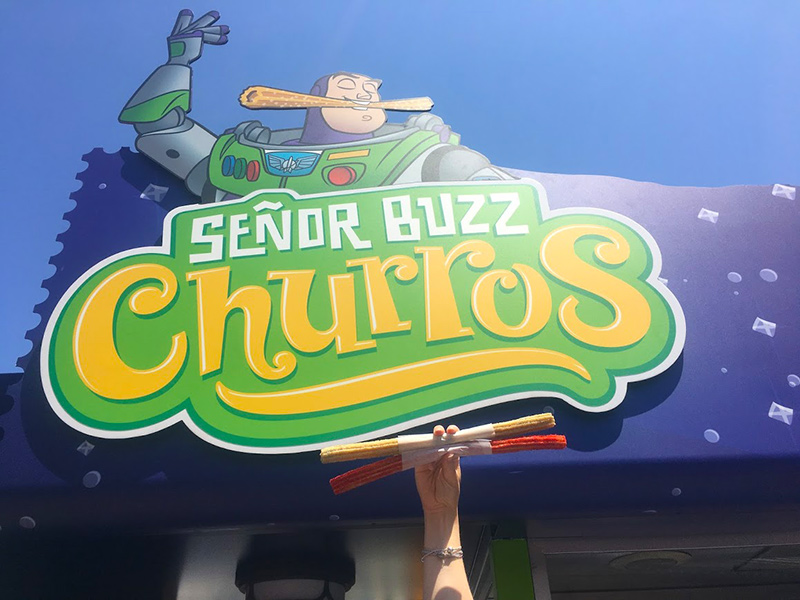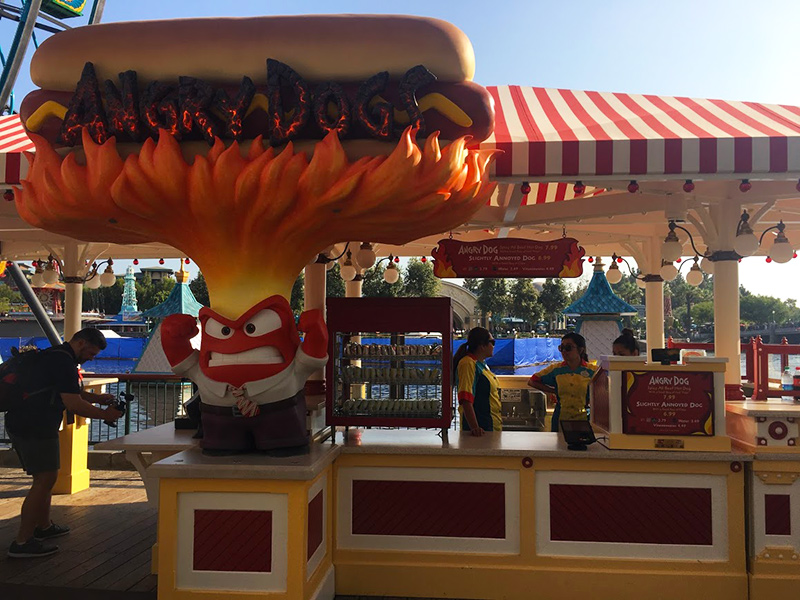 Angry Dogs
Pixar Point-Out: This is an easy one. Anger was one of the five emotions of the movie Inside Out, alongside Joy, Fear, Disgust, and Sadness.
Angry Dogs is about two things: hot dogs and spice. Keep things manageable with the Slightly Annoyed all-beef weenie, or turn up the temperature with the Angry Dog. You have control of the spice level with a range of ketchups and mustards, and don't forget a bag of potato chips or the staple Hot Fries.
Lamplight Lounge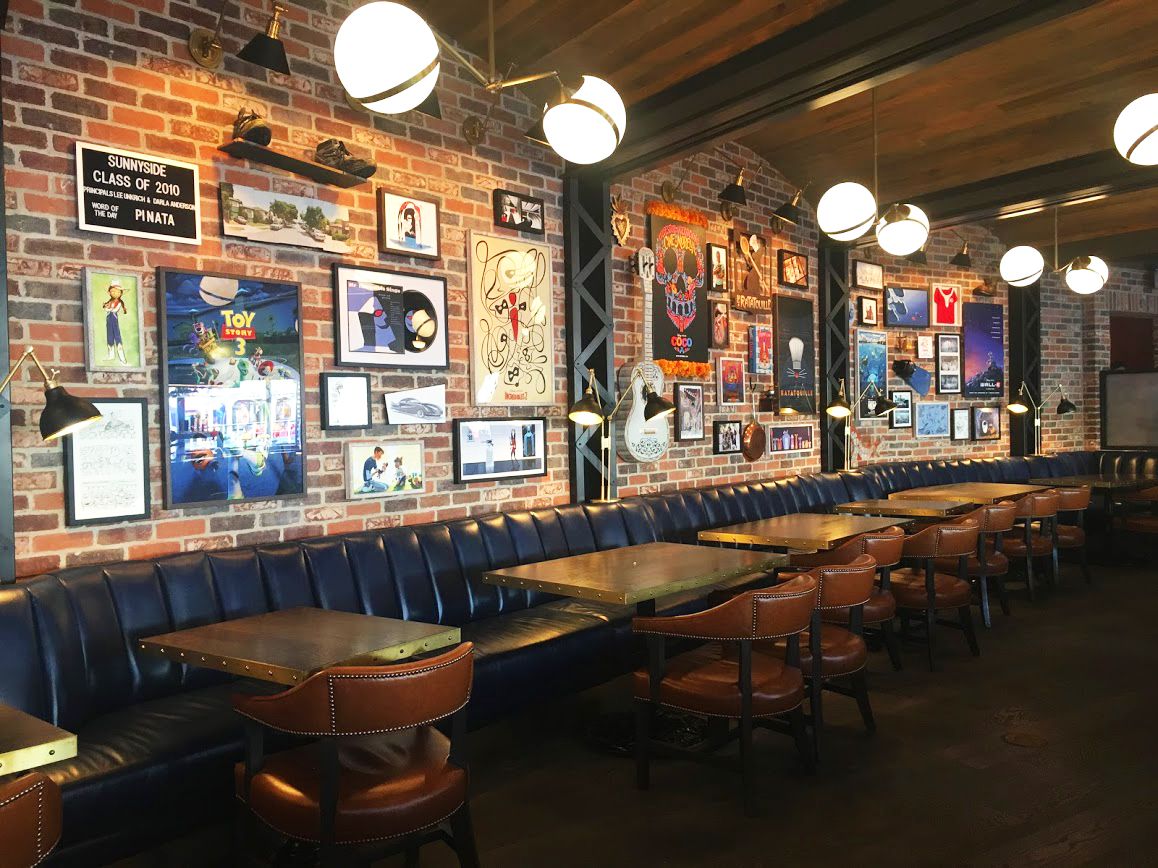 Pixar Point-Out: Now, obviously the desk lamp has been a symbol of Pixar since its inception. But the Lamplight Lounge shines a light on a number of Pixar's well-known and overlooked artists that have worked on their films over the years.
If you're looking for a quick appetizer and drinks, you can sit at the upstairs area. Get a reservation for the main level, and you will be treated to a number of delicious dishes, and Pixar treasures and mementos.
For food, you have dishes that are instantly recognizable from the films, such as Ratatouille. You can't ignore the Crispy Piggy Wing pork drumettes, lobster nachos, sliders, and donuts for desert with delectable dipping sauces.
For drinks, you'll find a mix of fruity and fun concoctions that feature cherry pearls, Powerade, agave nector, with names such as Falling with Style and the signature bubbly drink the Infinity Fizz. Whenever you lift your glass, make sure to check out the coasters, which feature sketches of familiar characters from Pixar artists.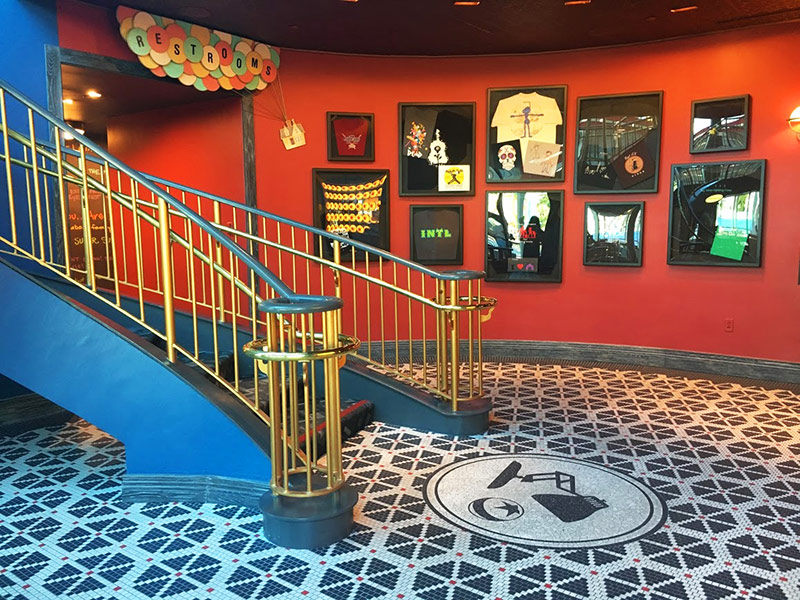 Bing Bong's Sweet Stuff
Pixar Point-Out: In Inside Out, the main character had an imaginary friend throughout her childhood, Bing Bong.
Opening soon, Bing Bong's Sweet Stuff will give you a rush like no rollercoaster – well, a sugar rush, anyway. Cake pops, candied apples, and other treats are the perfect food to snack on while waiting for the next ride.
Book your Next Disney Vacation
Our travel agents are Disney experts. If you need help knowing where to go, what to do, or where to stay, contact one our agents by making an online appointment, calling us at 844-771-1522, or visiting your local AMA travel center.
It's also easier than ever to find a Disney deal online. Just check out our Disney Deals page and find the perfect promotion for you.