How to Make New Zealand's National Dessert, Pavlova
After a hearty meal, you need a dessert that will close the palate – something sharp and citrus sweet, with a fluffy texture, maybe with a bit of fruit, that doesn't weigh you down as you start to wash the dishes.
Take a note from New Zealanders who finish their dinners with a dessert so light and graceful it was named after a ballerina – the pavlova. A mix of marshmallow-like center, creamy topping and fresh fruit, it's as pretty as it is tasty, and easy to make!
But to truly respect this dish, you must understand the battle for its identity.
A Battle for Fluffy Supremacy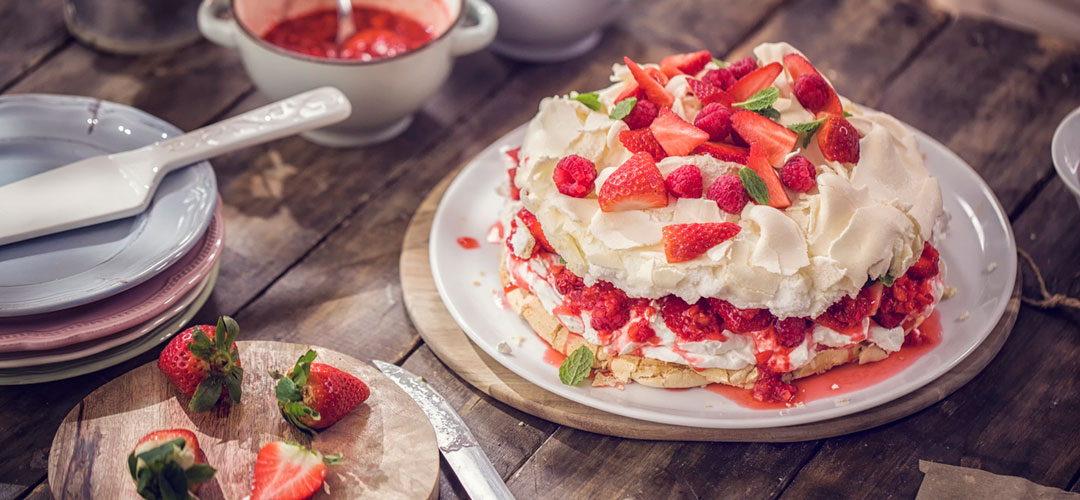 New Zealanders are typically a calm and collected people, but not when it comes to pavlova. Considered the country's national dish, they have been at a tug-of-war with Australia over ownership of the original recipe since the famed Russian ballerina Anna Pavlova toured Australia and New Zealand in 1920. The dessert was even named after her, and was thought to have been created to honour her visit.
The argument remained unresolved for many decades, with experts sifting through cook books from the 1930s to try and define a date of origin. New Zealand won the argument when the well-researched The Pavlova Story: A Slice of New Zealand's Culinary History, written by Professor Helen Leach in 2008, said a recipe had been found that predated all known Australian recipes. Sweet victory!
However, both countries' hopes were dashed when the pavlova recipe was found to have been born in Germany, perfected in America in the early 1900s, and then later travelled to New Zealand likely aboard a cruise ship, where sophisticated desserts such as the pavlova would have been served.
Regardless, both New Zealanders and Australians have put in a lot of work to preserve this dish for over a century, and it remains an iconic dish within both countries, each adding its own stamp and staple recipes to its long history.
But now, on to the baking.
Strawberry Daiquiri Pavlova Recipe
This recipe has been adapted from Sainsbury's Magazine. Since pavlova can be a little tricky, we reached out to a professional baker to give you the best tips and recommendations.
Kerri Stennes – who works for Edmonton's Duchess Bakery, named the best patisserie in Canada by the National Post – offered some advice and additional tip, which are displayed in a bold font below.
Ingredients
For the base
4 large egg whites*
225g caster sugar
1 teaspoon corn flour
1 teaspoon white wine vinegar
(*"Do not get any egg yolks in your egg whites or they won't fluff up as nicely," says Kerri. "And always use fresh egg whites! Not those carton ones – they have added stabilizers that can mess up meringue.")
For the topping
400g strawberries, hulled
300mL double cream
2 tablespoons icing sugar
1 tablespoon white rum
Zest and juice of 1 lime
150g redcurrants
Steps
Preheat the oven to 140°C. "Whip your meringue to a stiff peak," says Kerri, "meaning you can tip the bowl upside down and it won't fall out. Only add the vinegar/cornstarch it calls for at the end of the whipping process. If you add it too soon, your meringue will flop."
Pile the meringue on to a baking tray lined with baking paper to form a circle. "You can also map out your size by tracing a bowl or cookie cutter onto your parchment with a sharpie, then flip it over to use as a guide for your meringue." Make swirls and peaks in the meringue.
Bake for one hour, then turn the oven off and leave the meringue inside until both the oven and the meringue are completely cold – if you expose the pavlova to cold air while it's still warm, it will deflate (however, one of the best things about pavlova is that if you mess up the base, it will be covered with cream anyway).
To prepare the topping, slice up the strawberries, whip the cream with icing sugar, rum and lime juice until it forms soft peaks. The spread it on the pavlova and top with fruit and lime zest.
Flavour Combinations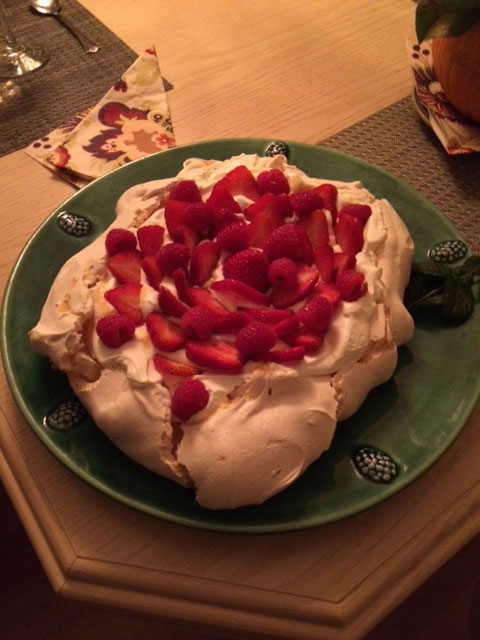 Strawberries are a classic pairing for this dessert, but pavlova is a malleable dish – a blank canvas to paint a delicious landscape of curds, creams, and fresh fruit. Kerri offered a few alternatives if you'd like to be more adventurous.
"If you want to keep things traditionally New Zealand" says Kerri, "a great flavour profile would be a passion fruit curd topped with fresh raspberries and fresh grated coconut.
"For an Albertan twist, add wild strawberries or saskatoon berries. These can be brightened with citrus, so pair them with a lemon curd.
"Finally, pistachio pastry cream with fresh strawberries and blackberries would be an excellent pairing.
"And of course, all of these get topped with fresh whip cream to mellow everything out."