More than a Stopover: Road Tripping Iceland's Route 1
David Little
September 14, 2017
Thanks to affordable flights and tons of media exposure (Game of Thrones, Interstellar, Prometheus,) Iceland has become one of the world's hottest destinations.
It's easy to see why. Iceland's beauty is undeniable: harsh, wild, and otherworldly.
Most Alberta travellers visit "The Land of Fire and Ice" via an extended Icelandair layover. LEARN MORE: Guide to Having the Coolest Iceland Stopover | The Ultimate Iceland Layover
But to fully experience Iceland you'll need more than just 48 hours. 10 days is the sweet spot. You'll also want to rent a camper van and hit the road—Route 1, the main highway that circles the entire country.
Never travelled in a camper van? Want to know all the best places to go across Iceland? Vacationing on a budget? This is the guide for you.
Why a Camper Van?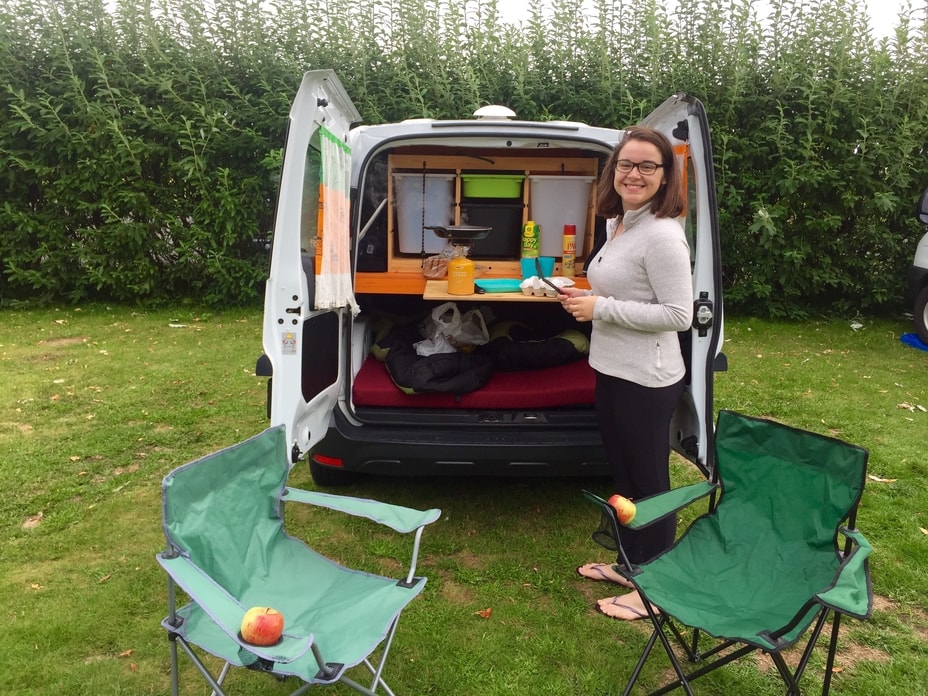 A camper van is one of the smartest ways to travel Iceland. Just about every town has a campsite, with toilets, showers, sinks for washing dishes, and clothes lines. And the camper itself comes stocked with all the essentials: pillows, blankets, plates, utensils, camping stove, etc.
Here are a few more reasons to rent a camper van:
Affordable. Iceland, like most Nordic countries, is expensive. Food, hotels, and tours are generally 50% – 100% pricier compared to Canada. A camper van is your shelter and transportation all in one. Most campsites cost about $20 CDN a night.
Freedom. Iceland is full of amazing landscapes to explore. With a camper van you're free to set your own schedule and go where you want.
Closer to nature. Want a better chance at seeing the Northern Lights? Simply find a quiet campsite and stick your head out the window when the sun goes down.
Convenient. Booking hotels while on the move can be tricky, especially when you don't have a set itinerary. Travelling with a camper van means you can pull into any town, find a campsite, and settle in for the night.
What Kind of Camper Van Should I Get?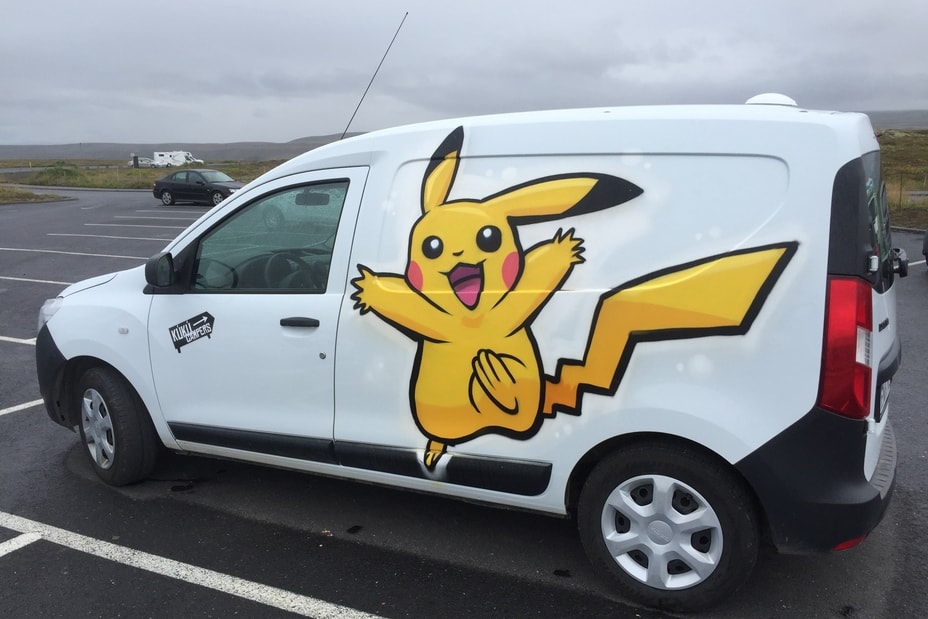 Campers in Iceland come in a range of styles:
Camper van. Best value, most fuel efficient (2, 3, or 5 passengers)
4x4 SUV. Most luxurious, can handle rough and snowy highland roads off Route 1 (2 passengers)
Truck + camper. Most expensive, but designed to drive in the highlands (3 or 4 passengers)
An international driving permit isn't required to rent a camper van or other vehicles in Iceland, but it is a good idea to have one to avoid problems with police.
If you're looking to book, I recommend Go Campers. The staff are welcoming, helpful, and you can request them to pick you up from Keflavik International Airport.
Must-See Destinations
Navigating Iceland's Route 1 couldn't be easier—it's a giant ring road, after all! Simply load up your van and go. While you can choose to drive Route 1 in either direction, for the purposes of this article, let's assume you're departing Reykjavik and going counter clockwise around the island.
The Golden Circle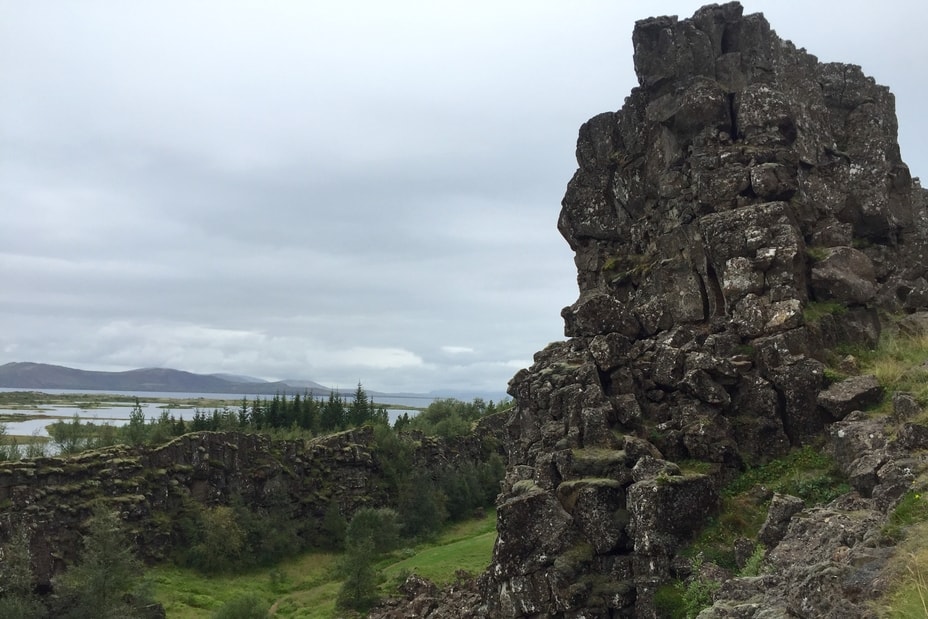 The Golden Circle is a fine introduction to what you can expect on your Iceland road trip. The entire 320 km circuit takes 6 – 8 hours. Noteworthy stops include:
Þingvellir National Park. Site of Iceland first parliament in 930 AD and where you can walk a rift separating the North American and Eurasian tectonic plates.
Haukadalur. Geothermal area featuring active geysers and boiling streams.
Gullfoss. The iconic, stepped waterfall.
Kerið. A huge, volcanic crater lake surrounded by colourful banks.
Tip: Before hitting the road in your camper van, visit a grocery store near Reykjavik and stock up on food and snacks. The cheapest grocery store is Bónus. Just watch for a yellow sign with the pig!
Mighty Waterfalls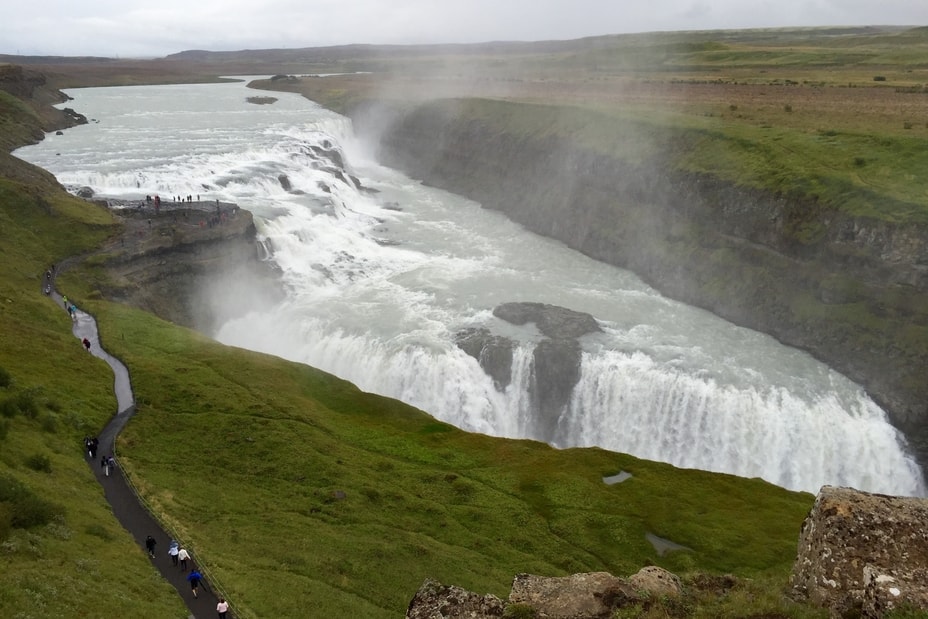 There's no shortage of waterfalls in Iceland. Though once you're back on Route 1, there are two especially beautiful waterfalls worth checking out during a driving break:
Seljalandsfoss. A 60-meter-high column of water plunges into a pool. Visitors can circle around the waterfall and explore a cave.
Skógafoss. On sunny days, the spray from this waterfall often creates a rainbow.
Tip: Public bathrooms are easy to find at roadside restaurants, cafes, and gas stations.
Sólheimasandur Plane Crash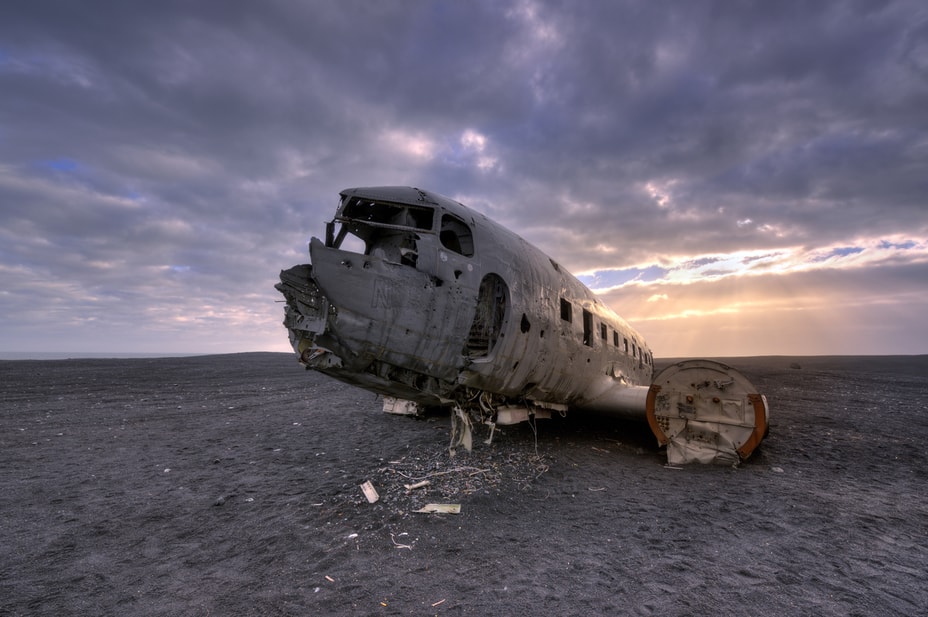 One of the most popular photography spots in Iceland is the 1973 wreckage of a U.S. DC-3 plane crash on Sólheimasandur Beach. The whole crew escaped the disaster alive, but the plane's battered fuselage still sits on the sand for visitors to see.
To get to Sólheimasandur, keep driving east until you see a sign going to Sólheimajökull glacier on your left. Then keep your eyes peeled about 2 km down for a turn off with a gravel road on your right. Park near the gate and walk the 4 km path south until you reach the plane.
Tip: Avoid a hefty mobile bill and download Iceland Google Maps data to your phone: Settings >> Offline areas
Black Sand Beaches
Next stop is Vik, a village on Iceland's southernmost shores. Here's where you'll find the famous black sand beaches bookended by basalt columns with strange cubic formations.
Birdwatchers should keep an eye out for puffins, fulmars, and guillemots gliding overhead and perching on rocks.
Tip: Be sure to download some new music, podcasts, and audiobooks to your phone so you have a soundtrack while you wind your way across the countryside.
Glacier Lagoon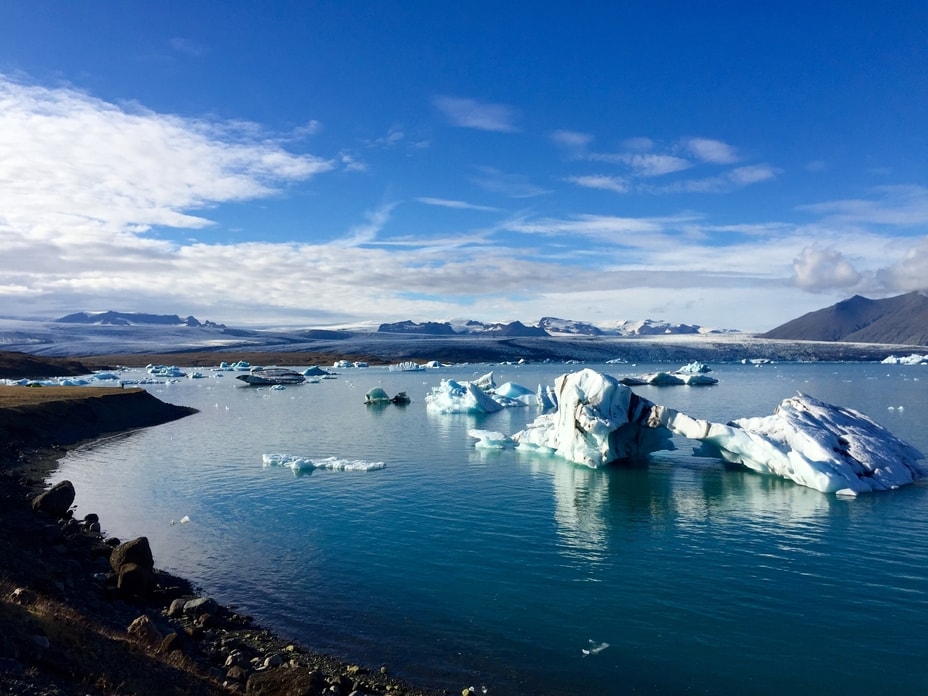 Two and a half hours east of Vik and you'll reach a bridge crossing Jökulsárlón, a lagoon containing beautiful blue-tinged icebergs floating in the turquoise water.
The icebergs break off from the glacier north of the lagoon and drift out to sea. South of the bridge is a beach where many of the glacier chunks have washed on shore, giving you a close look at the ice.
Tip: Wondering what to pack for your camper van journey? Make sure you bring a waterproof jacket, lots of layers, hiking boots, ear plugs (blocks out noisy fellow campers), sleep mask (sun sets late in the middle of summer), sandals, travel towel, and water bottle.
East Fjords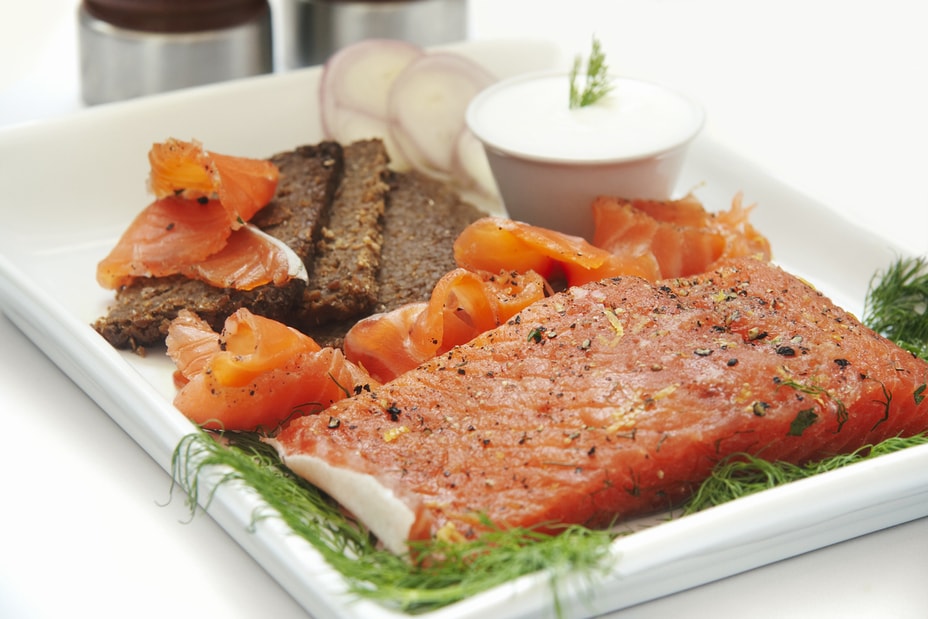 The East Fjords is Iceland at its most untamed. Towns and people are rare, roads are winding, and the weather can be unpredictable.
One must-see visit is Seyðisfjörður, a cute and colourful village set between the dark sea and misty mountains. This is a popular port for cruise ships. If you enjoy craft beer, pop in for a pint and dinner at Café Lara El Grillo Bar. The fresh cod is delicious.
Tip: More unique foods that you should try while exploring Iceland are hotdogs, gravlax (cured salmon), local veggies (grown in greenhouses), skyr (like Greek yogurt), lamb, dark rye bread, and chocolate-covered licorice.
Volcanic Areas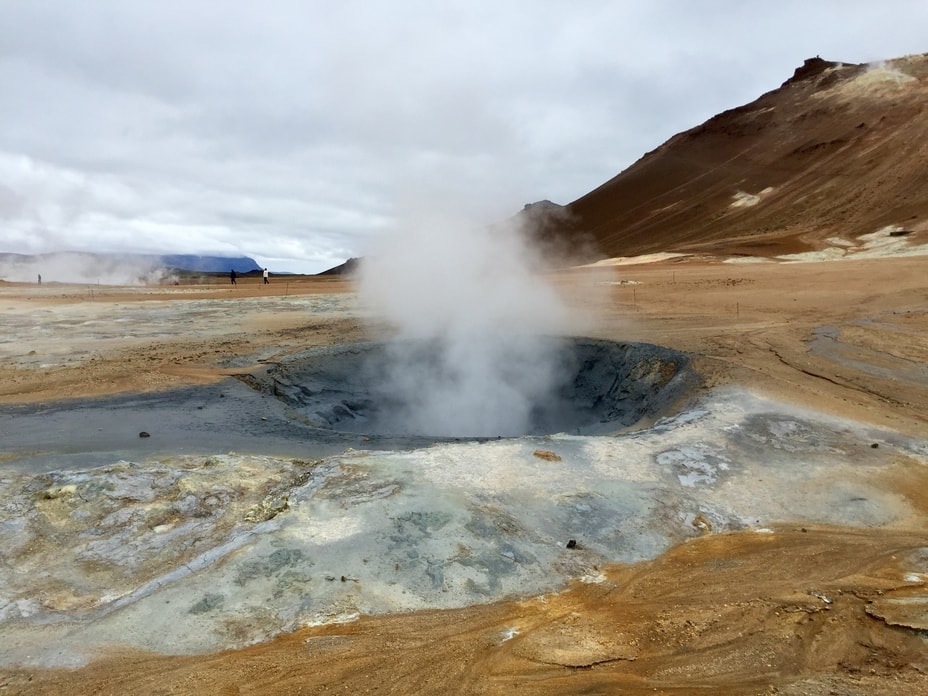 Iceland is one giant volcanic area. And you can see it in action at Námafjall Hverir geothermal area. The entire region looks like the surface of Mars.
On the left side of the highway is a parking lot and paths to walk around bubbling and steaming vents. Keep in mind that the earth is very sticky and muddy so watch your step.
Tip: The speed limit on Route 1 is 90 km/h. Police aren't a common sight on Iceland's highways, but they're sneaky and speeding fines are very expensive. On a recent trip, AMA traveller Doug S. was caught going 23 km/h over the speed limit, netting him a $300 fine—which is three times less than usual. Watch that lead foot!
Akureyri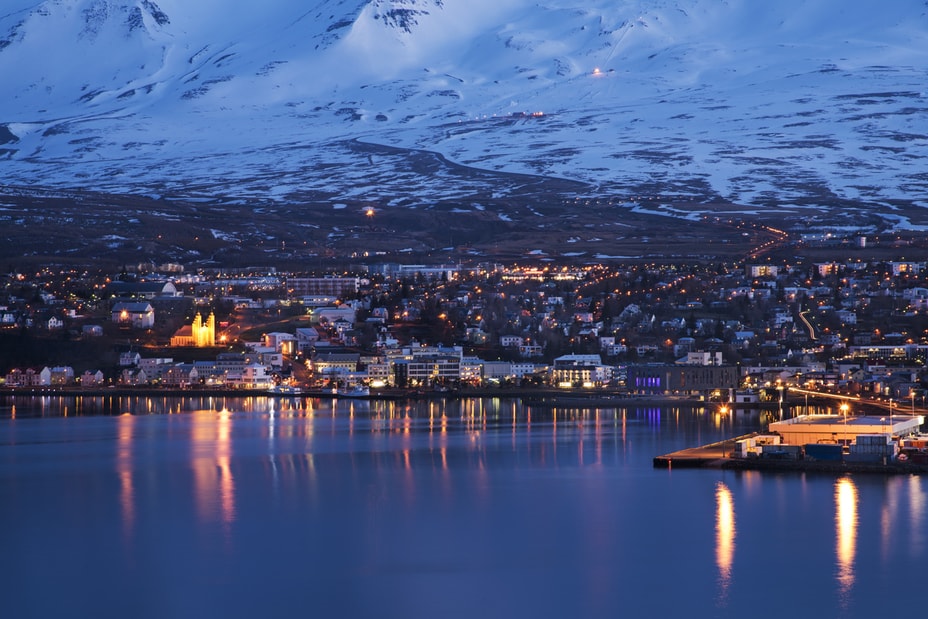 Descend from the highlands and you'll reach Akureyri, Iceland's second largest city.
Akureyri is a charming place. Plenty of wonderful restaurants, bars, and shops. And from May to October you can board a ship and go whale watching: humpback whale, minke whale, white-beaked dolphins, and harbour porpoise. Book a Whale Watching Tour
Tip: Looking for a place to shower and relax after a day of hiking? Nearly every town in Iceland has a pool. Entry is cheap (~$5 CDN), there will be several hot tubs of varying temperatures (all heated by geothermal energy), and it's where the locals go to hang out.
Snæfellsnes Peninsula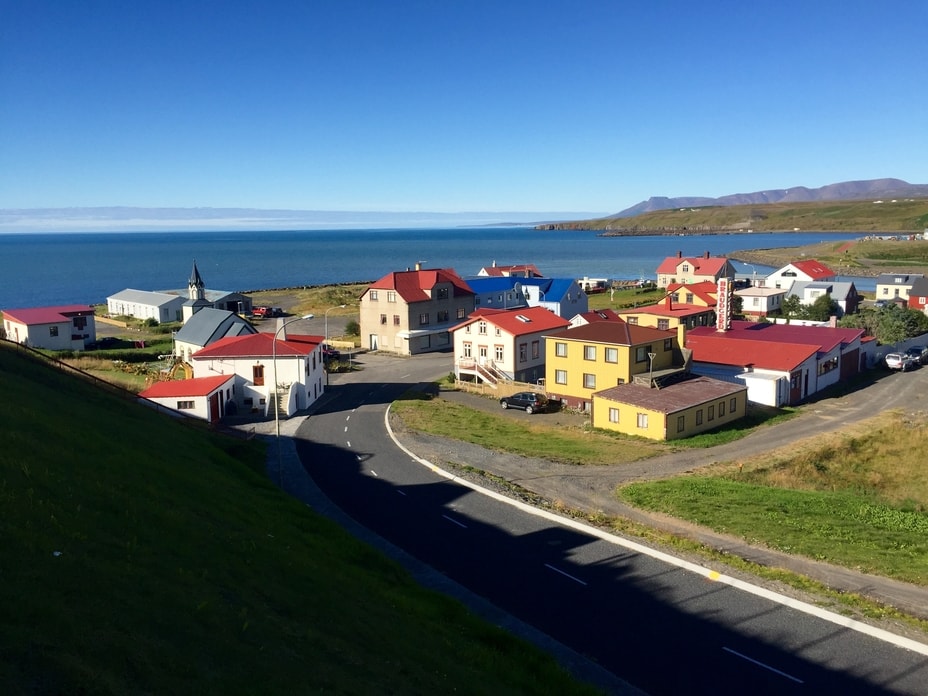 Now you're on the home stretch to Reykjavik. But if you have time, first make a stop in Blönduós. This town has a collection of lovingly restored early twentieth century homes built from lumber imported from Norway.
Next, continue to the Snæfellsnes Peninsula. Just west of Grundarfjörður is one of Iceland's most iconic sights: Snæfellsjökull volcano and Kirkjufellsfoss waterfall.
Tip: Debating about what time of year to visit? July and August are warmest and have the most daylight, but it's also the high tourist season. September and October are much less busy and the weather isn't yet cold and snowy.
Reykjavik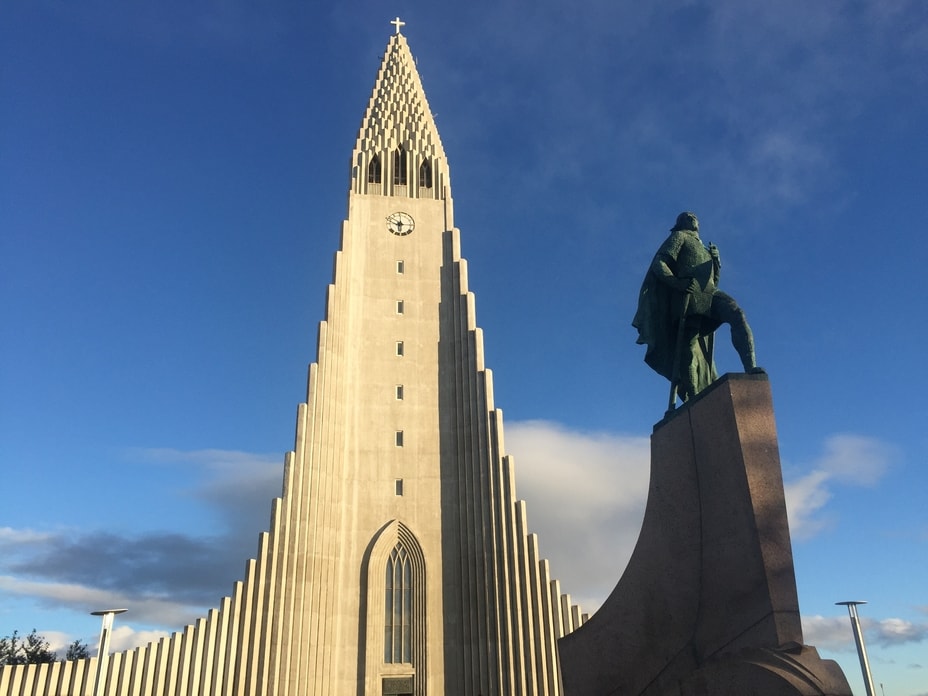 Fun fact: Iceland's capital contains 60% of the country's population. Reykjavik is a vibrant and cosmopolitan city on the harbour. There's lots to see and do, so leave yourself a couple days to ramble.
Here's a few recommended Reykjavik attractions:
Walking Tour. A free tour (tipping optional) hosted by local English-speaking guides gives you a lively introduction to Reykjavik's past and present.
National Museum. Learn about Iceland's hardscrabble Viking history and view its most precious artifacts.
Harpa. Reykjavik's prized theatre and concert hall has a beautiful wave-like design. Even if you don't take in a show, make sure to visit (inside and out) and admire the architecture.
Hallgrímskirkja. This iconic church took 41 years to build. Visitors can take an elevator to the top of the tower for an amazing view of the city and surrounding mountains.
Laugavegur. A pedestrian-friendly street where all the coolest restaurants, bars, and shops are.
Tip: Iceland is virtually a cashless society. No need to exchange your currency into Icelandic Krona as your bank card or credit card will be accepted everywhere.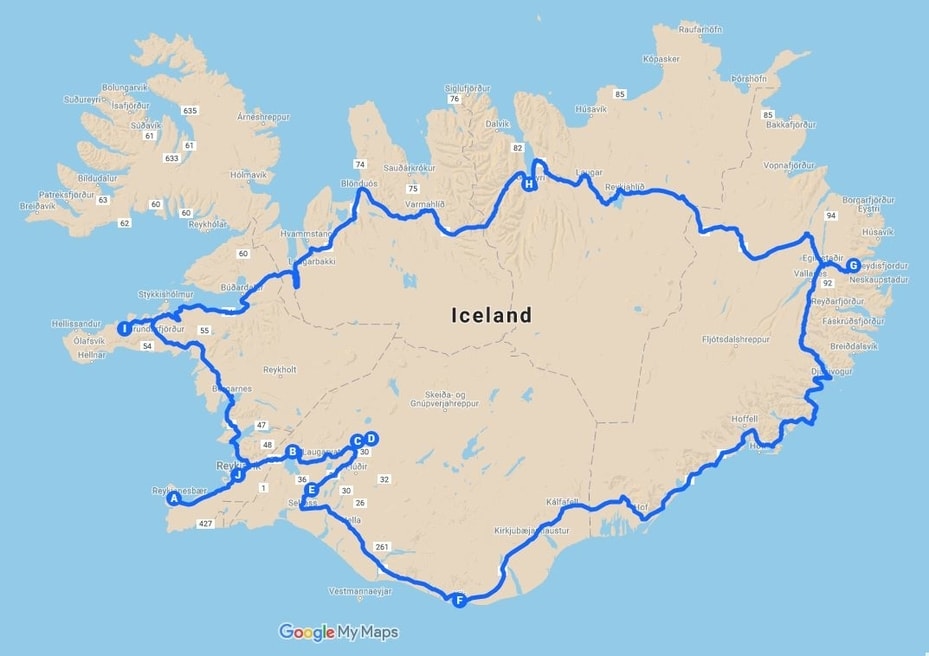 Book Now to Enter the 7 Continents Travel Contest!
Seven continents. Seven once-in-a-lifetime vacations. Seven pairs of lucky Albertans. It could be you. Book any kind of travel (flight, hotel, car, vacation, cruise, etc.) between September 14 – November 14, 2017 for your chance to win!
Ready to visit Iceland and scratch it off your bucket list? Reach out to an AMA travel agent, call 1-844-771-1522, or visit your nearest AMA centre.