Your Guide to Having the Coolest Iceland Stopover
David Little
October 28, 2016
Iceland… so hot right now.
From AMA travellers sharing their Iceland trip impressions to data showing Reykjavik (Iceland's capital city) as Google's fastest rising search among travel destinations, there's been a lot of buzz about this outlandishly beautiful volcanic island.
One of the biggest contributors to the Nordic country's eruption in popularity? Iceland stopovers.
First time hearing about it? I'll explain.
What's an Iceland Stopover?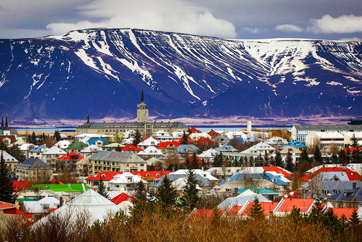 An Iceland stopover is an Icelandair flight option in which you can choose a chunk of layover time to visit Iceland while on your way (or coming from) one of 27 European destinations.
Stopover lengths can range from just a day all the way to a week.
Reasons to Love It
Two vacations in one.

Heading to Paris, London, or Amsterdam? If you can convince your boss to give you an extra few days off, a stopover is a great way to squeeze out a mini vacation right before or after your main trip.

Direct flights.

Since 2014, Albertan travellers have benefited from direct flights out of Edmonton International Airport (YEG) to Keflavik International Airport, Iceland's main air hub.

Affordable airfare.

Icelandair tends to have some of the cheapest flights to Europe. It's not out of the ordinary to see prices under $600. But they don't scrimp on service, offering two checked bags and in-flight Wi-Fi and entertainment.

Jet lag break.

Transatlantic flights are tough on the internal clock. Having a day to acclimatize to European time zones means you can hit the ground running and not feel groggy once you arrive.

No extra bookings.

Just one round-trip flight package includes your ticket to Iceland, the European destination, and then back home.
What to Do on Your Stopover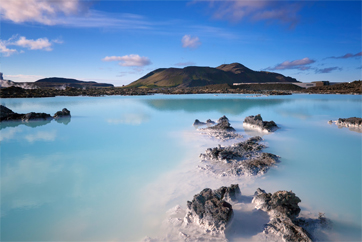 From 24 hours to a week, here's how you can cram in as much Iceland as you want.
Relax at a Geothermal Pool (2 hours)
Heat and electricity—Iceland runs on geothermal energy. Same goes for public pools and spas, which are pretty much everywhere because Icelanders love outdoor hot tubs.
The most famous Icelandic spa is Blue Lagoon. But more budget-friendly thermal pools and steam baths are easy to find. By my count, there's 13(!) in Reykjavik alone.
PRO TIP: Make sure you do a full shower (bathing suit off) with soap before heading out to the pool. Icelanders are so serious about pool cleanliness that they often employ a change-room attendant to stand at the doorway and remind tourists to wash up.
Grab a Hot Dog (15 min)
Iceland's favourite snack food isn't fermented shark. It's hot dogs (pylsur).
Like thermal pools, pylsur are ubiquitous. You'll find them for sale inside gas stations, convenience stores and at hot dog stands all across areas of town with high foot traffic.
EXTRA INFO: Pylsur are just as utilitarian as their North American variant. But they do have a special Icelandic twist:
Wieners are made from a blend of lamb, along with bits of pork and beef
Buns are lightly toasted
Best way to have it is with all the toppings: raw white onions, crispy fried onions, sweet brown mustard, and remoulade (a mayo-like dressing)
Explore the Golden Circle (6 – 8 hours)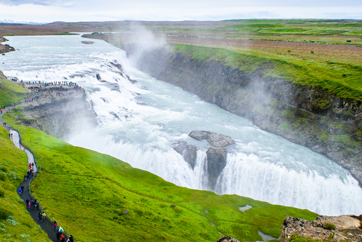 Whether you prefer to rent a car or hop aboard a guided tour, the Golden Circle is a nice introduction to Iceland's sights and culture. It's a 300 km loop starting outside Reykjavik and looping into the southern uplands.
Here's the list of popular stops:
Drive northeast on Route 36 towards Þingvellir National Park, the site of Iceland first parliament way back in the year 930. It's also where you can walk through a fissure separating tectonic plates of the Mid-Atlantic Ridge.
Continue to Haukadalur. It's a geothermal area home to Strokkur, an active geyser that erupts every 10 minutes.
Next up is Gullfoss, a huge, tiered waterfall.
Last on the itinerary is Kerið, a volcanic crater lake with a striking aquamarine colour. You can hike down to the bottom in under 5 minutes.
Walk the Black Sand Beach (1 day)
Vik, a village on the southernmost coast, is a postcard-worthy road-trip stop along Iceland's Route 1 Ring Road. Basalt lava spewed from nearby volcanoes created the black sand beach and soaring cubic columns .
Keep your eyes peeled and camera ready for birdlife, like puffins, fulmars, and guillemots.
DRIVING INFO: Vik is about a three-hour road trip from Keflavik Airport.
See the Northern Lights (2 hours)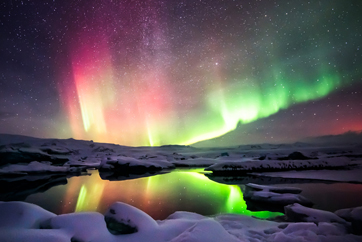 From September to April, wild northern lights dance across the night sky. There's no guarantee you'll see aurora borealis on your stopover, but a longer stay certainly increases your chances.
Iceland is sparsely populated, so light pollution won't seriously affect your ability to spot northern lights. Though the most vivid views will come when you get away from streetlamps and vehicle headlights.
PRO TIP: Visit the Icelandic Met Office for a map detailing evening aurora forecasts.
Check out the Nightlife
Reykjavik can be a rowdy place on the weekends. But the locals go about it in a different way. Alcohol is pricy in Iceland, so friends like to meet up for a few drinks before heading out to Laugavegur Street, Reykjavik's main shopping and entertainment stretch.
PRO TIP: Don't bother showing up to the pub or nightclub until after midnight—that's when the venues start to fill up and become more lively.
---
How to Book Your Iceland Stopover
Get in touch with an AMA travel agent one of the following ways: