Las Vegas has seen its fair share of urban revitalization. The glittering desert oasis—established only 110 years ago—wasn't always that. Beginnings rooted in a church settlement, a railroad station halfway between Los Angeles and Salt Lake City, and pioneers lured by the writings of John C. Freemont can't possibly hint at the booms (and busts) that would come later to the Entertainment Capital of the World.
For example, fans of Martin Scorsese's Casino (spoiler alert!) know that Las Vegas's seedier mob-controlled hotels of the 50s and 60s gave way to the towering entertainment and resort complexes owned by mega-corporations of the 80s and 90s, like MGM and Wynn.
So, while Edmontonians and Calgarians debate their own plans for urban revitalization, Las Vegas has recently finished its latest: a mixed-use resort-condo-entertainment complex occupying 76 acres of land just east of the Strip known as CityCentre. The price tag? $9.2 billion US, making it the most expensive privately financed construction development in the United States.
Interested in visiting this new and exciting area on your next trip to Vegas? Here are a few highlights from this impressive new addition to Sin City.
Aria Resort and Casino
The centrepiece to CityCenter is Aria, a luxury resort and casino comprised of two curved glass towers joined at the base. No matter which of the 4,040 rooms you stay in, you can expect posh at every turn. After all, Aria has a 5 diamond hotel rating from the CAA.
And one of the best reasons to visit Vegas is to take in a show or two—Cirque du Soleil being a popular favourite. Exclusive to Aria, Zarkana is a Cirque performance complete with zany characters, death-defying acrobatics, and spectacular music.
The Crystals
Crystals is a shopping mall and entertainment district housed in a beautifully angular building. Like Aria, Crystals primary focus is on high-end and luxury. Well-to-do-shoppers and window shoppers alike can enjoy checking out famous clothing brands like Gucci, Prada, Tom Ford, Versace, and much more.
If shopping has created an appetite, there's lots to choose from for fine dining: Todd English P.U.B, Wolfgang Puck Cucina, and Maestro's Ocean, to name a few.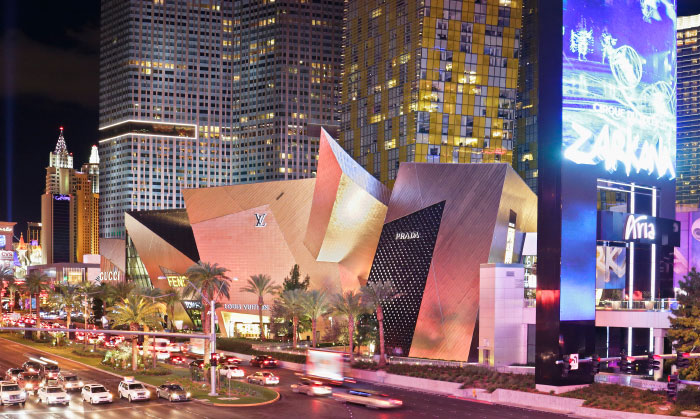 Fine art collection
Don't consider Las Vegas an art-lover's destination? CityCenter will change your mind. Spread throughout the entire area is $40 million worth of art free to everyone to enjoy. This makes it one of the largest public art collections in the United States.
Furthermore, the Mandarin Oriental hotel has its own art galleries which rotate exhibits on a regular basis.