C'est Loire: France's Châteaux and Wine Country
David Little
October 31, 2016
500 years ago the Renaissance took root in France. But it didn't start in Paris or Versailles.
Where it truly blossomed was the Loire Valley.
Located 213 km southeast of Paris, today the Loire ("low-ARE") is a river valley region dotted with farms, vineyards, villages, and, of course, many extraordinary châteaux.
QUICK HISTORY LESSON: The châteaux—grand castle estates—were built by French rulers and financiers in the 17th century across the geographically important Loire Valley. The river bisects France and had seen many battles and struggles for control of the fertile farmlands for hundreds of years. (The Loire marked as far north as Moorish armies advanced in the 700s. And it would also mark the separation between Nazi-occupied France and the Vichy Free Zone in WWII.) In the 1600s, these French nobles, inspired by Renaissance art and architecture seen during wars in Italy, wanted to build pleasure palaces to surpass the best of Florence and Venice.
First-Timer's Guide to the Châteaux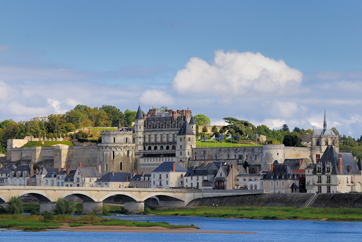 There are literally hundreds of châteaux throughout the Valley. And each one has a distinct character reflecting its original owners. Our France specialists recommend picking one or two châteaux that interest you most and sticking to them for the day. Don't overdo it with châteaux-hopping, because there's a lot to learn and experience.
PRO TIP: French people like to take long lunches from noon to 2 p.m., so some attractions might be closed between those times.
See below for our list of the top châteaux in the Loire Valley.
Chambord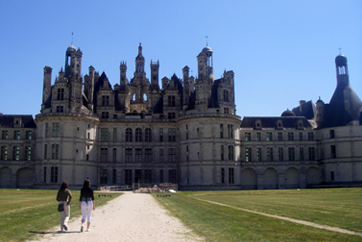 The granddaddy of French chateaux. Chambord took 1,800 workers and 15 years to construct. It. Is. Massive. Surrounded by thick forests with wild deer and boar, Chambord was a weekend hunting lodge for the elite. Be sure not to miss a huge double-staircase designed by Leonardo da Vinci.
FUN FACT: Chambord has exactly 365 fireplaces(!)—one for every day of the year.
Chenonceau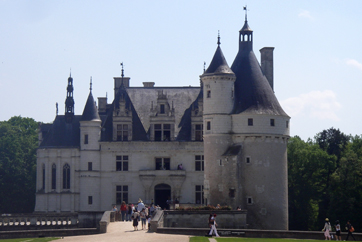 Arguably the most elegant château is Chenonceau. Gracefully arching over the Cher River, Chenonceau was the spot where local aristocracy came to see and be seen. Diane de Poitiers (mistress of Henry II) requested the bridge portion, and then jealous wife Catherine de' Medici later added the three-storey hall on top.
FUN FACT: When Henry was killed in a jousting tourney, Catherine took control of the property and kicked out Diane. Today can see Catherine's portrait hanging in Diane's former bedroom.
Villandry
Villandry is a must-see for garden lovers. Villandry was purchased in 1906 Joachim Carvallo, who converted the English-style landscaping to its former French Renaissance forms. The clever geometric gardens are a sight to see.
FUN FACT: Over 100,000 plants make up the ornamental flower gardens, vegetable patches, and sculpted hedges.
Clos Lucé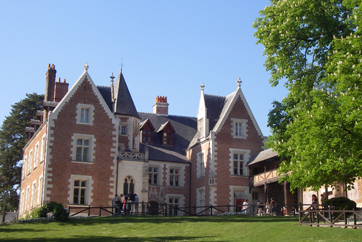 Leonardo da Vinci's lived at Clos Lucé for three years before his death in 1519. French king François I invited da Vinci to live there. He worked on hydraulic town planning in addition to his ongoing research in anatomy, floods, and botany.
FUN FACT: Clos Lucé is a full museum with working recreations of da Vinci's most famous inventions. Kids are encouraged to play with them, too.
Loire Valley Sparkling Wine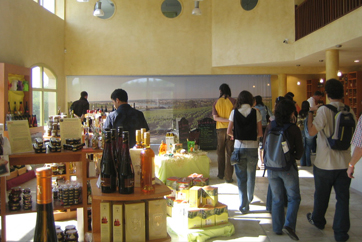 Sparkling wine—also known as Crémant de Loire—is very popular in the Loire Valley. The vast majority of Loire sparkling wine is white, with rosé making up the remainder. It's crafted in méthode traditionelle, the historic method used in Champagne.
If you're looking to do a wine tour and tasting, go to Cave de Vouvray. You'll learn the secrets of how the wines are made while taking a stroll though the cellars.
Ways to Visit the Loire Valley
Rent a car in Paris and drive the A10 Autoroute to Tours. (ETA 2 hours)
Take the TGV high-speed train from Paris to Tours. (ETA 1.5 hours)
Book a roundtrip Loire river cruise
Reserve a small-group guided tour
---
Want Help Booking Your Trip to the Loire Valley?
Get in touch with an AMA travel agent one of the following ways: