Things to do in Drumheller
Tucked away in the badlands of Southern Alberta lies the town of Drumheller. With numerous sights to see – such as fossils that are millions of years old and breathtaking landscapes that look like they are from a land time forgot – this is one area of Alberta that won't disappoint, and will leave you wanting to come back and discover more.
We know what you're here for: the dinosaurs
Well, their bones at least. What would a trip to Drumheller be without a bone to pick with a Brontosaurus or a nod to a Nodosaur? Join in the hunt for buried treasure and see what there is to discover!
Royal Tyrrell Museum of Paleontology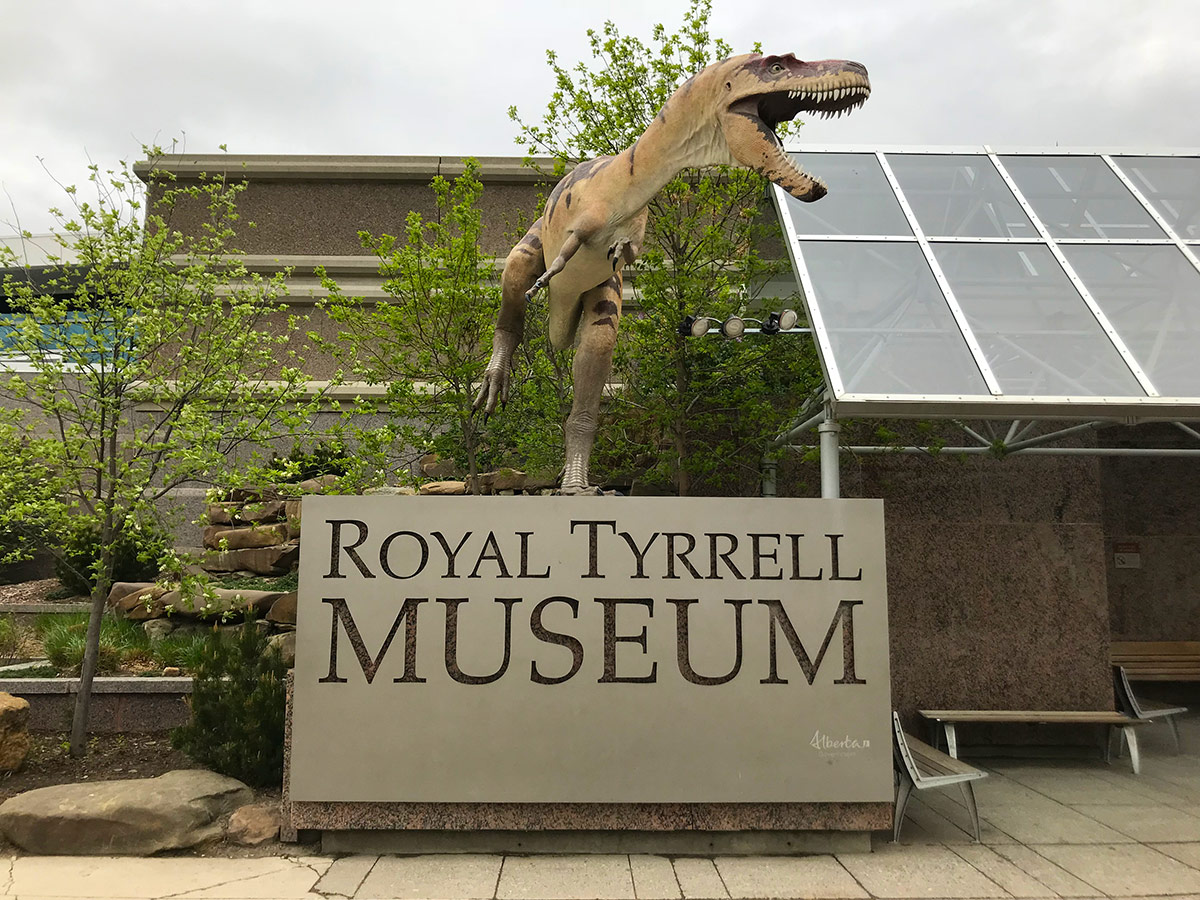 Photo Credit: Tyler Majeau
The Royal Tyrrell Museum is known for its collection of more than 130,000 fossils with many coming from the surrounding badlands of Alberta and Dinosaur Provincial Park. The museum takes its name from Joseph Burr Tyrell, a surveyor who was originally looking for coal and other mineral deposits when he discovered a fossilized Albertosaurus skull protruding from the side of the river bank in the Red Deer River valley in 1884.
Today the museum has exhibits featuring fossils from numerous ancient eras, some of which have become quite famous, such the remarkably well-preserved fossil of a Nodosaur where its last meal and scales are clearly visible. And the best part? AMA members save 10% on entry into the museum!
SAVE! Quality Inn Hotel in Drumheller
AMA members get a special two-night package offer when they stay at the Quality Inn, which includes a workout room, free wifi, and complimentary accommodations for pets. You'll be staying right next to Reptile World and the Homestead Museum, so you're walking distance from great family-friendly activities.
World's Largest Dinosaur… Model
In the heart of downtown Drumheller, there's hard-to-miss fiberglass T-rex with a staircase inside. In fact, it's the largest T-rex model in the world! For just $4, you can climb to the top and enjoy views over the town and the valley beyond. Young children especially enjoy the chance to climb up a dinosaur.
Dinosaur Provincial Park
No trip to Drumheller would be complete without a visit to Dinosaur Provincial Park where many of the fossils in the Royal Tyrrell Museum were excavated. To ensure you see everything the park has to offer, it is best to budget two days to see it all.
Dinosaur Provincial Park has a campground where you can set up a tent, park an RV, or even book one of the canvas wall tents for some luxurious comfort camping. Once your accommodations are all set, you have the choice of exploring the five different trails, seeing two fossil beds – one Hadrosaurus and one Centrosaurus – going on unique guided tours and interpretive programs like the fossil safari, or the exhibition gallery at the Visitor Centre.
[It's important to note that it is illegal to disturb or remove any fossils and doing so can result in fines up to $100,000 or one year in prison. Any potential fossil discoveries should be reported to parks staff so paleontologists can excavate them.]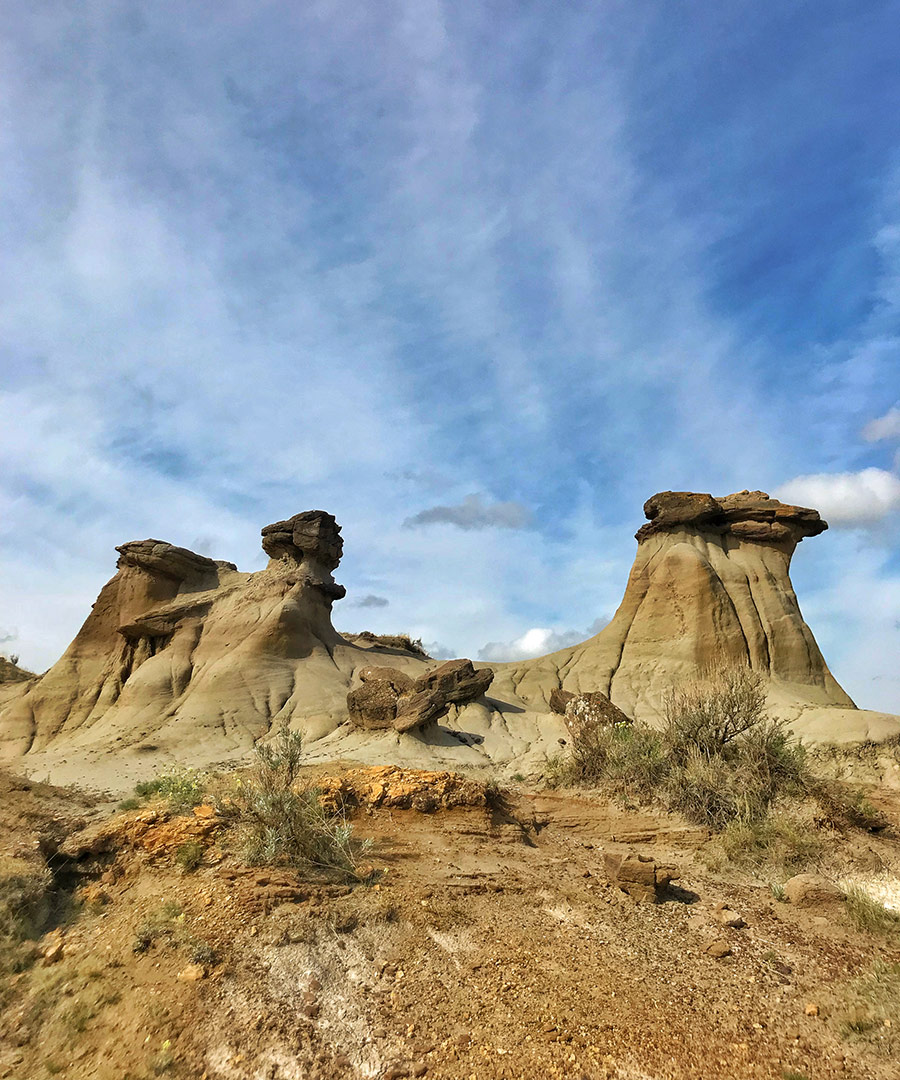 Photo Credit: Tyler Majeau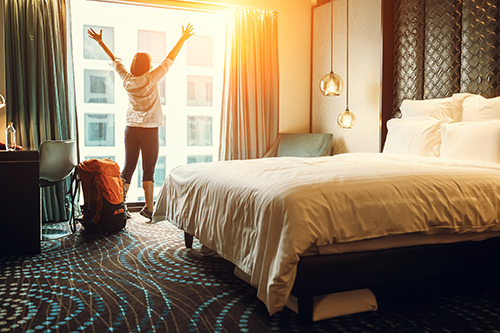 SAVE! On Hotels across Alberta, BC, Oregon, and Utah
Looking to get away for a quick trip this summer? We have exclusive deals across the province and into the States for AMA members. Find the deal that's right for you and start planning!
Get into nature and the attractions
There's more to Drumheller than just dinosaurs: There's also an incredible pantheon of environmental views, and stories from Alberta's Old-West history.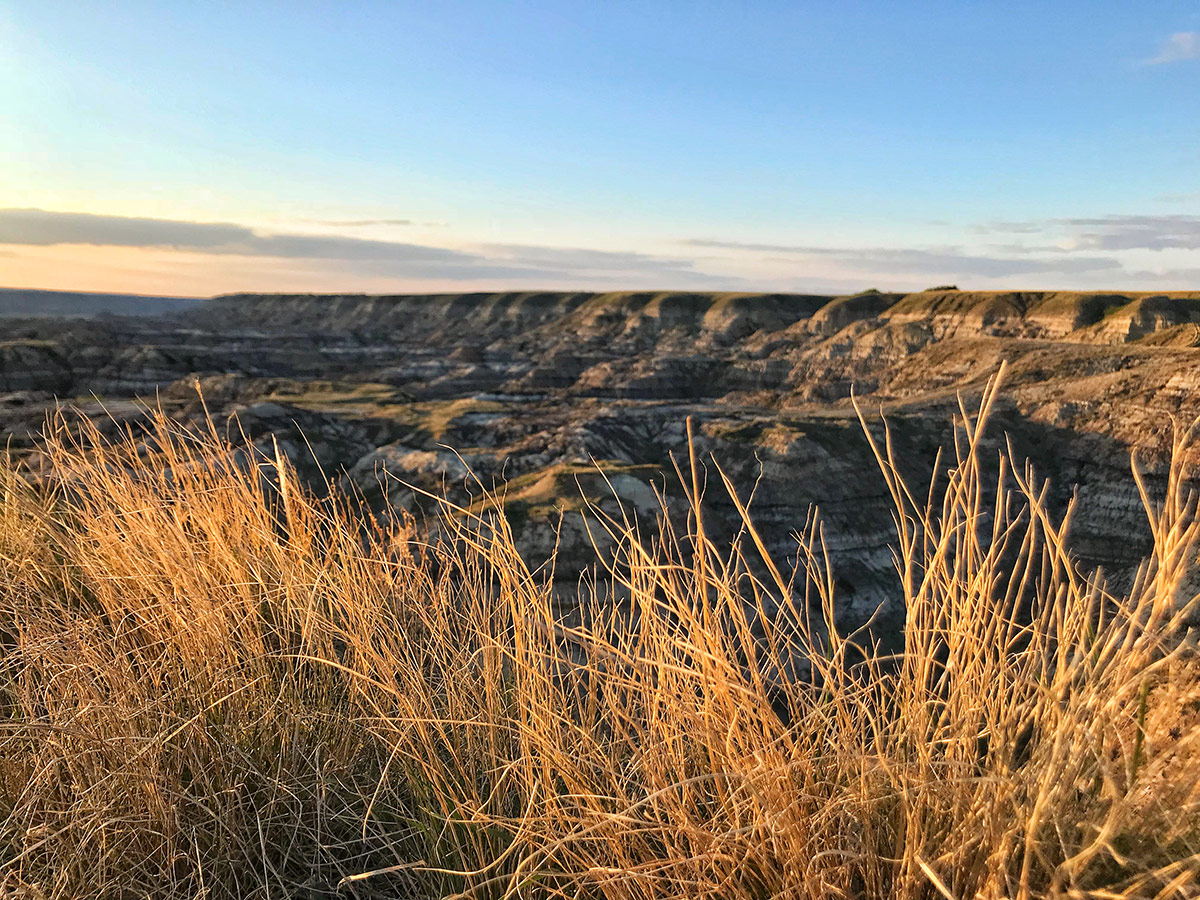 Photo Credit: Tyler Majeau
Horsethief Canyon
Just north of Drumheller along the North Dinosaur Trail is Horsethief Canyon. There's a lookout just off the road that offers panoramic views of the canyon and the Red Deer River. The canyon got its name from the illegal horse trade between the United States and Alberta that existed over a century ago where horse thieves would hide horses in the canyon where they would later be smuggled out.
There are some steep paths that go into the canyon for those who are more adventurous and want a closer look, although it is not advised to go into the canyon when it is rainy as the clay paths become extremely slippery and it is impossible to climb back out.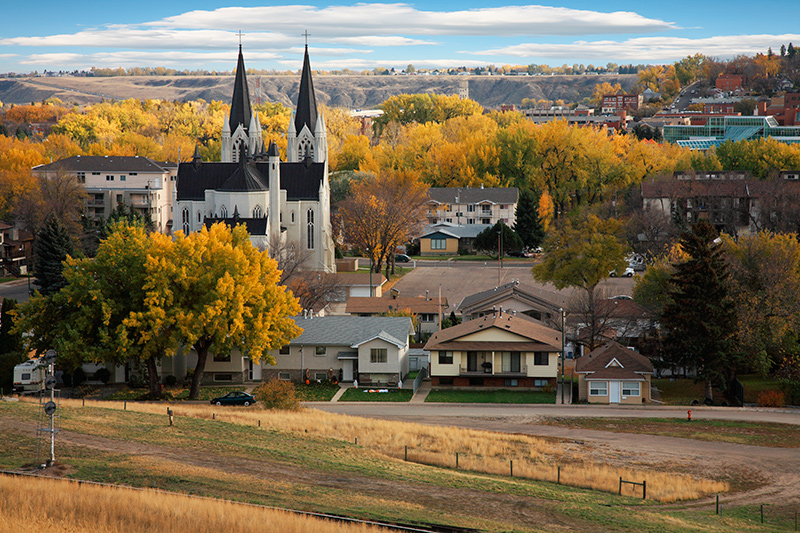 Take a Quick trip to Southern Alberta
From jaw-dropping mountain vistas to sweeping deserts and ghost towns, our province's south captivates thousands of visitors a year with its rich history and unique tourist offerings. Find the best things to see and do in Southern Alberta.
Little Church
Blink and you may miss it! Along the North Dinosaur Trail, a couple minutes away from the Royal Tyrrell Museum, is Drumheller's Little Church. Built in 1968 by Trygve Seland and reconstructed by the inmates of the Drumheller Institution in 1991, the Little Church is not just a tourist attraction but an actual functioning church with six one-person pews and one pulpit. There's a saying that "the Little Church holds 10,000 people, but only six at a time".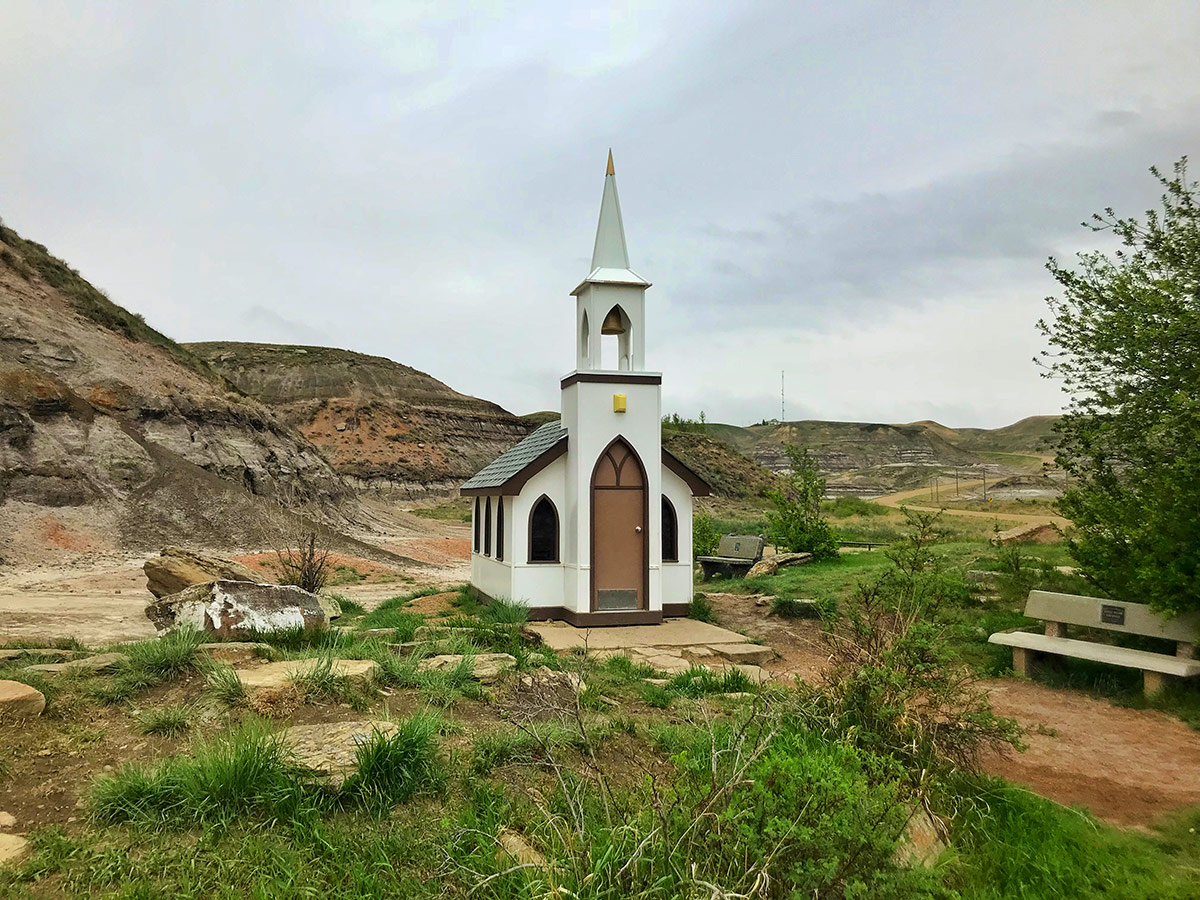 Photo Credit: Tyler Majeau
Horseshoe Canyon
A short 15 minute drive south west of Drumheller on Highway 9 lies Horseshoe Canyon, named for its distinctive horseshoe shape. Two newly constructed viewing platforms at the top of the canyon provide impressive views across the landscape and with the new staircase visitors can walk down into the canyon to walk among the interesting rock formations.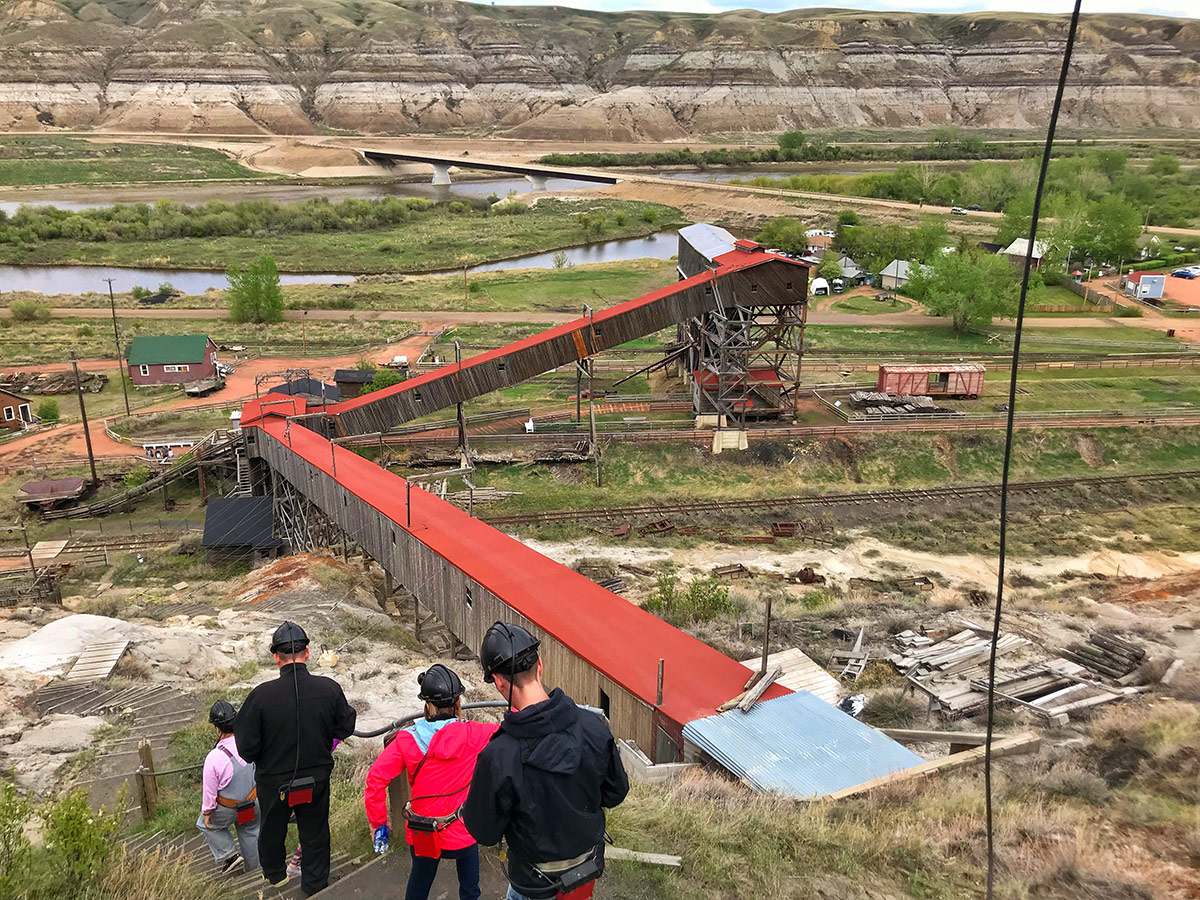 Photo Credit: Tyler Majeau
Atlas Coal Mine
The Drumheller Valley was originally a major center for coal mining with numerous mines and towns to support them. Jet black seams of coal can still be seen stretching horizontally across the exposed rock in the valley today. The Atlas Coal Mine itself extends deep into the hillside following this layer of coal for five kilometers with hundreds of smaller tunnels branching off from the main tunnel like the veins on a leaf.
The Atlas Coal Mine is the only remnant of the 139 coal mines that once dotted the valley, and today serves as a historical attraction where visitors can learn about the areas coal mining history and explore the old mine structures on guided tours. There are three main tours that allow visitors to experience the site: the tipple tour, train ride, and the tunnel tour.
And More!
Who'd've thought that buried out there in the badlands you could find Star Trek memorabilia, great theatre, and a doll museum? Unearth these attractions and discover some amazing Alberta (and even Hollywood) history.
Trekcetera Museum
Tour the halls filled with set pieces, costumes, and gadgets pulled from the sets of the Star Trek series. Not a sci-fi fan? Then no worries: You can also find movie memorabilia from Superman, Harry Potter, the Men in Black, Pirates of the Caribbean, and more in the halls.
Looking for things to do in Calgary?
Calgary is filled with places to eat, shop and explore, but where do you start? Fortunately, we've broken down the big city into bite-sized itineraries for families, romance, or budget trips. Find out more on how to spend a quick trip to Calgary.
Valley Doll Museum
If you live for small-town idiosyncrasies, this doll museum that opened in the 1970s features over 700 pieces, each with its own character and backstory. Take a stop in the shop, look around, and feel free to ask the owner about her favourites: she'll make the dolls come alive.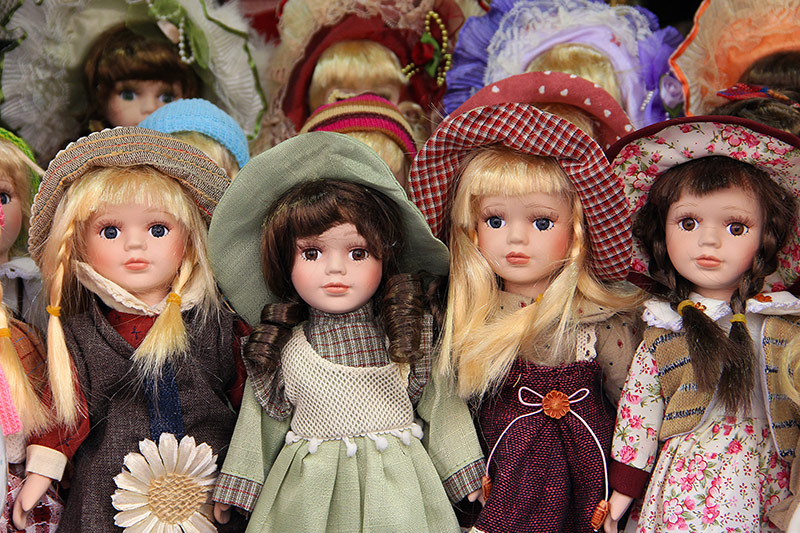 Rosebud Theatre
Can you imagine a small Albertan town's claim to fame would be the theatrical arts? If you can't picture it, then you need to buy some tickets to a show in Rosebud. A short drive from Drumheller, this town performs regular plays that are worlds beyond your typical small-town community plays, as they are filled with former graduates of the Rosebud School of the Arts, many of whom go on to become professional actors across Canada.