Royal Caribbean's Symphony of the Seas – A Fantastic Family Retreat
We got a first-hand look at Royal Caribbean's Symphony of the Seas, and it is an amazing way for families to spend a vacation together. Not only do you get to enjoy amazing destinations, but the ship is built to entertain you for every minute you're not on land.
Here are some memory-making activities parents can share with their kids, teens, and even adult children!
#1. Watch the Incredible Water Show HiRo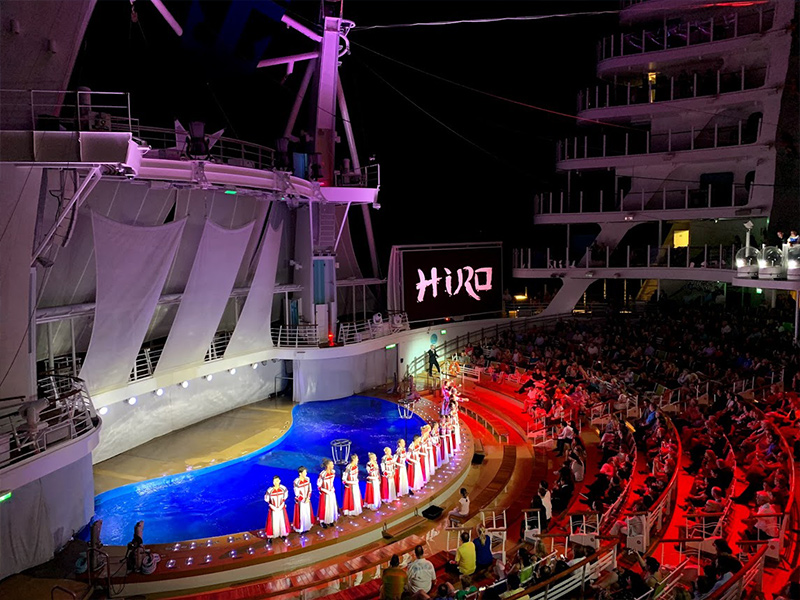 Be amazed at the mix of amazing dives and acrobatic thrills of HiRo, Spectacle Aquatique. Dancing mixes with drumming, water mixes with light, making for an experience you can watch multiple times and find something to raise your heartbeat every time.
It should be noted that if the seas are too rough, the show will need to be cancelled. It's hard enough to balance on a trapeze as it is!
#2. Scale the Six-Storey Climbing Wall
Free and with no reservations required, all you'll need to bring to scale the wall is a little courage (and a pair of socks). Of course, Royal Caribbean provides the harnesses, helmets, and shoes, so if you're six-years-old or older, you can get better at climbing with advanced sessions, compete in competitions, and teen tournaments.
#3. Play Mini-Golf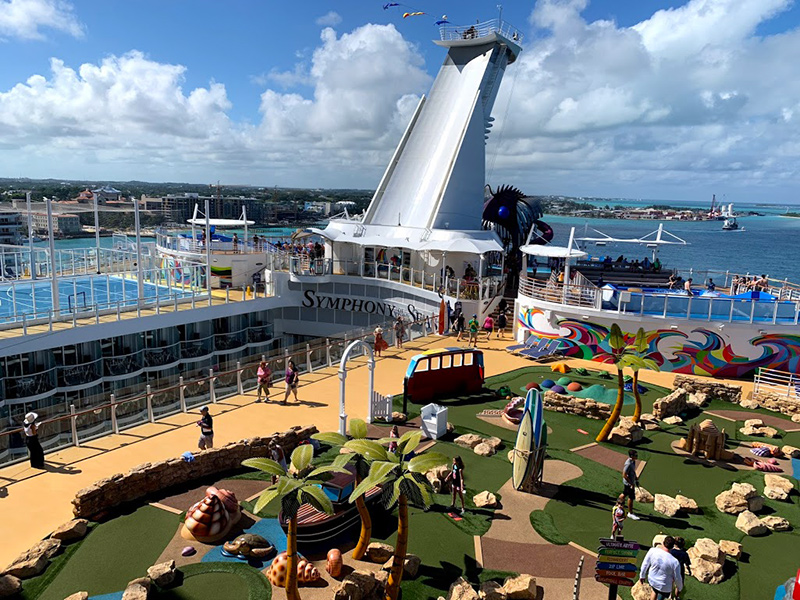 There's nothing like enjoying a pleasantly paced game of mini golf while basking in the ocean air and sparkling sun. While you don't need to make a booking to play, it's really popular, so make sure to get there early!
#4. Dunk it on the Basketball Court
A full basketball court provides families the chance to get active on the top deck. Make some friends on the ship, and you can get into some full team competitions, whether it's basketball or soccer!
#5. Escape the Escape Room
Some families love bonding over a jigsaw puzzle. But you know what really helps you learn what your family is like? Trying to escape a submarine!
Royal Caribbean brings the escape room experience onboard with Escape the Rubicon. You have a time limit to solve all the puzzles in the room, which will grant you your freedom. And if your family works together really well, you might even break the record. It fills up fast, so use your Royal Caribbean online cruise planner (available once your cruise has been booked!) to secure your spot.
#6. Shop in the Candy Store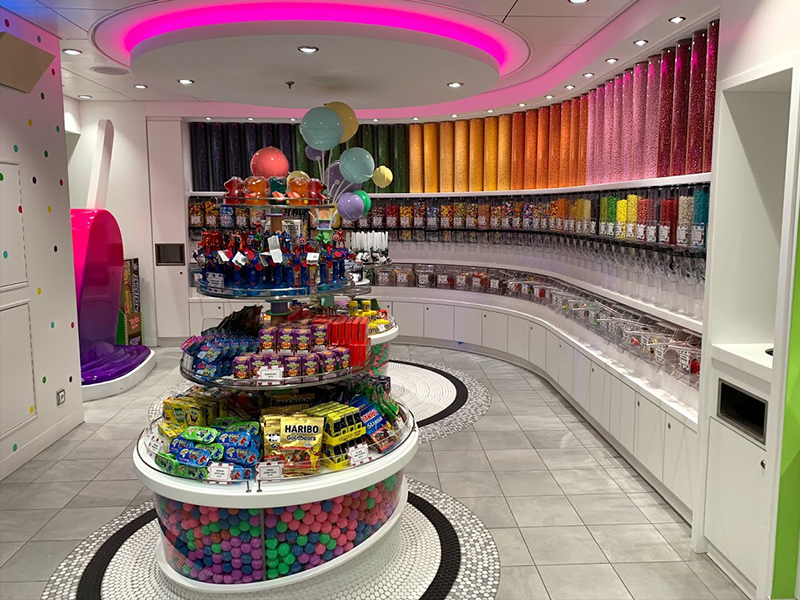 There are a lot of fun places on the Boardwalk – an old-timey, arcade-filled area where you can enjoy a Johnny Rocket's burger and shake, ride on a classic hand-carved carousel, and a stop in Symphony's candy store, Sugar Beach. Get your sugar fix with custom-made pixie sticks, ice cream, and everything a kid could ever want.
#7. Play Laser Tag
It doesn't matter what the activity it is – if it's glow-in-the-dark, you know it will be fun. After being divided into two teams, Battle for Planet Z laser tag will have you fighting for either Team Alien or Team Robot in a crazy fight from the future!
If you're going out for active experiences like laser tag, it's best to leave any bags or extra items back in your stateroom. And of course, no sandals are allowed, so bring closed toed shoes.
#8. Splash in the Waterpark
You don't have to be on a beach to have fun in your swimsuit. Royal Caribbean keeps the fun going while you're on deck with Splashaway Bay, a splash park for toddlers, kids, and families, a water park, and two three-storey water slides known as The Perfect Storm.
#9. Learn with Science-Themed Children Activities
Kids can take a trip to the Youth Zone which is filled with fun activities, including an art studio, theater, and the Adventure Science Lab, which includes digging for fossils, chemistry experiments, and learning about everything from the solar system to bugs.
#10. Enjoy a Magical Wonderland Meal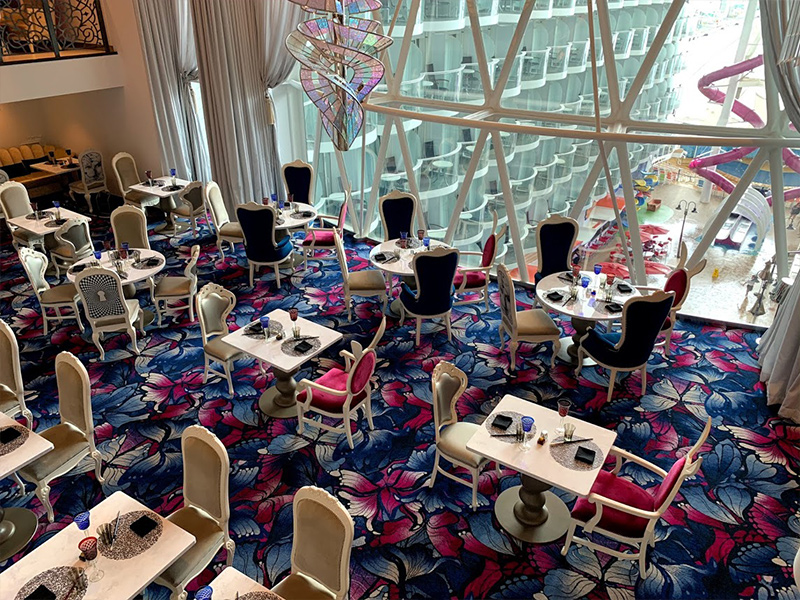 There are so many places to eat while aboard, but there's one restaurant in particular that challenges what your tongue tastes and your eyes see. Wonderland take you on a topsy-turvy tour of flavours with fanciful experiences, including ice-cream cones that taste like sushi, and making menu items appear before your very eyes.
#11. Dance Down the Piano Stairs
Symphony of the Seas is filled with art. For example, while taking the elevator, you may come across a roaming piano player who will play you songs, or art that brings out your imagination. But don't miss the piano staircase that plays notes as you step down!
Each is a small detail, but together they make for an excellent experience that makes you feel like they've been thinking of you from the very first step.
#12. Ride the Ten-Storey Slide
The Ultimate Abyss is a slide that goes down, and down, and down… It's so long you wonder if you'll end up at the bottom of the ocean! There are two side-by-side, so if you're with a few people you can plan out races.
You can't go down the slides with any loose items, so keep purses and other items back in your stateroom. Also, you'll need your arms to be covered while you go down the slide, so bring a jacket or loose sweater.
Learn more about Royal Caribbean's Symphony of the Seas
There's an entire world of fun aboard Royal Caribbean. We've written on ways families enjoy these cruises, and all the things to eat while you're on board.
Call one of our AMA cruise specialists to learn even more, including when the best time is to purchase a cruise. Just call 1-866-989-6594, contact one of our travel agents, or visit your nearest centre for an expert opinion on how to book your next cruise vacation.