Royal Caribbean Symphony of the Seas – An Adult Amusement Park
Royal Caribbean's Symphony of the Seas is the largest cruise ship in the entire world. It's filled with everything you could want in a vacation, including fun activities, incredible entertainment, great food, and tons of ways to relax.
When you get onboard, here are the top activities for those looking to relive the excitement of their childhood, with a few adult-only activities mixed in.
Tour the Ship for its Amazing Art
The Symphony of the Seas features more artistic pieces than the Louvre, and we're not just talking about the ship's wallpaper. Art installations are situated across the ship, inviting you to stop between destinations open up your imagination. (Also, each area of the ship is designated a colour, with the art pieces helpfully represent, so you know where you are!)
Attend an Art Auction
If you're inspired by what you see walking around, get in on the action! If you don't have that kind of dough, then just enjoy having all that art collected in one place (and learning what some people will pay for it).
A preview of the art collection is located near Casino Royale, and there are experts on hand who can describe the art. This collection and the auctions are organized by Park West, otherwise known as the largest privately-owned art gallery in the world.
Onboard surfing with FlowRider

Take to the on-deck with not one but two wave pools, and learn how to surf with FlowRider! Don't worry about falling off though — that's just part of the experience.
This is an experience you'll need to book in advance, so make sure to visit your Cruise Planner after booking your stateroom on the Symphony of the Seas. Make sure to have your friend/partner bring their phone along! The videos of seeing each other wipe out are definitely going to be memories to bring home.
The Terrific Ten-Storey Ultimate Abyss slide
This ride has two slides that whirl their way down the ship, so if you take a second person you can race! But be sure to leave any purses or carry-ables in your room, as you won't be allowed to take them with you.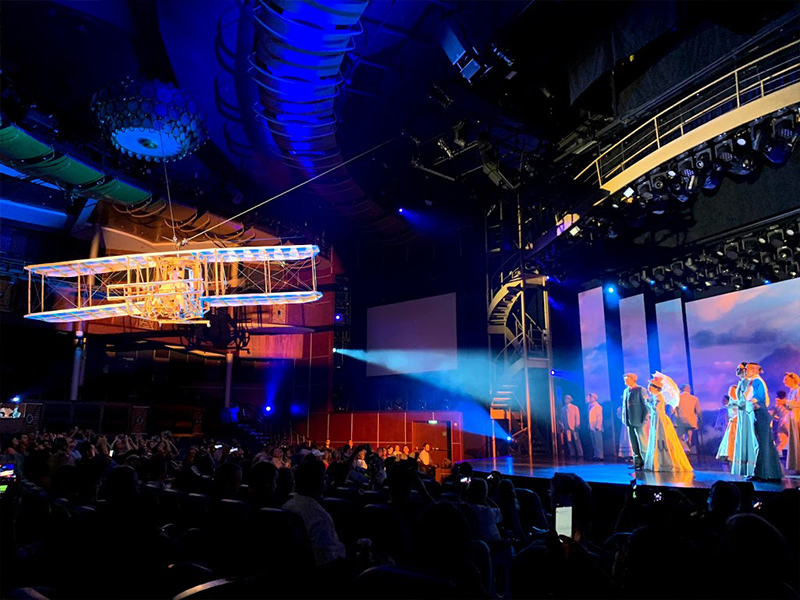 Evening Stage Entertainment
HiRo is a water acrobatics show that is a feast for the eyes, marrying water trapeze stunts with drums, dancing, and a whole lot of splashing. (It's important to note that if the ship is in rough-enough waters, the show will be cancelled. It's hard enough to balance on a wire as it is!)
The Broadway spectacular Hairspray is a mainstay on the ship. It's an amazing story of teen rebellion, self-acceptance, and big hair, set to the best 1960s music you've ever heard.
Go back in time with 1977, an ice-skating show that tells the story of a time-travelling adventurer pursuing a jewel thief.
Flight tells the story of humanity's struggle to take to the skies, starting with the Wright Brothers and journeying into the far future!
Get Yourself Some Special Treatment at the Spa
You can book access to the Thermal Spa ahead of your cruise, which gives you access to a steam room, rainforest shower room, fitness classes, walking on a treadmill with a view of the ocean, and other relaxing services. On top of that, you can get your hair cut, nails done, smoothies, massages, acupuncture, and other spa treatments, including facials and wraps.
Chip In at the Casino
Blackjack? Poker? Roulette? Slots? Whatever your game, you can enjoy it in the surprisingly sizable casino.
Go Solo at the Solarium
Need to get away from the families and kids? On the top of the ship you'll find the Solarium, complete with meditation pods for a nice reading spot or nap, a kid-free pool, and some of the nicest views of the ocean you'll have from the ship.
This is also where you'll find the "King of the World" spot on the ship. Bring your camera so you can snap your very own recreation.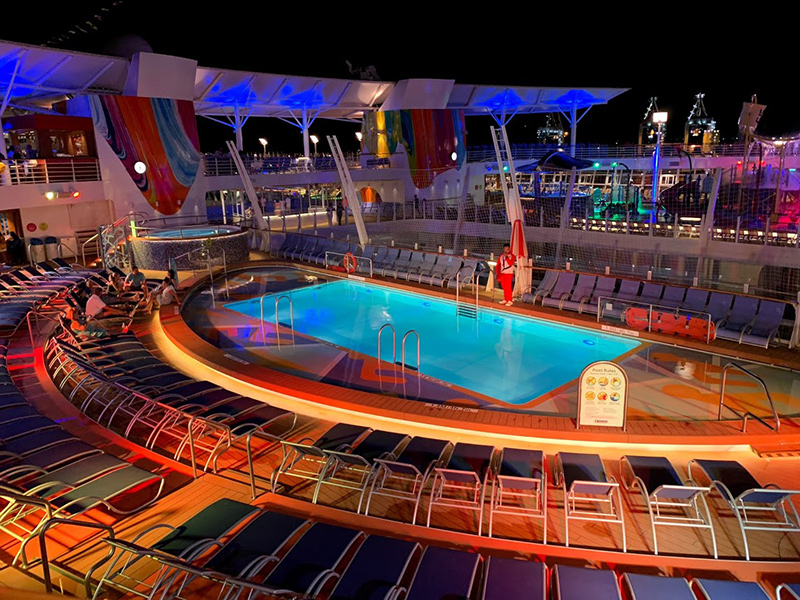 Go Swimming at Night
When the kids are away, the adults come to play. You can dip into the pool at night when there are fewer swimmers about, giving you some privacy in the moonlight.
Drink and Be Merry
After getting a cocktail made for you by the robotic bartenders of the Bionic Bar, sample the wine at Vintages, enjoy a beer at the Ale and Anchor, request a tune at the Schooner Bar, class it up at the Diamond Club, get your game on at the Playmakers Bar & Arcade, float between floors on the Sky Bar, or win the karaoke competition in one of the many lounges!
Pick Shirts or Skins for Basketball
A full soccer/basketball court graces the deck of the ship, making it so you can throw down against your fellow guests, or play a friendly game as a way to break the ice. And best of all, it's out in the fresh air and sunshine!
Eat and eat and eat
From the main dining room, the Windjammer, to the alternative restaurants – including fare by celebrity chef Jamie Oliver and other noted culinary artists – there is every kind of dish to satisfy your hungry wish: from burgers and shakes to steak and potatoes to magical meals that aren't what they seem.
Get Your Dance On
Head down to Red: the Nightclub for an amazing time dancing to some of your favourite tunes from every era (theme parties are very common). At the silent disco, you can dance away to a DJ who pumps songs through the dancers' wireless headphones. And there are plenty of other opportunities to shake and jive across the ship with live bands, even more DJs, and even dance classes to make it easy to meet people.
Bring the Party to Your Stateroom
If you're planning on going with a large group, book one of the multi-room staterooms! These staterooms are conjoined so you can share amenities, including a balcony which may have its own private bar or jacuzzi!
Learn more about Royal Caribbean's Symphony of the Seas
There's an entire world of fun aboard Royal Caribbean. We've written on ways families enjoy these cruises, and all the things to eat while you're on board.
Call one of our AMA cruise specialists to learn even more, including when the best time is to purchase a cruise. Just call 1-866-989-6594, contact one of our travel agents, or visit your nearest centre for an expert opinion on how to book your next cruise vacation.