Royal Caribbean's Symphony of the Seas – Food to Cruise For
Royal Caribbean's Symphony of the Seas is the largest cruise ship in the entire world. All that space means there is a lot to know before you go on, whether it's what activities are there for adults, how families can have fun, or a guide to all the restaurants that are on the ship.
We were invited to come aboard and try out all of the food (and there's a lot). So if you've booked a cruise aboard Symphony, you're thinking of booking, or it's close to lunch and you just want to fantasize, here are some of the best restaurants, eateries, buffets, bars, and cafes to get excited about on the Symphony of the Seas!
The Weird and Wonderful
Wonderland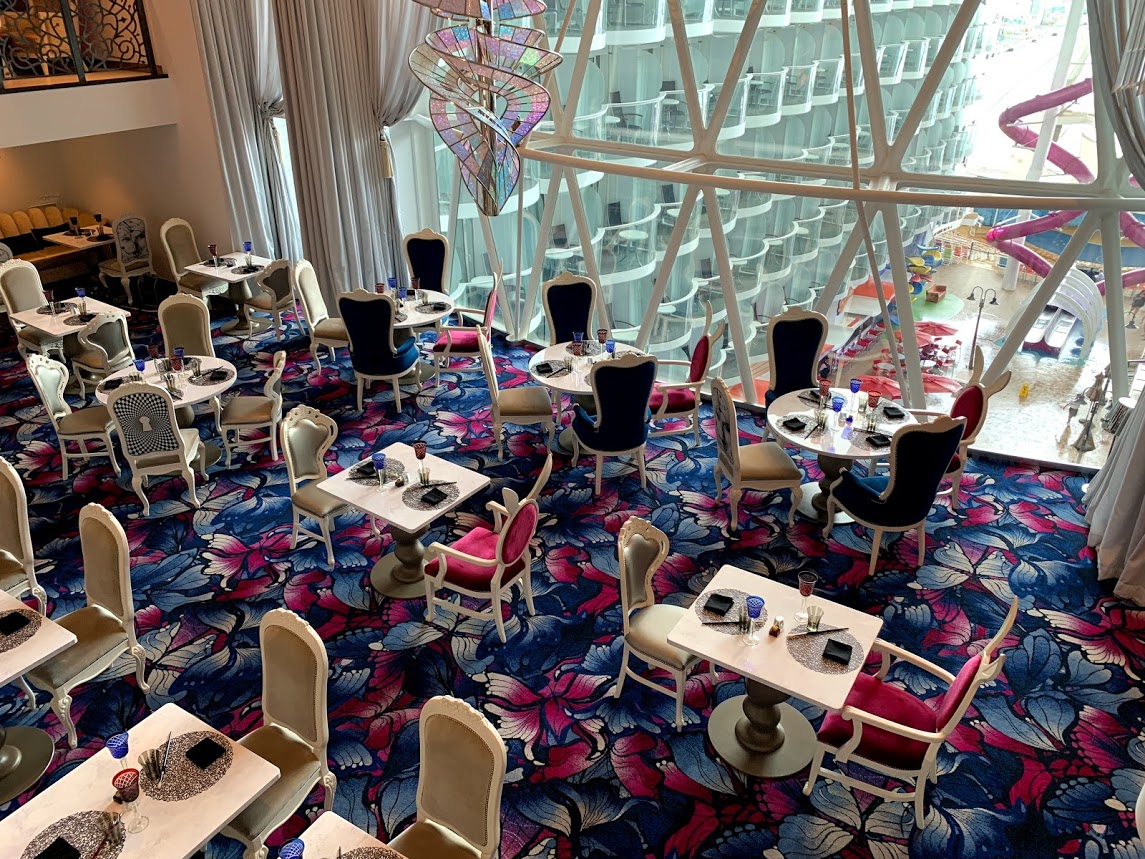 We were lucky enough to be invited to Wonderland, the most talked about restaurant on the ship. Wonderland is an experience in every sense of the word, even down to painting your menu to reveal the many imaginative dishes. It's not just about flavour, it's a combination of plating that makes you wonder what you're about to taste, ambience that makes you feel like you're in a different world, and creativity that will change your perception of just what food is capable of.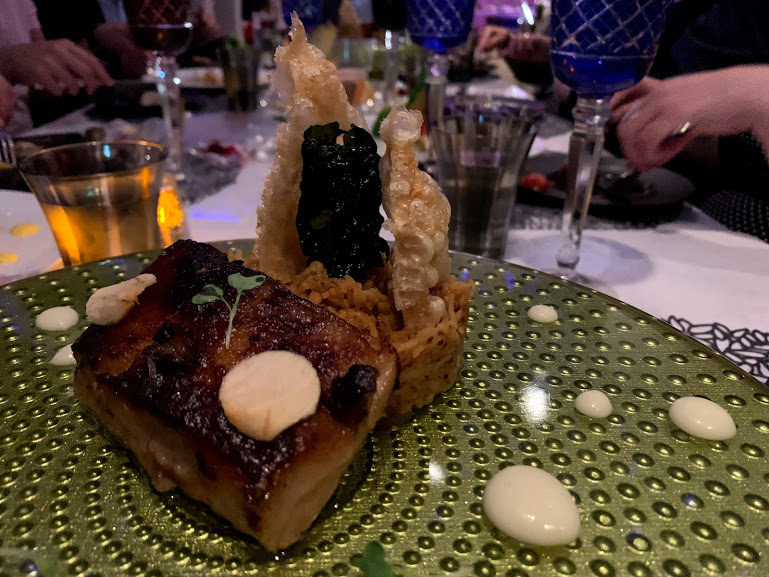 The menu is split between six elemental forces (wind, ice, fire, sea, earth, and dreams), each of which captures the themes of that element: wind is represented by the lightness of chilled sweet pea soup, fire by the charred flavour of the smoked salmon eggs, earth with the terroir beef, and dreams a circus of desserts.
Open your mind, and your stomach, to something you don't expect, and Wonderland will be a meal you remember for the rest of your life. (And if you're lucky, you'll have a run-in with the fantastic Mad Hatter, who may come by with a candle to wish you a very merry UnBirthday.)
Fine Dining
Need a break from the ship? Reserve a spot at one of the specialty dining restaurants, then take an hour or two to sit down and enjoy some conversation and incredible food. Here are the main areas you'll want to visit for a belly full of great ingredients prepared with exemplary culinary techniques.
Main Dining Room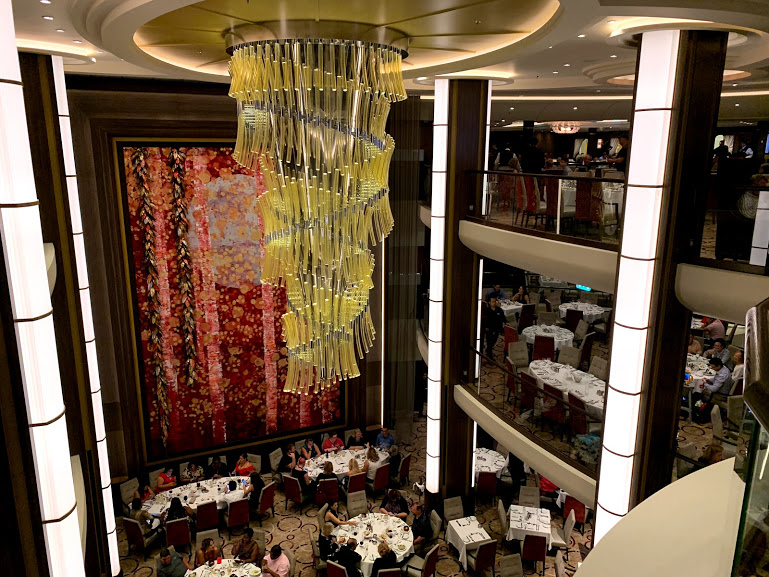 The main dining room opens at specific times throughout the day, and makes up several floors. When you need something to eat, there's no better spot to get in, have a delicious meal with expert service, then slip back out to the ship to continue experiencing all the amazing activities. Close to everything on the menu is included, so you'll always be sure to leave full.
The menu features all of your standard favourites – steak, pasta, breakfast items, sandwiches – done with higher flare than the buffet, and often a quieter atmosphere.
Jamie's Italian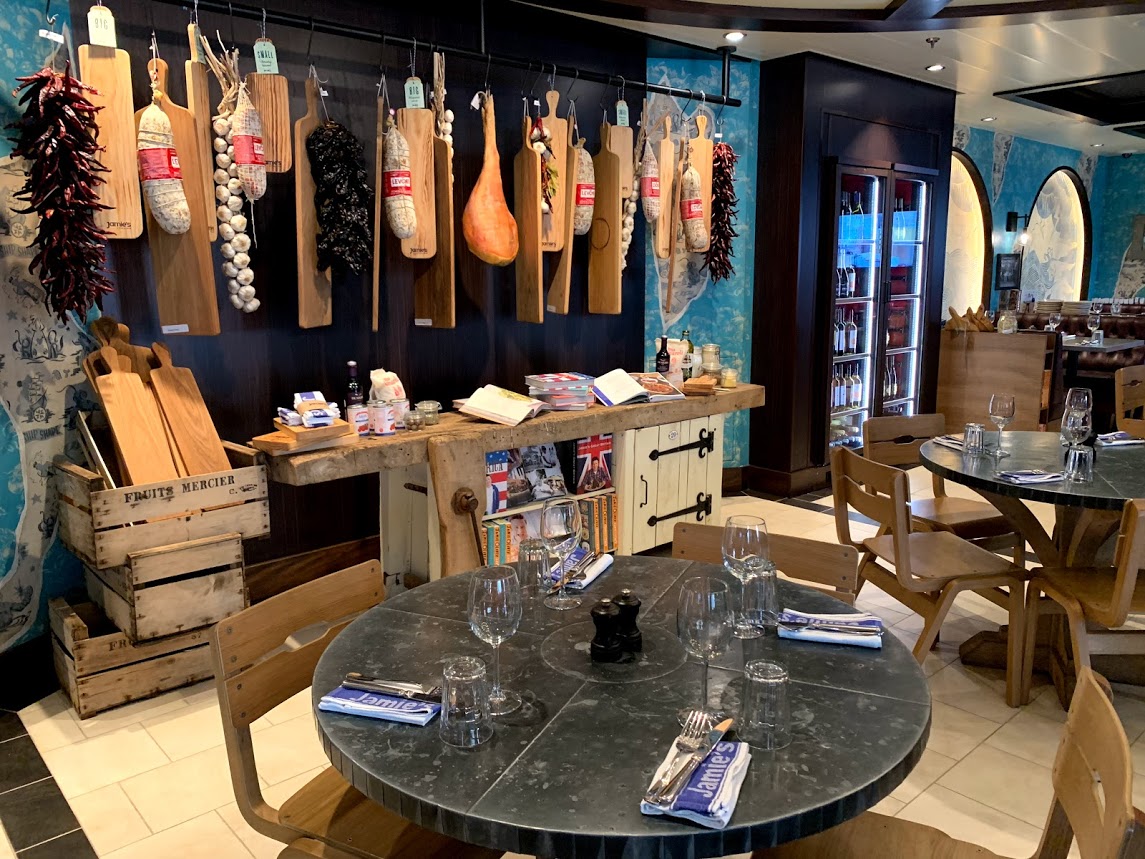 Inspired by celebrity chef Jamie Oliver's many restaurants, Jamie's Italian is where you go for a great Italian meal. The menu is as full of intriguing items as the charcuterie board, including house-made pasta, pumpkin panzerotti, prawn linguine, lamb lollipops, prosciutto and shaved pear salad, and even more incredible dishes.
Chops Grille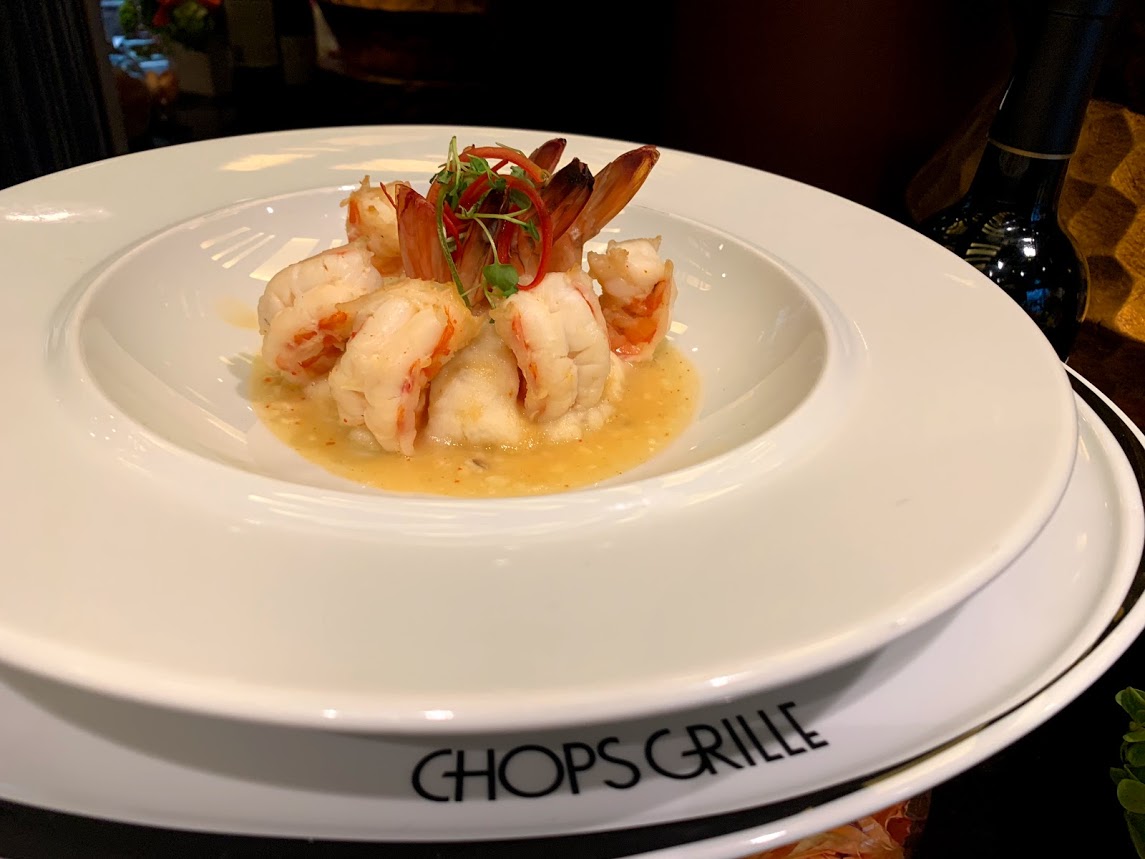 Chops Grille is a classic steakhouse. That means filet mignon, New York striploin, roasted organic chicken, and dry-aged beef burgers. It also features fantastic seafood and sweet American desserts, such as Mississippi mud pies, red velvet cakes, and, of course, warm apple pie.
150 Central Park
Bring up your dinner game a bit with a meal at 150 Central Park. A revolving menu of six-course tasting menus are complemented with fine wines. Each dish is made from farm-to-ship ingredients that couldn't be fresher. And if you need any more convincing, just look through the previous work of award-winning chef Michael Schwartz, who designed the menu.
Coastal Kitchen
A restaurant exclusively for Suite guests and Crown and Anchor Society Pinnacle members, the Coastal Kitchen blends Mediterranean recipes with ocean ingredients, all in a classy ambience and an extensive wine collection.
Izumi
For succulent sushi, stellar sashimi, and magnificent maki, head to Izumi. If raw fish isn't your thing, they also feature ishiyaki (or hot rock)-style food where mixed seafood, chicken, beef, and vegetables are grilled to perfection.
Fun Feasts
If you want something a little less formal but just as flavourful, Symphony features plenty of restaurants where the menu is as fun as the onboard activities.
Windjammers
This is the buffet, and offers the easiest way to grab food on the go, and build your meal how you like! Egg stations and continental breakfast offerings make up the morning, while cheese, meat, fruit, and salad stations fill the evening. There's even a pasta station where you can get dishes made on-the-spot. If you're not sure whether you want to commit to an alternative restaurant, it's always easy to just dip in to the buffet, see what's being served, then make your decision.
Hooked Seafood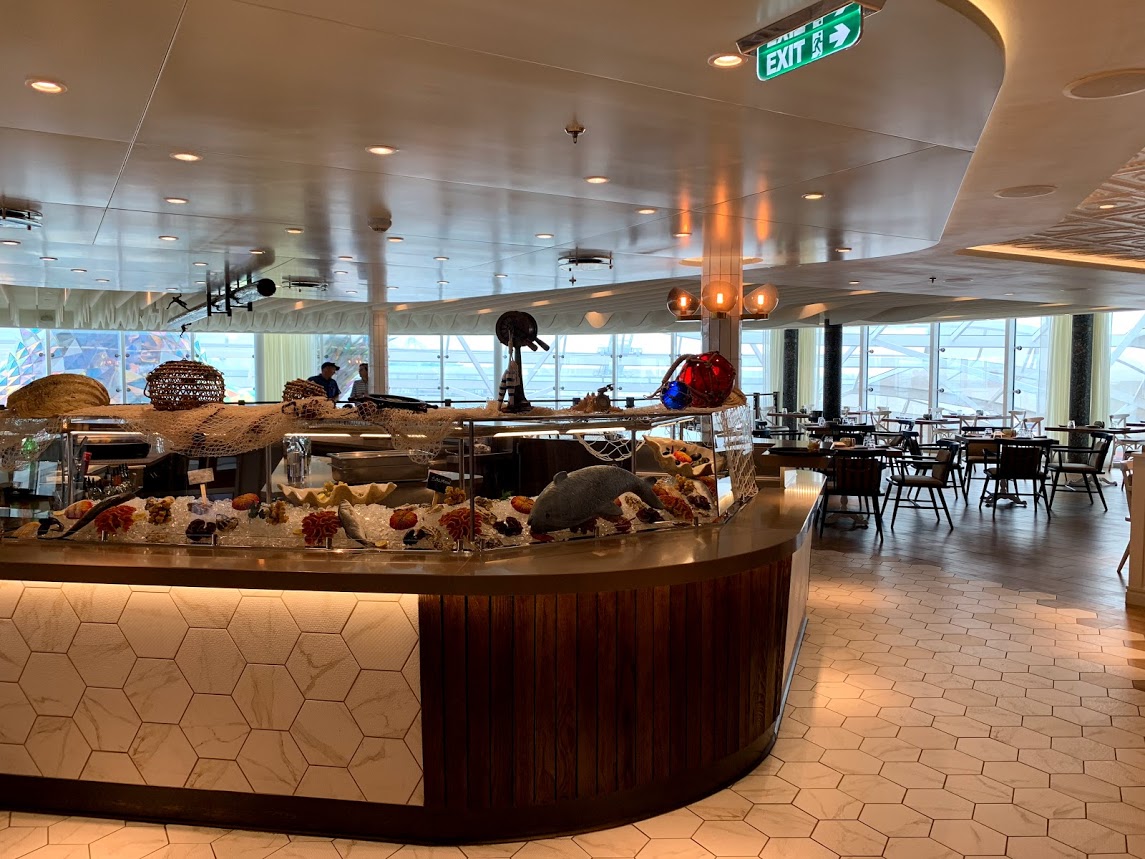 Delicious oysters, grilled salmon, delectable lobster, and a host of other fish are on display in Hooked's menu. And for those who are a little squeamish with fish, have no fear – there's surf-and-turf options to make the steak and chicken lovers comfortable.
Playmakers Sports Bar & Arcade
Bar fare makes for the best fuel when you're gaming, so you can enjoy wings, sliders, popcorn shrimp, awesome burgers, and beer while you play a few arcade games or just watch the televisions.
Sugar Beach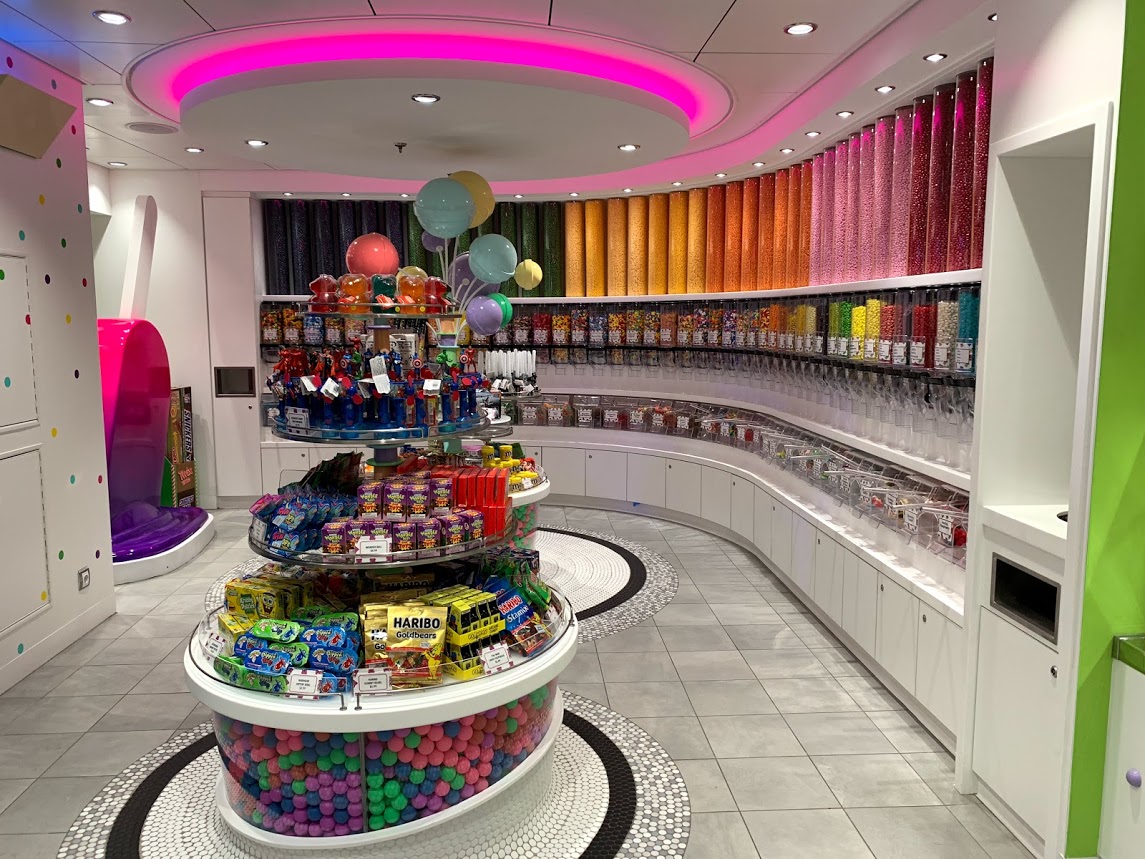 There's no end to the sugar rush at sugar beach. Get a sampling of homemade ice cream, mix it with a custom creation of pixie-stick sugar flavours, and then take a tour through every other confection available. Just make sure you go after a meal so you aren't eating on an empty stomach.
El Loco Fresh
Do you like Mexican food? Well guess what: There's an entire restaurant devoted to guacamole, nachos, salsa verde, tacos, burritos, enchiladas… So go and fiesta, then settle in for a long siesta.
Johnny Rockets
Classic, American-styled burgers and shakes in a 1950s diner. Be careful how deep you get into the ambience, because you'll feel like you've travelled forward in time when you return to the ship.
Drinks and More
These are just a few places you can enjoy an evening of cocktails and spirits, grab an energizing smoothie, or sip on a revivifying coffee!
Bionic Bar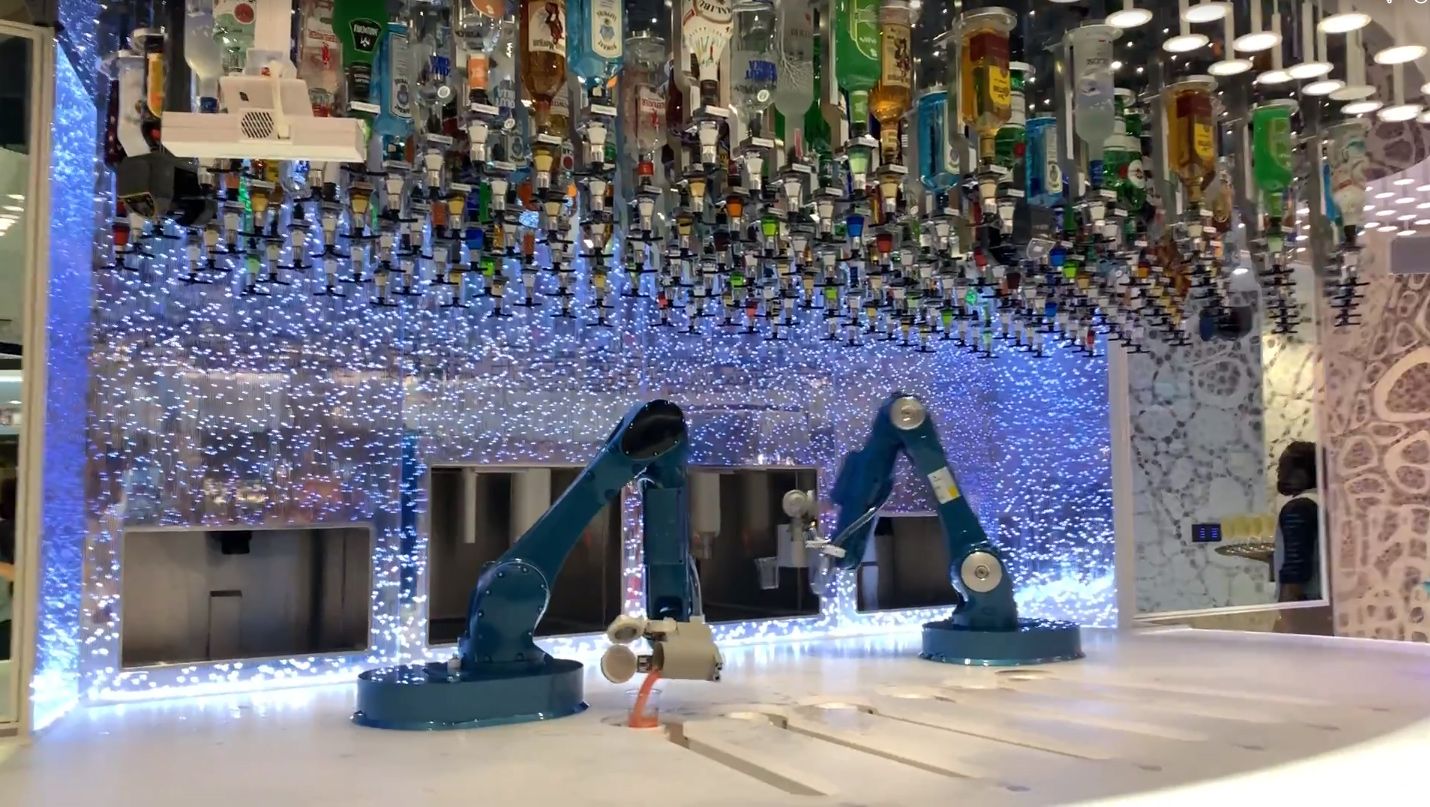 To be a good bartender, you need steady hands, and an expansive list of cocktails that includes classic and modern recipes. With the Bionic Bar, you'll be served by two robots who know every recipe inside out, and have pneumatically balanced fingers to make you the perfect cocktail every time.
Vitality Café
Wraps, fresh fruit, smoothies, and a calm atmosphere make this a must-stop after hitting a number of the ship's attractions. That way, you can recharge for the next outing.
Park Café
Sit for a panini, sandwich, pastry, and strong cup of the good stuff. You'll be situated right outside the ship's Central Park atrium, meaning you'll feel like you're in the midst of a park, surrounded by 20,000 living plants.
Ale & Anchor
Sometimes you just want to let your hair down and enjoy a game. At the Ale & Anchor, you'll have that homey pub feeling. Peruse the impressive list of ales and lagers, or sample a vintage cocktail.
Vintages Wine Bar
The world is represented by the many vintages and hues kept in Vintages Wine Bar. Enjoy a, Australian shiraz, a German gewürztraminer, Californian Chardonnay, and learn more about the world from the knowledgeable sommeliers on staff.