Travelling on your own can be freeing, but sometimes you might feel anxious about being in a foreign country or on a trip without knowing another soul. Go Solo helps alleviate that anxiety by connecting fellow solo travellers so they can feel safe and enjoy their trips with other people passionate about travel.
Charlotte Hamel and Jeanne Beauchamp met through Go Solo before going with a group to South Africa in January 2015. Since then, they've been on three trips together – including another Go Solo trip and a cruise to the Baltics.
Charlotte first learned about Go Solo when she saw an advertisement in the paper. "I'm by myself and don't have anyone to travel with, so I thought I'd go check it out – and I did." There, her interest was piqued in the trip to South Africa. However, she didn't want to go it alone, so she spoke with a travel counsellor. "I said I'd like to share a room, and if they knew anyone who was looking, I would be interested. But I'd like to meet them first."
A Friendship Begins
A few days later, Charlotte and Jeanne were connected. "I called Jeanne and we set up a coffee date. We got acquainted and that was the start of our friendship," recalls Charlotte. "It was interesting, kind of funny in a way. We met at Kingsway Garden Mall. I didn't have any idea what she'd be like, we didn't know what the other one looked like."
Jeanne was told there was someone close in age and travel style that she might was to connect with, and she was interested. "Charlotte is a very charming person." Jeanne says they hit it off right away, asking important questions to make sure they were compatible. "We chatted about our likes and dislikes, where we had travelled before… We also talked about whether or not we drink, that was a big one for me. I didn't want to have to put someone to bed every night," Jeanne joked.
"Sharing a bathroom can be a major problem," Charlotte has heard stories of people unable to share rooms. "We worked it out – we never have a problem. A little give and take, she's really easygoing."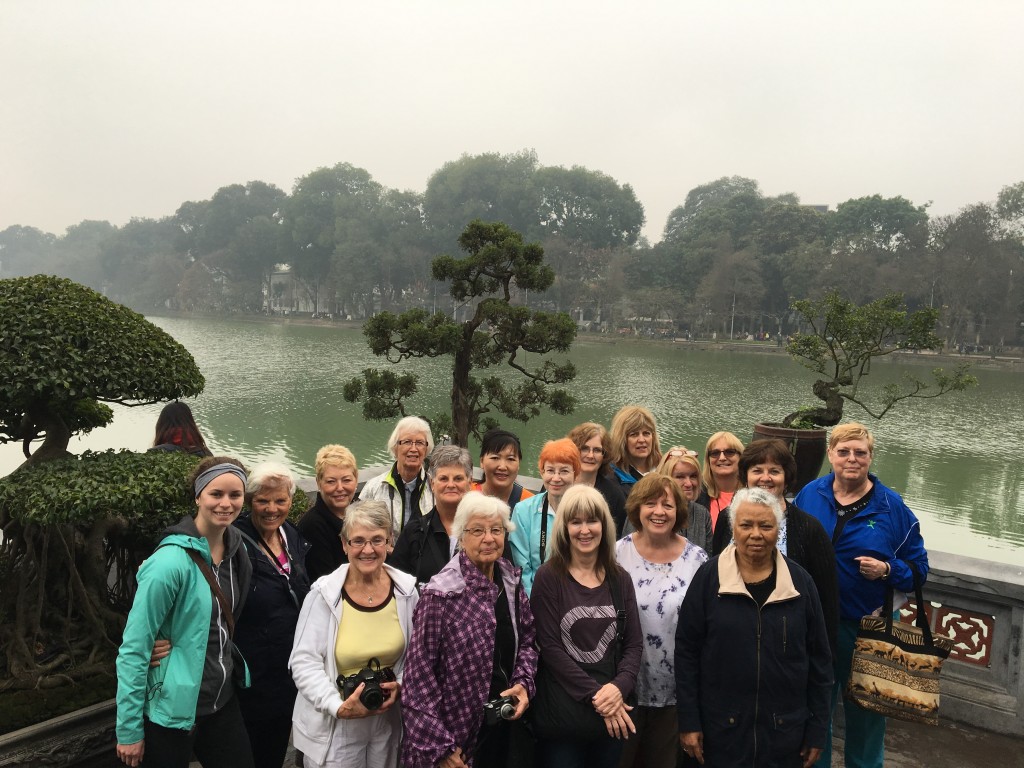 Travelling with a Go Solo Group
In January 2015, they travelled to South Africa with a group of other Go Solo members and an AMA travel counsellor. They had an amazing trip and reunited with many of the same people for a trip to Vietnam and Cambodia earlier this year. "I can't say enough good things about it," Charlotte said. "It was a great trip. I mean, we went to Vietnam and Cambodia and half that trip was with people who also went to South Africa."
"The cruising was nice, the comradery – I can't think of just one thing. It is all the little things that add up together," Jeanne said when asked about her previous Go Solo trips.
"They're all great," Charlotte adds. "The itineraries are fantastic and everything is all planned out for you. You just get up and go where you're supposed to go. You do a lot of fun things. In Africa, I rode an ostrich. In Vietnam, we attended a great cooking class."
From Strangers to Travelling Companions
If you're looking to travel but need a friend to go with you or would rather travel alone and with a group, the pair endorse coming to a Go Solo meeting. "People there talk about their trips and you can start to form an idea of who you'd like to talk more to and go on a trip with," Charlotte recommends.
Some people do like to have their room to themselves, but for Charlotte and Jeanne, rooming together allows them to save money for other excursions. "The nice thing is that you're by yourself – but you aren't by yourself. There's someone there to say 'we're going there, going this way, meeting at this time'." It's nice to have that kind of security."
Jeanne appreciates Go Solo and travelling with her new friend, saying that otherwise you might not see all the city has to offer. "When you're sharing a room with someone, when you have a break in the schedule – you have someone to go out for a walk with or to go shopping." A local guide or an AMA escort is along with the group, and they can also alleviate any worries and answer your questions about the area.
Charlotte and Jeanne not only travel together, but have become good friends – visiting and doing things together around Edmonton. They recommend finding a travel partner that suits your lifestyle and travel style, which the Go Solo group can help with. "Go with someone that is close to your age and skill level," Jeanne says. "If you like to hike, swim or shop until you drop – you need to be able to pair off well and know when you need rest."
When meeting, Jeanne suggests asking questions about the little things you might not consider until you're actually on your trip. "See what they like to do, how they would share a room – the bathroom facilities are very important. Be able to share the rooms, not cluttering up the counter and not leaving room for other people to spread their stuff out. You need to be thoughtful."
"The bathroom issue is probably the biggest question," Charlotte concurs. "You can usually work it out. A lot of the bathrooms don't have a place to plug in a curling iron, but it's all workable really. I can do my hair while Jeanne's in the shower – she doesn't need to curl her hair as much as I do – she has a natural curl, lucky lady."
Sleep habits can also impact your travel buddy choice. If you're a light sleeper, have different sleep needs or snore, it's important to be upfront about it.
"We've had such good luck as travel buddies. As long as you do a bit of homework, meet with each other and whatnot – you know if you're compatible and if there will be any issues. There's no doubt."
In the end, Charlotte and Jeanne have many ideas for where to go next – whether it's Australia, the Galapagos, Bali, or somewhere else, Charlotte knows they want to experience the world together. "We have to do the long ones while we're still young."
---
Become a Go Solo Traveller
Go Solo regularly has socials where you can meet other like-minded travellers and hear more about upcoming trips. You can find out more about the trips and socials at our Go Solo page.