Tartine: A Sandwich That Sails the Flavours of the Mediterranean
The tartine is an open-faced sandwich elevated to the status of art. Originating in France, it serves as a common breakfast throughout Paris and provincial countryside, but it has been adapted to carry the flavours of Italy, Spain, Greece, and across the Mediterranean.
We show you some of our favourite flavour combinations, but always know: the true secret to making a fabulous tartine is using only a few ingredients, but making sure they are top quality.
The Bread
A sandwich is nothing without good bread, and this goes doubly so for tartine. Any old slice of white bread simply won't do. To achieve the lofty heights of this dish, French country bread (or pain de campagne) is the only option. Its mixture of sourdough and rye make for a complex flavor base that's delicious, while unobtrusive.
Because you'll be dealing with spreads and some wet ingredients (juicy tomatoes, for example), it's important that the bread be toasted so it doesn't get soggy. It's customary to toast only one side however, though if you use your toaster we won't tell anyone.
The Best Tartines from Across the Mediterranean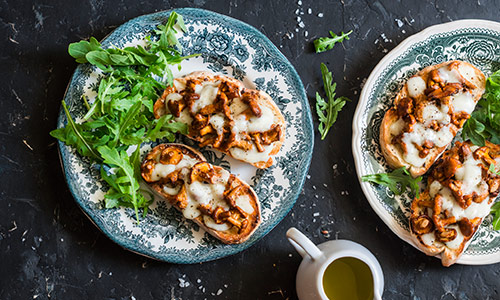 French Style
Ingredients
Portabello mushrooms
Spinach
Garlic
Raclette or Gruyère cheese
Olive oil
If you're looking for something filling, we suggest a mushroom and spinach tartine. First pour some olive oil into a skillet, drop in a small amount of garlic and sauté until the garlic is browned. Remove the garlic from the pan, and fry some chopped mushrooms.
Once the mushrooms have shriveled to around half their original size and are nice and brown, drop in the spinach leaves. The leaves will wilt quite quickly, at which point you can remove everything from the skillet. Fry a piece of the country loaf on one side using the oil left in the pan, then place your spinach and mushrooms on the toasted side. Finally, place a healthy helping of raclette or Gruyère over the top, then toast until the cheese has melted over the surface.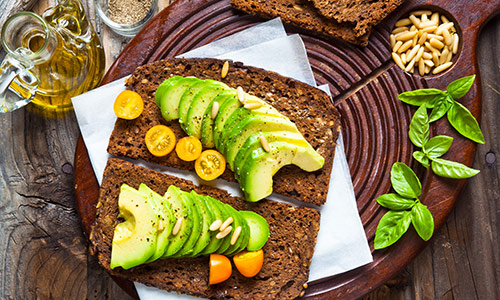 Italian Style
Ingredients
Avocado
Buffalo mozzarella
Olive oil
Basil leaves
As with all Italian cooking, it's about keeping a simple flavour profile but making each taste count. So it doesn't get easier for this recipe.
Take an avocado and chop it into slices. Alternate layering the avocado with the avocado and slices of fresh mozzarella. Drizzle a small amount of olive oil over the top, then rip apart the basil leaves and sprinkle them over the tartine. A small amount of salt and black pepper, and tuck into a sandwich that tastes too good to be so simple.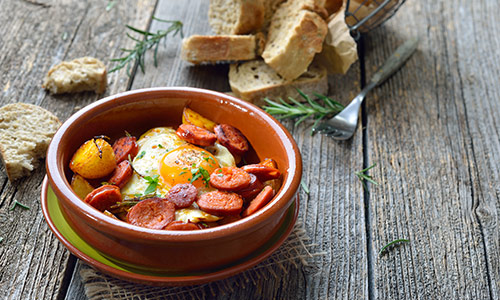 Spanish Style
Ingredients
Eggs
Chorizo sausage
Manchego cheese
Olive oil
We would be remiss to talk about tartine without providing a version that's perfect for breakfast. Toasting a piece of country bread, then slathering it with butter and jam is as classic as it gets, but for something a little more filling, try this recipe from "52 Tartines du Dimanche Soir" by Jean-Luc Petitrenaud.
Scramble two eggs until they've started to turn from liquid to solid. Toast a piece of country bread on one side, then drizzle a light amount of olive oil on one side. Spread the eggs across the toast, then cover with thin dimes of chorizo sausage, and finish with a few pieces of manchego cheese. Delicious.
Greek Style
Ingredients
Feta
Garden Tomatoes
Olive oil
Greek spice
For some Greek inspiration, take some tomatoes, cut them into slices, sprinkle them with olive oil and Greek spice mix (typically a mixture of salt, basil, oregano, cinnamon, parsley, rosemary, dill, marjoram, thyme, nutmeg and salt), and throw them in the oven on some parchment paper to bake – you'll know they're ready when the edges start to brown.
Fry your bread, then spread feta cheese over the surface. When your tomatoes have finished, take them from the oven and place them gently over the feta, making for a sweet and salty tartine that can't be beat.