Travel Insurance for Families: 6 Frequently Asked Questions, Answered
David Little
September 5, 2017
Travel insurance is both simple and complicated.
It's simple because just about everyone should purchase it, even when you're vacationing within Canada.
But it's complicated when you start to dive into the details. (Just flip through the travel insurance policy booklet to get an idea of what we mean.)
Furthermore, once you add your spouse and kids to the mix you might be wondering how to keep your family protected should the worst happen.
If you've got a family and want to make sure you get the right travel insurance coverage wherever you go, read the Q and A's below. We've simplified the terms and distilled the need-to-know points into 6 easy chunks.
1. What's special about a family rate for travel insurance?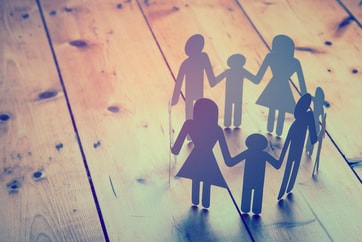 Travel insurance coverage under a family rate works the same way as single-person medical and trip cancellation and trip interruption insurance. The only difference is that it's one policy that covers your whole immediate family—parents and kids.
A travel insurance family rate is also a much better value compared to individual policies, especially for large families. That's because it covers you, your partner, and all your kids based off a simple formula:
$ amount of oldest parent's insurance premium x 2.25 (2.75 for medical + trip interruption and trip cancellation insurance)
2. Are there any exclusions I should know about?
While there's no upper limit to the age of the parent, a family policy only covers kids who are under 18, under 26 and full-time students, or dependent on parents (e.g. have a disability).
That means if your 20-year-old daughter is living on her own, working a full-time job, and planning on coming on vacation with you, she'll need to purchase her own travel insurance coverage.
3. Can grandparents qualify for coverage under a family package?
Yes! If Grandpa and Grandma want to take the grandkids down to Phoenix for a few weeks, it's totally doable. The pricing formula works the same way, too:
$ amount of oldest grandparent's insurance premium x 2.25 (2.75 for medical + trip interruption and trip cancellation insurance)
NOTE: Grandparents (or older parents) travelling with kids might have a higher insurance premium through a family rate compared to individuals plans. Check with your travel insurance specialist to make sure you're getting the best deal.
4. What happens if my child gets sick or injured on vacation?
You never want to have to use it, but travel medical insurance is there to help when you need it most. Here's an example of how it works:
The Chens are enjoying a father-son vacation in Rome. While Dennis (dad) stays back at the hotel to sleep in and go for jog, Aaron (who has a week off from university) is injured in a tour bus collision the day before they're scheduled to fly home. Thankfully, their travel medical insurance will pay for Dennis to stay at his son's bedside the time it takes for him to heal up.
5. What about if I get sick or injured?
Here's another example of how travel medical insurance makes the best of a tough situation should a nasty accident occur:
Chelsea, Robin, and their three kids on enjoying a beach vacation in Maui. During a surf lesson, a big wave catches Robin and flings her against some jagged corral. While she receives surgery and recovery treatment for serious cuts, Chelsea stays behind to be at her side. Their children are flown back home to stay with their aunt and uncle. Travel medical insurance covers the family's hospital bill, transportation, rescheduled flights, and other medical charges.
6. Does a family travel insurance plan cover individual trips?
Yes—provided you purchase a family rate on a multi-trip annual travel insurance plan.
That means if your kids are attending a school trip to Ottawa, skiing with friends in British Columbia, or you've got a business trip to the U.S., you're all covered under your family travel insurance plan anytime throughout the year—even when you're not travelling together.
---
Smart Families Get Travel Insurance
Just as an AMA membership will save you from flat tires and dead batteries, family travel insurance from AMA Travel will protect what matters most wherever you go.
If you need help selecting the right travel insurance plan for your family, contact a travel insurance specialist, call 1-866-989-6595, or visit your nearest AMA centre.
Get a Quote for Travel Insurance
More Traveller Resources