An International Driving Permit, or IDP, is a conversion of your Canadian driver's licence into a universal driving classification, allowing you to drive a vehicle in most foreign countries without further tests or applications. It is proof that you possess a valid driver's licence, issued by a competent authority in Canada, and is only valid when used in conjunction with a valid Canadian driver's licence.
AMA is the exclusive provider of IDPs in Alberta. This is a public service available to members and non-members.
Advantages of carrying an IDP?
An IDP gives you an extra form of photo identification, as well as providing a translation of your valid Canadian driver's licence into 10 different languages. Most international car rental agencies will request an IDP, even though one may not be required to drive in their country. The IDP is valid in all countries that have signed the 1949 UN Convention on Road Traffic, and only CAA clubs are authorized to issue IDPs. Any non-CAA issued IDP is fake, and may not protect you in a foreign country. For more information, visit the Government of Canada's page on International Driving Permits.
If you're planning on renting a vehicle in a country where English isn't an official language, we recommend you get an International Driving Permit.
How do I get an IDP?
You can only receive an IDP if you are 18 years of age or older and hold a valid Canadian provincial driver's licence. An IDP cannot be issued for provisional, learner, or suspended licences, or for any category of vehicle which is not presently covered by that same provincial driver's licence.
In addition to meeting the above conditions, you'll need:
Two passport-sized photos. Available at your local AMA centre. One picture is trimmed and attached to the IDP; the other is attached to the application form.
An IDP fee payment of $25.00. This fee can be paid by cash, Visa or MasterCard. AMA Members in good standing may also pay by cheque made payable to AMA.
A completed and signed CAA IDP application form. Applications may be done in person at any AMA centre or CAA office. If you are unable to visit a CAA office, you may print a copy of the application form and, once completed and signed, mail it in to your local AMA centre along with your passport-sized photos, fee payment, and photocopy (front and back) of your valid Canadian provincial driver's licence.
IDP Mailing Details
If applying by mail, then payment must be either by money order or certified cheque drawn on a Canadian bank payable to the Alberta Motor Association (Note: AMA cannot accept personal cheques from non-members). Your IDP will be sent by registered mail for a cost of $10.00 CAD (plus GST) for Western Canada and NW Ontario addresses or $16.00 CAD (plus GST) for all other Canadian and U.S. addresses. AMA can only send IDPs by registered mail. If you require the IDP to be sent overseas, please contact us as the cost of delivery will vary depending on the destination. Traceable methods for delivery are recommended. Credit card numbers along with expiry date, signature of person named on card, and letter authorizing us to charge the credit card for the cost of the IDP and shipping may be enclosed at your own risk.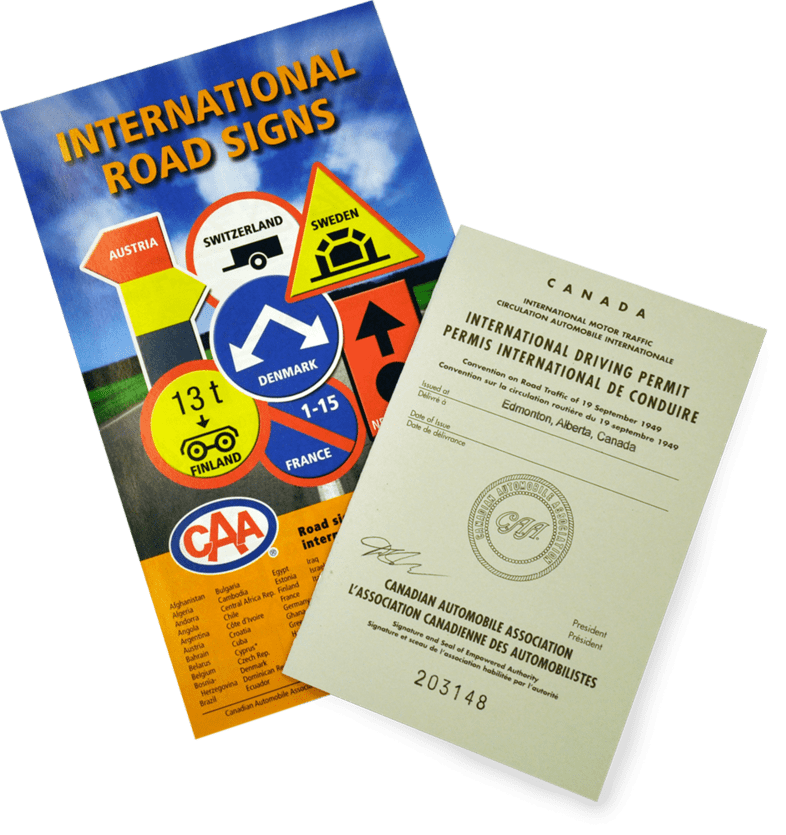 How long does it take to get an IDP?
If you visit an AMA centre, we can process an IDP for you in about fifteen minutes.
The information on your IDP must match the information on your Alberta driver's license. If you need to update the address on your Alberta driver's license, it will take a minimum of two weeks for the update to be made. We suggest you visit our centre 2 – 3 weeks prior to your departure to ensure that we can issue your permit. If your IDP is being mailed, please allow at least three weeks for the IDP to reach you.
Can I renew or extend my IDP?
There is not a process for renewing or extending an IDP. A new application form must be completed each time.
Once issued, the IDP is valid for one year from the date of issue, provided your Canadian licence is valid for the duration of your trip.
Please note
IDPs must be issued at a CAA office in Canada and cannot be obtained elsewhere.
Your valid Canadian provincial driver's licence must accompany the IDP always.
Some countries require travellers to carry special driving permits in addition to their usual driver's licence.