Stories from the Win Back Your Trip Contest Winners
David Little
October 19, 2016
UPDATE: AMA Travel's Win Back Your Trip contest is now over. Congrats to all our winners from across Alberta.
Here's a quick recap for those who didn't hear:
Buy travel between Sept 19 – Nov 13, 2016 to be automatically entered into the draws.
Any kind of booking applies: ski lift tickets, vacation package, cruise, Disney passes, etc.
Two winners will be drawn every week for eight weeks.
Every travel booking or purchase up to $10,000 in value is another contest entry.
Winners get their travel booking or purchase back in AMA Reward dollars.
Now that everyone's up to speed, we thought we'd share an update on a few of the best stories behind our winners so far.
Cross your fingers because your name could be up next.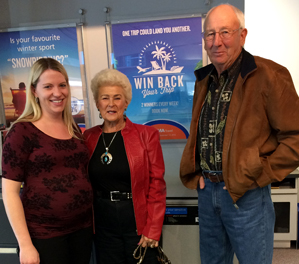 Week 1: David & Janette
David and Janet Lougheed, a pair of Grande Prairie retired farmers—and honorary lifetime AMA members (62 years and counting)— won the maximum amount of $10,000 back from their $10,103 24-day British Isles coach tour.
Purchased to celebrate David's 80th birthday, Janet told us "It's a dream come true. I have to pinch myself sometimes." Though they've spent their whole lives living frugally, working for every penny, and planning a trip every second year, "With this windfall, I think we'll make one every year!"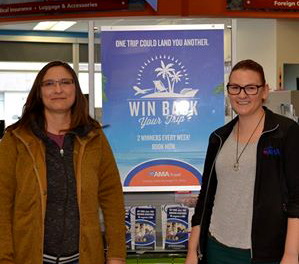 Week 2: Denise & Frank
23-year member Denise Walker was delighted to learn about her reimbursement in AMA Reward dollars—especially because it was her birthday when the good news arrived.
The Okotoks woman and her husband won back the cost of the $4,496 trip they booked to Walt Disney World and Universal Orlando for themselves and their two teenage children.
"Value is very important to us," said Denise, who trusts AMA to help keep them on budget for accommodations, flights, park passes, travel insurance, and even passport photos. "When booking travel, we take into account everything from the timing to the overall value; with growing kids and their activities, everything has to play a part. But with AMA, we've never been disappointed."
More Weekly Winners
Roxanne Mercredi (Calgary) – Won $126 on a hotel stay. She's a frequent business traveller who's made 33 bookings over the past two years.
Natalie Crump (Calgary) – Won $129 on a car rental. This was her first-ever booking with AMA Travel!
Ernest & Debra (Spruce Grove) – Won $5,370 on a beach vacation package. They're former British Columbians who moved to Alberta in 2013, bringing their CAA membership along with them.
Jody Kelly (Sherwood Park) – Won $80 on an SUV rental. She's a 14-year member.
Scott (Edmonton) – Won $467 on a car rental. He's a AAA member since 1984.
---
Your Chance to Hit the Vacation Jackpot
Remember—the sooner you purchase, the more chances you have of winning.
Here are all the ways you can book:
Call a travel specialist at

1-844-771-1522