Been There, Loved That: Windstar's Star Breeze Cruise
Our Alberta-based travel agents receive routine training to make sure our members are getting the best advice possible. We frequently send our travel agents on FAM (familiarization) trips so they can let you know exactly what to expect on your trip. When they return, we collect all their stories into "Been There, Loved That," articles that we can share with you!
Windstar's Star Breeze: Small Ship Cruising at its Best
Counsellors: Tammy Allen, Tracey Zipp
Where: Costa Rica and Panama Canal
Travel Style: Cruise
Length: 7 Days
Countries visited: Costa Rica and Panama Canal
Cities visited: San Jose, Quepos, Puerto Jimenez, Isla Parida, Balboa, Colon, Panama City
Pace: Active

Need a Caribbean vacation but don't want to sit on one beach? Want the cruise experience but hate the crowds? Windstar's Star Breeze combines the best of Costa Rica and Panama with a top-shelf, intimate, experience.
Our travel agents got to experience the service first-hand, and found it to be beyond expectation. Some of their highlights include:
An up-close-and-personal perspective during the transition through the Panama Canal
The onboard dining, especially the Deck Barbecue: held one evening per voyage, guests enjoy grilled lobster, suckling pig, jerk chicken, grilled vegetables and more.
Windstar's Signature Beach Party on Isla Parida made sure all of the ship's water sports equipment were available right from the beach, and a fabulous feast was prepared. It's the perfect kind of day, whether you're looking to be active or relaxed.
Taking the Titi Canopy tour in Quepos. "It was amazing to be right in the Rainforest ziplining through the flora and fauna."
Windstar's Star Breeze Cruise
Before taking her first trip to sea, the Star Breeze underwent an $8.5 million refurbishment that makes the ship of 212 passengers feel like a private yacht. There are 106 suites, each of which has a view of the ocean, queen-sized bed, fresh flowers and fruit, granite bathrooms, walk-in closet, and ample space.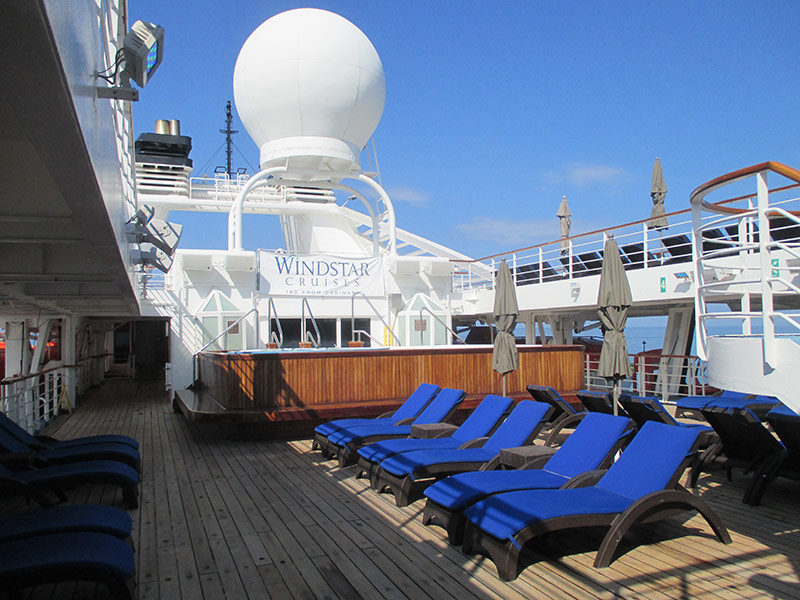 The ship carries 150 crew, and the service onboard is phenomenal. Our travel agents found the crew to be very engaging and were always available to make their cruise experience the best it could possibly be. Though small, the ship had plenty of beautiful public spaces, including restaurants, bars and lounges, pool and deck space, the inviting Yacht Club, and of course, the WindSpa. For food, guests have a choice between the elegant, AmphorA, which serves four course meals of Maine lobster, braised lamb, Atlantic cod every night; the Veranda buffet which is open for breakfast and lunch; the steak-house inspired Candles; and the Yacht Club for yogurts, pastries, and light snacking.
And the list of inclusions is incredible: all meals (including 24-hour room service), all non-alcoholic beverages, unlimited use of the Fitness Center and water sports equipment for paddle boarding, kayaking, snorkeling, waterskiing and windsurfing. You can even learn about scuba diving from the onboard scuba diving program for beginners!
The Destinations
Because Windstar sails smaller ships, passengers are treated to beaches, docks, and itineraries that larger ships just can't accommodate. Each has interesting characters and activities.
Puerto Jiminez (Golfo Dulce) – Puerto Jiminez is a small fishing village, which is still relatively untouched by tourism. This gave our agents a great chance to see an authentic Costa Rica. They recommend trying the Tropoical Gardens, Beach Scape & Dolphins Watch, where you're picked up from the ship by a small diving boat and driven around the bay to see dolphins, stingrays, birds, and more!
Balboa (Fuerte Amador) – Near the entrance to the Panama Canal on the Pacific side, Balboa is a very busy container port. It holds a lot of history, most notably the effort went into the construction of the Canal.
Panama Canal – Our agents transited through the original locks, which are over 100 years old. The expanded locks were available to visit on a tour, as were the original locks. It's definitely a destination for history buffs, or lovers of engineering.
Panama City –The historic Panama Viejo and the Colonial Section of Panama is another city rich in history, and it's fascinating to see the old sections of the city mix with the new, very metropolitan areas.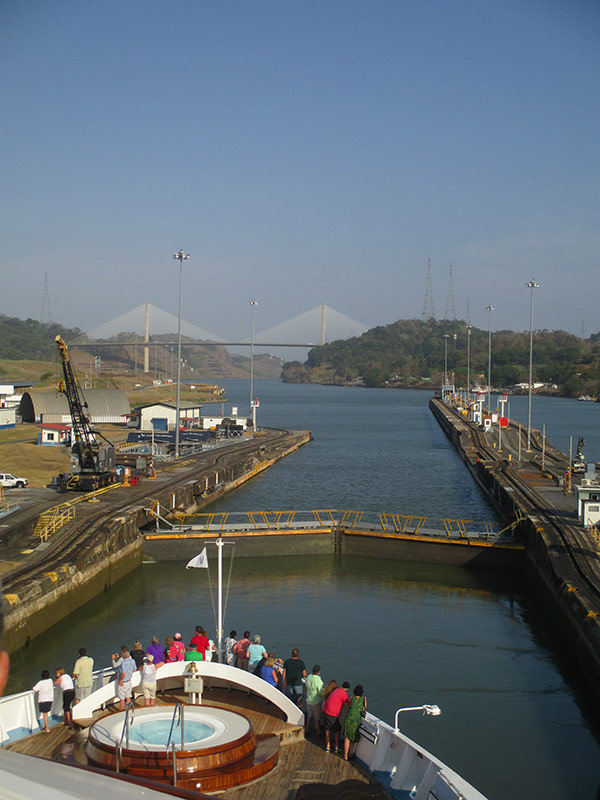 Tips, Tricks, And What You Should Know
Don't miss out on the Windstar's beverage packages, as they are quite reasonably priced
The Watersports Platform might be closed due to weather or water conditions, so don't miss any opportunity to use it!
The ship is not set up for people in wheelchairs, or those with limited mobility, and elevators on the ship don't go to all areas
Make sure you attend the Windstar Sail-Away party. It's an absolute blast, and is uniquely Windstar
You HAVE to be on deck when going through the Panama Canal. Being on a small ship, the experience is completely different and there's much more to see
Windstar's Open-Bridge policy enables guests to see the bridge and learn about sailing from the crew
Want to Know More About Windstar Cruises?
If you've liked what you've heard, contact one of our cruise specialists to learn how you can experience an amazing spa on the seas with Windstar and what other destinations they sail to.
To book, or find more information on small ship cruises, make an online appointment, call 1-866-989-6594, or visit an AMA centre.