Holland America Cruise Activities
Between every port, guests are enchanted with the food, entertainment, and enriching activities onboard Holland America's ships.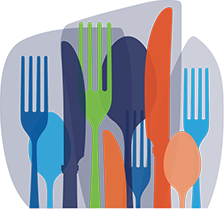 Cruise Cuisine
Holland America Line has a food selection you'll have to taste to believe. Put together by the Holland America Line Culinary Council – made up of chefs who are part of the global food community, who have created Michelin-star restaurants of their own – the dining plan is the stuff of Food Network competitions.
America's Test Kitchen
On select ships, watch an onboard cooking show, followed by workshops that will show you how to make these delicious meals.
Drinks by DeGroff
A cocktail menu created by America's famous cocktail guru Dale DeGroff will splash your palate with something extraordinary.
High Fare
Pinnacle Grill takes you through the flavours of the Pacific Northwest, while Tamarind has a pan Asian theme. Italian, French seafood, and other delights await in these specialty dining restaurants. With a small fee, you get to enjoy all the culinary delights.
Light Touches
The Grand Dutch Cafe offers fine coffees and Dutch treats, while the Lido Market provides guests a buffet of breakfast, lunch, dinner and snacks throughout the day. Available on select Holland America ships.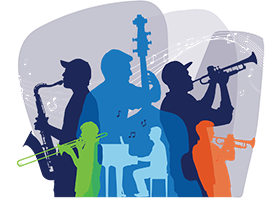 Entertaining Sailings
Don your best suit or gown and have a ball with Holland America's sophisticated offerings.
Masterful Music
A night of dueling pianos over drinks? What about a classical performance provided by Lincoln Center musicians? Appreciate your coming destination with a video of your surroundings put to a live classical orchestra, then dance the night away to the BB King's Blues band! Available on select Holland America ships.
Find Your Drinking Destination
For a bar with a view, the Crow's Nest is your best saloon. If you like to sip to classical music, the Explorer's Lounge will have you covered, and you can get pianists to play your favourites while you quaff at the Piano Bar.
Answer Your Casino Calling
There is no cruise activity more classic than putting on your tux and throwing a few sevens at the casino. Whether you're a whiz with cards or a genius with dice, there's fun to be had and money to be earned!
Kids can have fun at Club HAL
Your kids will have the opportunity to learn about the animals at your next destination from BBC Earth Productions, do scavenger hunts across the ship, play video games, watch movies, and make crafts in The Loft teen space.
Enriching Activities
Some people are so busy they have no time for pampering when they're on land. Holland America offers the opportunity to rest, relax, and even develop a new skill.
Greenhouse Spa & Salon
Exclusive thermal spas, heated cement loungers, massages, facials, aroma stone therapy, acupuncture, teeth whitening, manicures, and more!
Fitness Centre
With friendly personal trainers, nutritional consultations, yoga and pilates classes, the Fitness centre is a great way to keep to your routine, while still getting to enjoy dessert at night!
Digital Photo Workshops
Take a class in how to edit digital photography! Instructors take you through a few basic steps to get your vacation photos as beautiful as can be.
Museum and Art Galleries
Holland America Line prides itself on having the largest art collection at sea, featuring unique pieces on every ship.
BBC Earth Onboard
Camera crew, producers, and show creators from the acclaimed BBC Earth come onboard to give sessions about your next port of call, telling stories about their adventures filming the show. Available on select Holland America ships.