Patty's Walt Disney World
Resort Extravaganza
Everyone knows Patty is a kid at heart. Doesn't matter how old she is or where she's working; she's there to have fun and lighten the mood. And there's no place that makes Patty feel like she belongs more than a Disney park.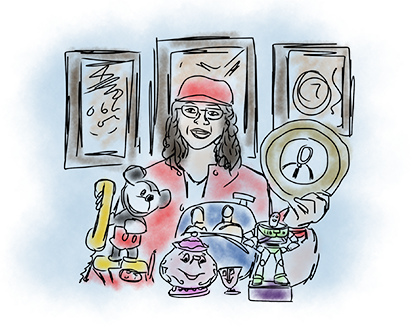 She was into Disney long before her teenagers were even born. Growing up she took them to Disneyland Resort, but as they got older, and Patty got longer vacation time, they started going to Walt Disney World Resort. It's a pilgrimage they make as often as possible, one that always starts with a quick trip to their local AMA Disney travel specialist.
AMA - Walt Disney World Resort Experts
Patty always checked in with her AMA travel specialist because she knew that AMA was as wild about Disney as she was.
They are even considered an Authorized Disney Vacation Planner by Disney, meaning they always know what the best hotels were for her needs, what is new in the parks, and how to put together a package to get a great deal. And they always offer tips from their own experiences at the parks.
After a short visit, Patty received a few select items to make this trip memorable:
Getting the Disney Park Hopper, so she could slip into each of the four theme parks
Staying at an on-site Walt Disney World Resort hotel so they wouldn't have to stay off-site and the magic would stay with them even when they went to bed
Adding a Magic Your Way package plus dining so that if they were ever hungry they had prepaid credits at almost any restaurant in the park
Finding the best combination of packages thanks to her AMA travel specialist to get Patty's family a great deal on tickets, flights, accommodations, and more
Making notes based on her AMA Travel specialist's suggestions on what was new in the parks
Walt Disney World Resort Vacations Start with the Bus
After their flight landed and their luggage arrived, Patty found the Disney's Magical Express, a bus service that drove them directly from the airport to their hotel.
While onboard a video played showing the latest attractions at the park, and the bus driver – a Disney employee or "cast member" – gave his own opinions on his favourite rides and which new attractions they should see first.
At their hotel, Patty picked up their MagicBands, which would act as their room keys, allow entrance to theme parks, and check in at FastPass+ entrances. Patty's youngest couldn't wait to see Mickey and Minnie and Marvel superheroes come and eat breakfast with them. After eating, the family each got to do their favourite activities.
An Entire World of Fun at Walt Disney World Resort
Wild Waterparks
Patty's oldest loved to be in the water, and so she planned her day around hitting Typhoon Lagoon and Blizzard Beach waterparks. Thrilling water slides like the Humunga Kowabunga, calm tube rides such as the Castaway Creek, surf pools, and more made for a long day of fun in the sun.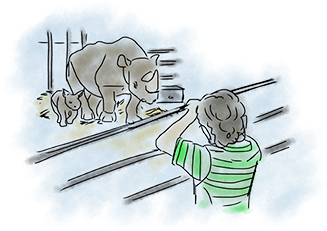 Animal Adventures
Patty's second oldest loved animals of all shapes and sorts, so he headed off to Disney's Animal Kingdom Theme Park. After seeing his fill of lions, hippos, rhinos, giraffes and more in a broad habitat, he saw all things dinosaur, from fossil to thrill rides. Safaris, conservation education attractions, and the iconic Walt Disney World Resort Tree of Life were all part of the fun.
Finally, he visited the one attraction he hadn't seen before, Pandora – The World of Avatar, a new world based of James Cameron's Avatar film. Glowing plants and enormous trees dotted the park, but it was the Avatar Flight of Passage ride where he rode what felt like an enormous breathing bird through virtual forest that smelled of trees!
Educational Epcot
Patty accompanied her youngest daughter – who assured her mother she would be a scientist when she grew up – to Epcot. The Experimental Prototype Community of Tomorrow was filled with all kinds of fascinating activities.
Ellen Degeneres explained the nature of energy on Ellen's Energy Adventure, The Seas with Nemo & Friends ride featured everything you could want to know about sharks, a Pixar short film fest displayed the changes in animation over the last decade, and the enormous iconic sphere Spaceship Earth had numerous installations on the history of communications.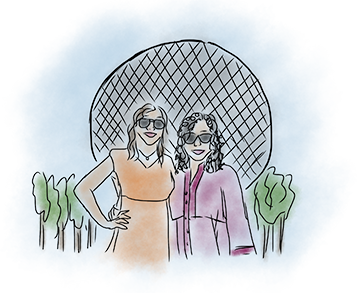 Thrilling Theme Parks
The family got back together in the afternoon to ride all their favourite, classic rides: Big Thunder Mountain Railroad, the Magic Carpets of Aladdin, Pirates of the Caribbean, and more. Ferryboat rides, parades, and photo opportunities with Disney, Marvel, and Star Wars characters dotted the rest of the trip as they skipped lines, ate fun food, and made more memories.
Continuing the trip, the family boarded a Disney Cruise ship – part of their vacation package – to take a tour of the Caribbean. As Patty's family ran around the deck, and she went through the pictures on her phone of all the new attractions and some of her family's favourites, she remembered that feeling Disney vacations gave her, and how it was consistently amazing every time.