The Story of Peter's
Disneyland Resort Experience
Peter had just turned 40 years old when his parents asked if he wanted to keep any of their old movies. He couldn't believe they were about to throw away their entire classic Disney collection – Aladdin, Lion King, Robin Hood, and more!
After finding a working VHS player, he took home some his favourites to his family, sharing them with his kids.
One day, his wife asked, "Did your parents ever take you to Disneyland Resort?" And he realized he'd never been.
Peter started doing some research, contacting his AMA Travel branch to help him plan a vacation to the most magical place on Earth.
But Peter wondered: Being an adult, would Disneyland Resort mean as much to him now as it would have when we was a kid?
The Magic of AMA
The AMA travel specialists are Disney fanatics. They are one of the few companies in Alberta with the distinction of being Authorized Disney Vacation Planners, and some had been to the parks so many times they'd lost count.
Peter's travel specialist offered a lot of services:
the agent took them through all the available dates, and offered the best times to travel
she found the best combination of packages to get Peter's family a great deal on tickets, flights, accommodations, and more
she compared hotels on and off the property
made sure Peter was insured should anything happen
and offered so many suggestions on what to do Peter had a full itinerary before they even left
The Disneyland Resort Vacation Begins
After a short flight, Peter landed with his family in California and boarded a Disney bus to their hotel. From the moment they landed, the family felt that Disney magic starting to creep in.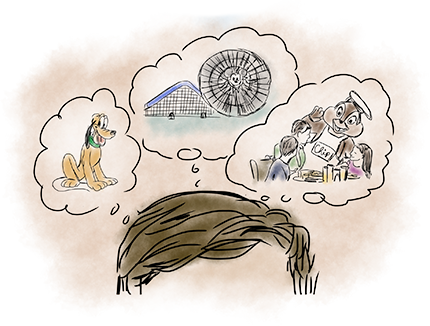 And when they sat down on their hotel beds, the carpet, furnishings, and wallpaper all shared a fairytale aesthetic. They looked through what the hotel offered: meals with Disney characters, a key card that acted as an access and credit card all in one, letting Peter charge expenses to his room when shopping at select stores, and providing early-morning access to the park.
It was so easy to get around and find out what to do, nothing would get in the way of the fun.
In the Park
Morning came. A short ride on the Disneyland Resort Monorail whisked the family towards adventure. But where to start? There was so much to do in Disneyland Resort and Disney California Adventure.
Peter wanted to take his family on all the classics he'd heard of: Splash Mountain, the spinning tea cups, Indiana Jones Adventure, Pirates of the Caribbean, and the Haunted Mansion. And with his FastPass+, Peter's family could skip the lines.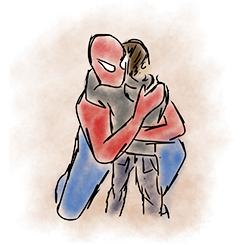 Peter's kids wanted to see stuff from the movies they loved. There was the new Guardians of the Galaxy - Mission: BREAKOUT ride, and getting to try out for the Avengers superhero team with Captain America and other Marvel comic book heroes. They took a tour through Sleeping Beauty's Castle, and saw some of the original sculptures and prints from Disney classic films in the Disney Gallery.
Planning the Next Trip
On the last night of their trip, Peter sat with his kids and watched the evening parade, World of Color, an activity as old as the park itself. He remembered that first moment in the park when his kids saw a real-life Lightning McQueen and Mater in Cars Land, how excited they were. And he knew exactly how they felt.
After five days, the family had been on all the rides twice. They went home, and for the first time since leaving the park, felt like they had stepped out of a dream.
Peter thought about their next vacation. Maybe they'd go again. But this time, combine it with a Disney Cruise...