Honeymoons
Our Travel Agents are excited to help you plan your honeymoon vacation!
Call 1.866.667.4777 for their personal destination recommendations today.
How AMA Travel Will Create the Ideal Honeymoon
Unlike most trips, a honeymoon vacation requires extra levels of care, thought, and foresight. After all, this is something you only get to do once (we hope!). However, the last thing you need is more work after planning your big day.
Tell us your dream, and your personal AMA travel agent will bring you a custom experience with minimal effort. From unique tours and secluded destinations, to the little romantic extras, we'll suggest and plan vacation ideas you'll love.
Take advantage of our unparalleled trip expertise:
Providing travel agency services to Albertans since 1962
24/7 trip support available through AMA Assistance
Albertans serving Albertans: Our team isn't outsourced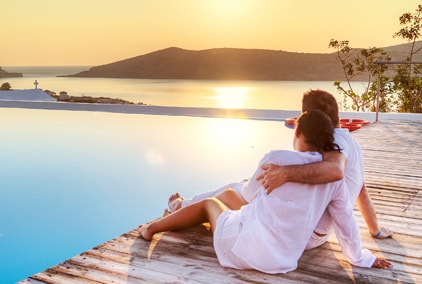 6 Ways to Ensure a Seamless Honeymoon
1.Plan Ahead
While it's possible to build the honeymoon adventure all on your own, we recommend speaking to an experienced travel agent first before booking your trip. He or she can propose exclusive ideas for fun and relaxation that you may not have even heard of.
2. Get Insurance
Don't let cancelled flights, lost luggage, or sickness ruin your trip. Booking travel insurance is essential for making sure you and your partner have peace of mind so you can focus on having a wonderful time away.
3. Take It Slow
Chances are that the lead up to and during your wedding was a frenzied process. Leave the first few days of your honeymoon to catch up on lots of rest (i.e. don't try to do too much too soon). Starting off your honeymoon at a relaxed pace will set the right tone for the two of you.
4. Think Healthy
Connected to the point above, we're guessing that in addition to weeks of junk food and rush meals, you probably imbibed a bit too much at parties and the reception. Your honeymoon is a great opportunity to eat fresh, healthy food, drink lots of water, and get plenty of exercise walking from spot to spot.
5. Allow space
Yes—a strange thought on your honeymoon, but hear us out! This vacation will have you spending lots of time together. If you want to go shopping and he wants to take some surf lessons one day, respect each other's interests. You both get to do what you want, and it makes it fun to reconnect later to share your stories.
6. Try The Unbeaten Path
Sure, you'll want to take photos in front of the must-see tourist spots, but you'll also want to consider exploring away from the crowds. Talk to the locals and ask for their recommendations. They'll likely point you in the direction of a delicious, out-of-the-way restaurant or show you a quiet hiking path not mentioned in the guidebooks. You might just make some new friends, too!