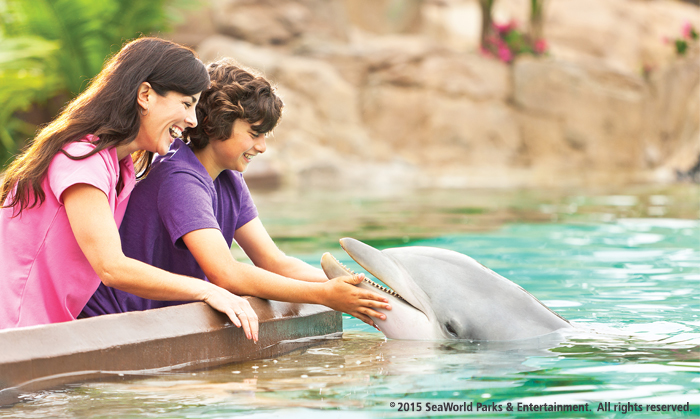 Immerse yourself in the mysteries of the sea. Through up-close animal encounters, incredible shows like One Ocean®, or hands-on attractions like the all-new Explorer's Reef®, you'll be inspired to connect with and care for the natural world. Experience exhilarating rides like our Manta® coaster or take a spin on Shipwreck Rapids®. Plus, discover the remarkable rescues and groundbreaking research that makes SeaWorld a world leader in animal care and conservation. For more than 50 years SeaWorld has rescued, rehabilitated & returned to the wild over 26,000 animals and counting.
---
Explorer's Reef™ SeaWorld®
San Diego's Newest Attraction!
A vibrant undersea realm of giant coral and tropical lagoons where amazing creatures in shimmering touch pools invite you to connect in their world. Step beneath the waves and go hands-on – touch a brown-banded & white-spotted bamboo shark, a horseshoe crab, a gentle ray, or thousands of tiny cleaner fish who'll nibble playfully at your fingers.
---
Aquatica SeaWorld's Waterpark
You have kids. They have a waterpark. It's a perfect match with fun from serene to extreme for the whole family from beaches and water rides to cabanas and culinary delights. Don't forget to visit the flamingos and freshwater turtles, too!
---
San Diego Attractions
As if San Diego's 70 miles of coastline and reliably sunny weather weren't enough, the city is also home to museums, a world-renowned zoo, theme parks, famous golf courses, and a lively theatre scene. You'll find great food, shopping and nightlife in the historic downtown quarter and its boutique wineries and local microbreweries are second to none. Planning an Orlando Family Getaway?
Check out SeaWorld Attractions in Orlando