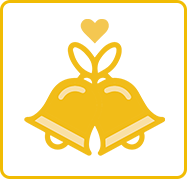 WestJet Group Trips
Who enjoys taking a trip somewhere exotic with all your friends? Everybody!
Who enjoys organizing all those friends and flights and accommodations? Absolutely no one!
Whether it's an elaborate team-building exercise or your dream destination wedding (!!!) WestJet and AMA are right there to help organize everything from the flights to the invitations.
Who Takes A Group Vacation?
There are plenty of opportunities to take advantage of AMA's planning and WestJet's great group savings program:
Friend Trip
Maybe you're all in the city, maybe you all met in university and then moved to different cities. If you want to plan a reunion somewhere abroad, WestJet and AMA will make sure it's a trip you'll remember forever.

Multigenerational Families
Most family reunions are enjoyed in someone's backyard. But when the kids are grown up, or have kids of their own, a trip abroad is a great way to bring new spice to old memories.
Corporate Functions
Looking for an incentive maker, or team-building activity for your staff? Keep the office together from the airplane to the hotel by having us plan a destination office trip!
Destination Weddings
Maybe our most common style of group trip - WestJet and AMA can make your dreams a reality.